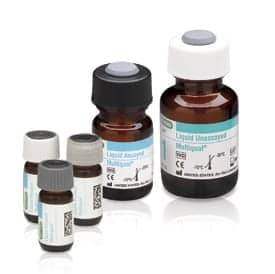 Human Serum-Based Quality Controls
Third-party assessment of general chemistry testing
Liquid Assayed and Unassayed Multiqual® from Bio-Rad Laboratories, Hercules, Calif, are comprehensive, human serum-based quality controls, designed to provide unbiased third-party assessment of general chemistry testing. These liquid, ready-to-use products offer 80 analytes to monitor a wide variety of clinical chemistry testing. They contain HDL and LDL cholesterol, and 11 of the most commonly tested TDM analytes. They are available in both assayed and unassayed configurations and multiple fill sizes, offering a 3-year shelf life when stored at -20ºC to -70ºC, and a 14-day open-vial stability for most analytes when stored at 2ºC to 8ºC. Liquid Assayed Multiqual is now also available in a 2.5-mL fill size, covering more than 60 analytes, and can be stored onboard on the Siemens Dimension Vista®. This newly configured control offers a 3-year shelf life when stored at -20ºC to -50ºC, and a 5-day open-vial stability when stored at 2ºC to 8ºC.
Bio-Rad Laboratories
(800) 224-6723
www.bio-rad.com
---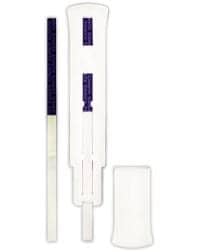 K2/Spice Dip Test
For on-site screening
Express Diagnostics Int'l Inc, Blue Earth, Minn, introduces a rapid on-site urine dip test for K2/Spice. The DrugCheck on-site testing device manufacturer says it is one of the first in the drug testing industry to offer the revolutionary new K2/Spice test. In recent months, use of the synthetic marijuana has escalated. Readily available both online and in head shops, K2/Spice is a dangerous and unpredictable drug. An effective dose is lower than that of marijuana and results in a higher psychoactive potency. K2/Spice is estimated to be 100 times more potent than organic marijuana, and its effects lasts from 5 to 6 hours. The test brings cost-effective synthetic marijuana testing to on-site drugs of abuse screening. Independent lab testing confirms the test detects both JWH-018 pentanoic acid and JWH-073 butanoic acid at 50 ng/mL.
Express Diagnostics Int'l Inc
(888) 466-8433
drugcheck.com
---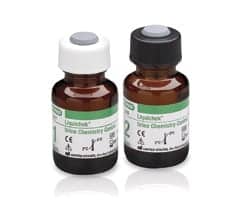 Urine Chemistry Control
Liquid, ready-to-use
Liquichek™ Urine Chemistry Control from Bio-Rad Laboratories, Hercules, Calif, is a human urine-based, third-party control for monitoring the precision of a wide range of urine chemistry testing. It covers all of the general urine chemistry analytes, and also includes amylase, microalbumin, and cortisol. This liquid, ready-to-use, control is designed for multiple methods and instruments, and it offers a 2-year shelf life and a 30-day open-vial stability when stored at 2ºC to 8ºC. Assayed values are provided at two clinically significant levels with a 10-mL fill size.
Bio-Rad Laboratories
(800) 224-6723
www.bio-rad.com
---
Prostate Cancer Gene 3 Assay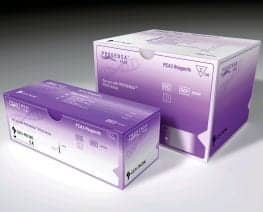 Urine-based molecular diagnostic assay
Gen-Probe Inc, San Diego, has received FDA approval for its PROGENSA® PCA3 (Prostate Cancer gene 3) assay, a molecular test to help determine the need for repeat prostate biopsies in men who have had a previous negative biopsy. The PROGENSA PCA3 assay is indicated for use in conjunction with other patient information to aid in the decision for repeat biopsy in men 50 years of age or older who have had one or more previous negative prostate biopsies and for whom a repeat biopsy would be recommended by a urologist based on the current standard of care, before consideration of PROGENSA PCA<3 assay results. This is the first urine-based molecular diagnostic assay to aid in the decision for repeat biopsy, according to Gen-Probe. The test has received regulatory approval and is available for sale in the United States, Canada, and the European Union.
Gen-Probe Inc
(800) 523-5001
www.gen-probe.com
---
Mycophenolic Acid Test
Consolidates four fully automated ISD assays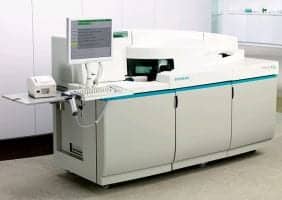 The Siemens Healthcare Diagnostics, Tarrytown, NY, Mycophenolic Acid assay (MPAT) is now available for use on the company's portfolio of Dimension® Integrated Chemistry Systems (pictured) in the United States. With this addition, the company becomes the first laboratory diagnostics solutions provider in the nation to offer the consolidation of four fully automated immunosuppressant drug (ISD) assays on a single integrated chemistry system, according to Siemens. The four ISD tests—mycophenolic acid (MPA), cyclosporine, tacrolimus, and sirolimus—are the most commonly prescribed immunosuppressants used by physicians to prevent organ rejection. More and more transplant patients are being treated with multidrug regimens that include MPA, and studies suggest that therapeutic drug monitoring of MPA levels is helpful in patient management. Having the ability to efficiently monitor any combination of MPA, cyclosporine, tacrolimus, and sirolimus therapy on one integrated instrument can help to ensure patients receive the optimal balance of therapy. This may save not only the transplanted organ, but also the life of the patient.
Siemens Healthcare Diagnostics
(888) 588-3916
[removed]www.usa.siemens.com/MPAT[/removed]
---
CT/NG Test
Detects Chlamydia trachomatis and Neisseria gonorrhoeae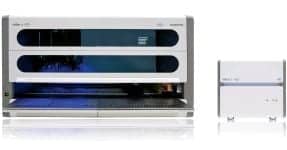 Roche, Indianapolis, has received FDA 510(k) clearance for the cobas® CT/NG Test for the detection of Chlamydia trachomatis (CT) and Neisseria gonorrhoeae (NG) infections in both symptomatic and asymptomatic patients from male urine and self-collected vaginal swabs. A PCR-based multiplex dual probe assay, the test for chlamydia and gonorrhea offers excellent sensitivity and high specificity, and runs on the automated cobas 4800 System (pictured), complementing the cobas HPV (Human Papillomavirus) Test that received FDA approval in April. The registrational trial for the cobas CT/NG test confirmed that self-collected vaginal specimens and male urine specimens provide increased sensitivity and specificity when compared with alternative specimen types across patient populations with both low and high disease prevalence.
Roche
(317) 521-2000
www.roche.com