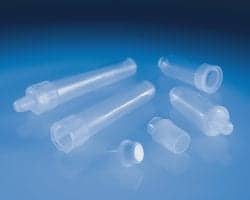 Diagnostic Filters
Designed for use in diagnostic and point-of-care applications
Porex Corp, Fairburn, Ga, offers SQ-EASY prefilters, a new solution for particle filtration of specimen samples. The filters are designed for use in a wide variety of diagnostic and point-of-care applications, and address the need for a self-contained filtration, vortexing, and dispensing system for throat swab cultures; stool specimens; and nasopharyngeal swabs, washes, and aspirates. Consisting of an interlocking dispensing tube, filter tip, and closure cap, Porex SQ-EASY diagnostic filters help ensure sample integrity and leakage. Components, including glass fiber, high-density polyethylene, and ultra-high-molecular-weight polyethylene filtration materials, are available separately to allow for flexibility in dispense tube volume contents and filtration efficiency.
Porex Corp
(800) 241-0195
www.porex.com
---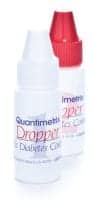 A1c Diabetes Control
For point-of-care hemoglobin A1c quality control
Quantimetrix Corp, Redondo Beach, Calif, introduces the Dropper A1c Diabetes Control. The control is designed to simplify laboratory and point-of-care hemoglobin A1c quality control. Three years frozen (from date of manufacture) and 6 months of refrigerated open-vial stability reduce waste. Twenty-one days of open-vial room-temperature stability eliminate storage problems and provide maximum portability, which is useful for sites without refrigeration. It features easy-to-use dropper bottles and is liquid, human blood based. Dropper A1c control is designed for use with most major immunoassay and boronate affinity laboratory and POCT analyzers, including Siemens® DCA 2000/2000+/Vantage™ and Siemens Dimension, Beckman Coulter® Synchron®, Roche® Cobas Integra®, Roche Hitachi, Ortho-Clinical Diagnostics® Vitros®, and Primus Diagnostics PDQ/ultra2.
Quantimetrix
(800) 624-8380
www.4qc.com
---
Vitamin D Control
Contains both 25(OH) vitamin D2 and 25(OH) vitamin D3
Fujirebio Diagnostics Inc, Malvern, Pa, has received FDA clearance for its vitamin D control. The vitamin D control contains both 25(OH) vitamin D2 and 25(OH) vitamin D3 and is intended for use as a quantitative, assayed serum control. It has excellent stability, value assignment across platforms, and clinically relevant levels, which enables the lab to monitor the precision of its vitamin D assays.
Fujirebio Diagnostics Inc
(800) 531-7963
www.fdimcc.com
---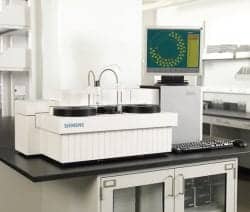 Assay for Heroin Use
Screen specifically for heroin use
The Emit® II Plus 6-Acetylmorphine Assay from Siemens Healthcare Diagnostics, Malvern, Pa, has received FDA clearance, enabling laboratories to selectively test for heroin use. The Emit II Plus 6-Acetylmor-phine Assay delivers rapid screening and zero cross reactivity to many structurally related substances to differentiate heroin use from prescription medications. 6-Acetylmorphine (6-AM) is a heroin metabolite, and its presence in urine confirms the use of heroin. The assay tests specifically for this metabolite and is intended for the qualitative and semiquantitative determination of 6-AM in human urine, at a cutoff concentration of 10 ng/mL. It delivers a low analytical sensitivity down to 1.1 ng/mL and greater than 99% agreement with the reference method (GC/MS). The assay is available for use on the Siemens Viva-Jr.®, Viva-E®, and V-Twin® drug testing systems as well as Beckman® AU® Series analyzers, giving low-, mid-, and high-volume laboratories access to this important test.
Siemens Healthcare Diagnostics
(610) 448-3024
www.siemens.com/healthcare
---
Oral Fluid Drug of Abuse Immunoassays
Reagents complement Quest Diaggnostics' Oral-Eze device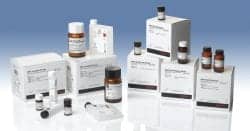 Thermo Fisher Scientific Inc, Fremont, Calif, has received FDA clearance for the launch of its six new Thermo Scientific Oral Fluid Drugs of Abuse immunoassays that test for amphetamines, cannabinoids (THC), cocaine, methamphetamines, opiates, and PCP. The reagents complement the patented Oral-Eze oral fluid specimen collection device from Quest Diagnostics. Accompanying the immunoassays are oral fluid calibrators and control sets. Analyte-specific calibrators and control sets are available for the cannabinoids OFT and the methamphetamine OFT kits, while multidrug OFT calibrators and multidrug control sets support amphetamine, cocaine, opiate, and PCP oral fluid immunoassays. Kits are available in a range of sizes to meet specific test volume needs. Calibrators are liquid, ready-to-use, and offer three-point calibration: negative, cutoff, and high. The Oral Fluid Control Set is packaged with low and high control at ± 50% of cutoff and can be used with any reagent lot.
Thermo Fisher Scientific Inc
(866) 232-3342
www.thermofisher.com
---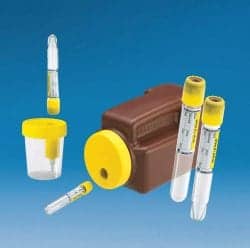 Urine Evacuated System
Hygienic urine collection, transfer, testing, and transport
The new V-Monovette® Urine evacuated system from Sarstedt Inc, Newton, NC, provides for hygienic urine collection, transfer, testing, and transport. V-Monovette Urine evacuated tubes are available in a range of sizes from 4 mL to 10 mL with a round or conical base. Options with a boric acid stabilizer serve to maintain bacterial viability until analysis. All tubes feature a paper label with designated writing space, fill line, and lot and expiration information, and are packaged in user-friendly, ecoconscious boxes. For a closed transfer into the tubes, urine can be initially collected into a corresponding 100-mL urine cup with integrated sampling port. The sampling port needle is deeply recessed in the cap for improved safety and handling, and the cup is made from durable, highly transparent polypropylene. Alternatively, urine can be collected into any specimen cup and transferred into the tubes via a transfer straw. For 24-hour urine collections, an amber 3L container with a recessed integrated sampling port for closed transfer is available.
Sarstedt Inc
(800) 257-5101
www.sarstedt.com
---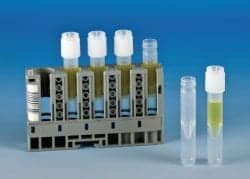 False-Bottom Tube
Lifts serum/plasma yields for automated analysis
Sarstedt Inc, Newton, NC, introduces a 13- x 75-mm configuration to its existing line of false-bottom screw cap aliquot tubes. False-bottom tubes feature an elevated conical base that lifts serum/plasma yields to a more optimum height for automated analysis. The new 13- x 75-mm solution has a 2.5-mL filling volume, a rounded skirt for accommodation in analyzer racks, and is made from transparent polypropylene with molded-in graduations. Sarstedt offers the tube in bulk packaging or oriented in a StackPack. A corresponding leak-resistant screw cap is available separately for secure transport and storage.
Sarstedt Inc
(800) 257-5101
www.sarstedt.com