Palmetto GBA, a Medicare contractor, has established national coverage for the the Vectra DA test from Crescendo Bioscience Inc, South San Francisco, Calif.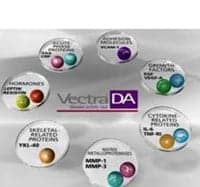 The test aids in the assessment of disease activity in conjunction with standard clinical assessment in adults previously diagnosed with rheumatoid arthritis (RA).
Vectra DA is now a covered benefit for Medicare beneficiaries with RA in the United States.
The product simultaneously measures 12 immune, endothelial, bone, cartilage, and metabolic biomarkers that reflect the underlying biology of RA.
Serum concentrations of the biomarkers are integrated into a proprietary algorithm that generates a single score from 1 to 100 that classifies disease activity as low, moderate, or high.
The test can help optimize patient management and therapeutic outcomes by supplementing the highly subjective and qualitative assessment tools routinely used in current clinical practice. This includes response to various therapeutic agents, determining the risk of joint damage, identifying which patients are in clinical remission, as well as assessing the effect of comorbidities such as fibromyalgia and osteoarthritis, which can interfere with accurate clinical assessments.
Click here to view a video about measuring RA at the molecular level.
[Source: Crescendo Bioscience]