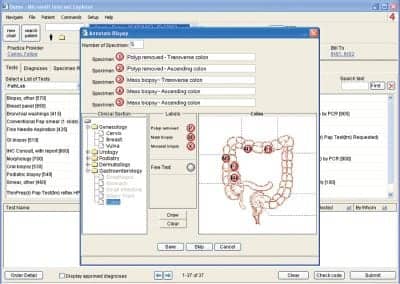 4medica's Path4 enables physicians to use a drag-and-drop functionality to identify biopsy locations on organ images; the system automatically generates labels with description of the locations.
Some people believe that the field of laboratory diagnostics is entering a golden age. "The role the laboratory is going to play in health care is going to continue to grow," says Curt Johnson, vice president of sales and marketing for Orchard Software Corp in Carmel, Ind. "How well and how it will benefit patients overall in the health care system will increase with personalized medicine, and the pathologist is going to be central to this evolution in health car."
Anatomic pathology has entered an evolutionary path seen in other fields, such as the chemistry laboratory, the hematology laboratory, and radiology. Early automation targets testing and the analytical phase; next-generation systems get faster and smarter. Integration with information systems (in this instance, the LIS or laboratory information system) becomes key to reducing error and creating efficiencies. Then automation efforts expand into the preanalytical phase, alleviating manual labor and helping to improve quality.
"We're following a similar automation curve in histology," says Mark Cross, head of sales and marketing for Biocare Medical LLC, located in Concord, Calif. "We've gotten more and more sophisticated automation. Now, we're looking at more rapid turnaround times, and many labs and vendors are producing tests that are faster and easier to interpret."
The anatomic pathology laboratory has lagged behind the core lab in this evolution due to the complexity and diversity in the sample preparation and testing as well as the lesser volume. The advent of digital pathology, however, has made the evolution toward integration a necessity rather than a luxury.
Pathology Trends Mirror Core Lab
Persistent staffing shortages, economic concerns, and greater demands are also factors encouraging this electronic evolution. "Reimbursement pressures seem to be constant. Pathology departments have to find ways of being more productive as well as increase their opportunity for value-added work either through primary diagnosis contracts, consultations, or new diagnostic areas," says Tony Melanson, vice president of strategy for Omnyx LLC, based in Pittsburgh.
More laboratorians are not an answer. Not only do they cost money to employ, but they are becoming a rare commodity as existing lab experts age toward retirement and decreasing numbers of schools graduate fewer technologists. "If you don't have people that can do the work, then you have to try to develop new technologies that will enable those people who are working to be much more efficient," says Jared Schwartz, MD, PhD, chief medical officer of Aperio in Vista, Calif.
Automation is a key way to achieve greater productivity, and functionality within anatomic pathology can be expected to continue to expand. "For example, new automation, such as bar coding, slide scanning, and case collation, will continue to improve precision and efficiency in the AP lab," Melanson says.
Digitizing Pathology
Digital pathology is an excellent way to increase efficiency. With digital images of slides in a data bank, documentation, retrieval, storage, and slide sharing are much easier processes. With the increased subspecialization within the field—Schwartz estimates 99% of pathologists are trained as subspecialists, completing at least one fellowship and sometimes two—automating these tasks opens up significant efficiency and opportunity.
"If you're in a hospital with two or three pathologists and need access to a neuropathologist or other subspecialist, [with digital pathology] they'll be able to scan a slide and have that slide examined by a consultant of their choice immediately—within seconds, minutes, hours—rather than the days needed to package it up and send it off," Schwartz says.
Digital pathology can also save time with computer-assisted diagnostic (CAD) applications. Used properly, CAD programs can help pathologists to arrive at a diagnosis more quickly, with greater accuracy and stronger confidence. Studies have shown CAD can help to create greater concordance among pathologist calls, which have traditionally had a wide variation, 10% to 20%, according to Schwartz.
Multiplexing Tests
Adjusting to multiplex tests is easier since the process consolidates steps rather than alters them. "Everything gets reduced by a factor of two or three for a lot of these multiplex stains," Cross says, emphasizing only one slide needs to be prepared rather than three: Only one section needs to be cut from a block; fewer reagents are needed for the one slide; and only the one slide must be read.
In addition, quality and confidence tend to increase. Research at the University of Indian found greater concordance among pathologist diagnosis with a multiplex stain rather than a typical H&E. The researchers concluded that the test, which added IHC stain, therefore acted as an aid in differentiating atypical ductal hyperplasia and usual ductal hyperplasia.
The time saved means results are delivered more quickly to physicians and patients. "For cancer, the most challenging diagnoses are often the early changes. Having the information which will inform the correct diagnosis helps the physician to decide what form of treatment to prescribe, such as the decision whether to treat or engage in watchful waiting," Cross says.
Integrating Information
Results delivery is also sped up by the integration of pathology systems with larger information systems, such as the LIS and EMR. "Laboratories, particularly those implementing digital pathology, need to embrace the information technology that can help them take that differentiation to market," says Ravi Sharma, CEO of 4medica Inc in Culver City, Calif. "I think pathologists should look at the process as an end-to-end solution through to referring physicians."
The Health Information Technology for Economic and Clinical Health Act, with its meaningful use requirements, is helping to usher in information technology systems, which in turn are pushing anatomic pathology laboratories to digitize and automate. This means that pathology solutions of the past, which focused on customized report generation and in-house data management, are no longer adequate. "They have to produce a report and electronically transmit it using discreet and codified data, which allows for the integration to occur seamlessly and easily," Orchard's Johnson says.
As information is becoming more integrated, so too are laboratories. "In the past, you would have had a clinical pathology lab and an anatomic pathology lab. You might have had a molecular biology department and a microbiology department. Soon, you're going to have a laboratory, and they'll all be integrated together," Johnson says.
---
Renee Diiulio is a contributing writer for CLP.