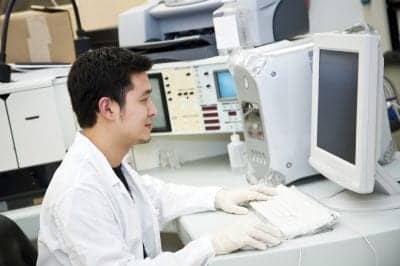 In 2009, the American Recovery and Reinvestment Act became law. It included $19.2 billion intended to be used to increase the use of Electronic Health Records (EHR) by physicians and hospitals; this portion of the bill is called the Health Information Technology for Economic and Clinical Health, or HITECH, Act. Proposed Stage 1 rules and definitions for EMR certification and meaningful use criteria were published this past January and were commented on throughout the spring. On July 28, 2010, final Stage 1 rules and definitions were released.
HITECH is one of several challenges facing the laboratory information systems (LIS)/informatics industry. According to Curt Johnson, vice president of sales and marketing, and Kerry Foster, director of marketing, at Orchard Software Corp, Carmel, Ind, HITECH looms as one of the greatest challenges among three or four areas that stand out for 2011.
"President Bush talked about the need for EMR, but it didn't really take off until stimulus money was behind it and reimbursement became a reality. It probably would have happened anyway, but HITECH stimulated EMR adoption. It was years behind other industries, but now it's catching up," Johnson says.
He notes that 2011 will be the first year providers and hospitals can qualify for reimbursement funds under HITECH, and integrating lab operations is a critical part of that. "Lots of hospitals are upgrading their systems. They have to be able to integrate ancillary systems with their EMR to comply with HITECH. Implementation of these systems and their interfaces and the demand for IT resources is more significant than ever because of HITECH," he says.
Further, 2011 will see even more unprecedented growth in LIS/informatics and in workflow management because of two factors: pent-up demand coming out of recovery from the recession and stimulus money, creating a wave of purchasing by hospitals in the form of either all-inclusive hospital systems from one vendor or complementary integrated systems with elements from several vendors.
"This option of a single-source solution and choosing best-of-breed solutions has always been there and always will be. However, as labs get more complex and integrated, the idea of an 'all-in-one' system gets more complicated," Johnson says. For example, the integrated diagnostic lab includes clinical, microbiology, molecular, cytology, and anatomic pathology testing along with blood bank, yet no hospital-wide vendor can provide all of these in a single-source application. Having an all-inclusive system is preferred by many hospital financial and IT departments. However, ancillary departments also understand that such single-source system modules may not offer the best features and benefits to meet workflow needs, he says.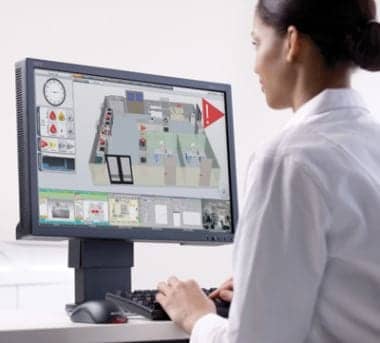 The Emerging Integrated Lab
Another challenge is the convergence of anatomic pathology, clinical pathology, and molecular testing lab functions to create an integrated lab in which these functions are no longer separate, Johnson says. Now, a system needs to be capable of handling all these functions with one database and no more middleware, he says.
Johnson says that to the best of its knowledge, Orchard Software currently offers the only such all-inclusive lab system on the market. Orchard created the system 4 years ago, but, Johnson says, it really took off in 2010 and tremendous growth is expected in 2011 and 2012. "We're well ahead of the game," he says.
He notes that, for example, PAP smears are processed in the anatomic portion of the lab, while testing for HPV is done in the clinical lab. Labs doing integrated diagnostics can offer providers both CP and AP test results in one report.
Johnson says that in 24 months Orchard® Pathology will be the industry standard. "Some companies are trying to deal with convergence using current systems. But customers are looking for integrated systems now."
Orchard Pathology is a comprehensive pathology information system designed to meet today's trends in pathology and handle the complexities of clinical, molecular, and pathology testing and reporting. It can be used as a stand-alone system for anatomic testing or as an all-inclusive CP/AP system to integrate clinical and molecular testing. The single database provides access to the patient's entire history and enables the consolidation of clinical results to the cytology or pathology report.
Another challenge: integrating lab data with EMR information. To do this easily, the data needs to be discrete and structured, which allows for easy data mining. Orchard Pathology is designed to collect and present testing and diagnostic information in a discrete and structured manner. In contrast, legacy AP systems send data to the EMR as a big "blob" of nonstructured and unmineable text, Johnson says.
Eric Olson, vice president, Informatics & eBusiness, Siemens Healthcare Diagnostics, Deerfield, Ill, and president, IVD Industry Connectivity Consortium (IICC), says adopting process management and moving toward a modern connectivity standard have surfaced as two key IT trends in the laboratory—both allowing laboratories to get results in clinicians' hands faster while reducing time spent managing laboratory processes and workflow.
"Customers have told us that real-time alerts, centralized access to instruments, and data management and lab productivity reports are significant unmet needs, leading us to believe process management will be a new era in laboratory IT," Olson says.
Laboratories should have access to the same process management technologies used to manage complex operations in other industries. Technologies such as centralized visibility, centralized control, exception management, and process analytics can be adopted by the laboratory to address many of the unmet needs voiced by customers. A process management system offering centralized visibility, for example, would allow a user to manage the entire lab from a single screen to check the status of workloads and find out which samples have arrived and been reported, he says.
Olson notes that laboratories are frustrated with the complexity and cost of connecting laboratory analyzers and IT systems. "We believe that by working together with other IVD vendors through the IICC we can modernize the connectivity paradigm to improve interoperability, reduce errors, reduce costs, and enable deeper integration with the rest of the health care community."
At the same time, new informatics trends are also emerging in all point-of-care (POC) environments, including the intensive care unit, emergency department, clinics, and physician's office laboratories. More than ever, POC managers are demanding IT solutions that deliver improved connectivity and advanced security options as their analyzers in decentralized testing sites transmit results to a dedicated POC data manager, LIS, HIS, or patient electronic medical records, Olson says.
"Our upcoming product launch of syngo® Lab Process Manager addresses unmet needs voiced by our customers in the area of process management, especially for centralized visibility, centralized control, exception management, and process analytics. By using process-management technology, customers can have a holistic view of their laboratory workflow from one screen," Olson says.
For the POC environment, Siemens is ready with future versions of its DCA Vantage Analyzer and RAPIDComm data management system, he adds. "Customers' calls for a way to achieve better compliance and reduced institutional risk are answered through new quality-control regimens and operator and QC lockout features, as well as enhanced remote viewing capabilities."
Partnerships and Acquisitions
According to Lisa-Jean Clifford, CEO of Psyche Systems Corp, Milford, Mass, there are two main areas of movement and change to watch in the laboratory space in general.
The first is partnerships and acquisitions. Clifford says competition in the lab space is becoming more and more prevalent. Private and commercial labs alike are competing for narrow margins on common test reimbursements. Geography is becoming less of a component in where labs draw their customers from with the increase in technology and use of Web-based solutions. Reference and commercial labs are not only a courier delivery away; they are also a click away.
"It's the old adage of 'the rich get richer.' In order for smaller or private labs to be competitive, they are looking to increase their customer bases and test volume by partnering either with like laboratories to increase their geographic reach or with complementary laboratories to increase their test offerings by acting as their own reference lab circle, or what we at Psyche have termed Lab TEN™ (Test Exchange Network)," she says.
The concept of Lab TEN is that test labs share a single Test Exchange Engine that serves as a central point of processing and unified database for patient demographics, test order tracking, and distribution, as well as result report compilation and distribution. This Test Exchange Engine interfaces seamlessly with the LIS or multiple LISs for the labs in the Lab TEN network. For example: A test order comes into Lab A. Lab A accessions the order, and the Test Exchange Network sends the 10 tests to a total of three labs in the network for processing based upon their specialties, test menu, etc. The results are compiled and sent back to Lab A for result report distribution.
"There are many acquisitions occurring in our industry now, and they don't just involve the vendor community. Many laboratories or conglomerates are purchasing multiple labs to accomplish the geographic footprint goals they may have or to build out an ownership play that encompasses multiple types of labs and testing from clinical to anatomic pathology to molecular, derm, etc," she says.
Clifford sees many customers with more than one laboratory that they either have an interest in or own altogether.
She says the second common trend in the clinical and anatomic pathology lab is the expansion of test offerings. Many clinical labs are adding pathology testing, and many pathology labs are not only offering clinical test facilities, they are also more tightly integrated with the clinical patient histories than ever. This trend is due, in part, to two major business functions: 1), to increase services, reimbursements, and geographical growth for the lab; and 2) to leverage efficiencies, IT infrastructure, lab space, and staff for better ROI as well as to drive better patient care and outcomes.
"We have seen a few labs that offer very specific, specialized, and proprietary tests. The reports are the final product and range from tens of pages to graphs and images in their presentation. The target for these highly specialized tests and result reports are often the patients themselves. Most are for predictive determinations."
In all of the above scenarios, laboratories will better accomplish these goals by implementing solutions that are truly seamlessly integrated and share a single database for the clinical, AP, micro, and molecular labs while offering the features, functionality, and workflow that are unique to each lab, she says.
Clifford says that in keeping with trends in the industry, Psyche will focus on new product deliverables as well as enhancements to existing product features and functionality.
"Our products are continually being built in conjunction with our customers, and are therefore very relevant to industry trends. As our customers' businesses morph, so do our solutions to meet those constantly changing needs. Not only do we continuously add features and functionality to our existing products, we are always looking at the most productive and efficient ways to deploy, integrate, and implement our solutions to meet the business goals that are developing as trends in the industry.

To research LIS options, search the online CLP archives.
"Because our products are built on the same database, we are increasing their functionality; they are always built in tandem. Our products are not integrated because they ARE the same product at the core—the database. The features, options, workflow, etc are developed with the specific lab type they are built for, but it is always in sync with itself.
"When we develop add-on modules such as e.Outreach®, EMR Internet Integration®, MicroPath®, etc, they are natural extensions of our LIS solutions, as well as modules that can be integrated with other LIS solutions to increase their functionality," Clifford says.
---
Gary Tufel is a contributing writer for CLP.
What Is the HITECH Act?
On February 17, 2009, the $787 billion American Recovery and Reinvestment Act of 2009 was signed into law by the federal government. Included in this law is $22 billion, of which $19.2 billion is intended to be used to increase the use of electronic health records (EHR) by physicians and hospitals. This portion of the bill is called the Health Information Technology for Economic and Clinical Health Act, or the HITECH Act.
HITECH Funds Allocation
$18 billion through the Medicare and Medicaid reimbursement systems as incentives for hospitals and physicians using EHR systems;
$2 billion to the Office of the National Coordinator for infrastructure necessary to allow for, and promote, the electronic exchange and use of health information for each individual in the United States; updating the Department of Health & Human Services' technologies to allow for the electronic flow of information; integrating health IT education into the training of health care professionals; and, promoting interoperable clinical data repositories;
$1 billion to be made available for renovation and repair of health centers and for the acquisition of health IT systems;
$550 million for—among other things—the purchase of equipment and services including, but not limited to, health IT within Indian Health Service facilities;
$400 million for comparative effectiveness research on how the use of electronic data impacts health care treatments and strategies;
$300 million to support regional and subnational efforts toward health information exchange; and
$40 million to be used by the Social Security Administration to use EHRs to submit disability claims.