Expanded Automation Solutions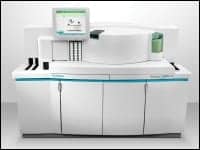 Dimension Vista 1500 now connects to ADVIA automation solutions
Siemens Healthcare Diagnostics, Deerfield, Ill, has added connectivity of the Dimension Vista® 1500 intelligent lab system to ADVIA® automation solutions. The new connectivity offers a high-performance option to laboratories, allowing them to process patient samples in a single, consolidated workstation. Designed for high-volume laboratories, the ultraintegrated Dimension Vista 1500 combines four technologies—photometry, nephelometry, V-LYTE® electrolyte detection, and LOCI® advanced chemiluminescence—in one analyzer. Using four concurrent detection technologies, the system provides laboratory staff with the ability to perform a broad range of chemistry, immunoassay, and plasma protein testing on one analyzer.
Siemens Healthcare Diagnostics
(888) 588-3916
www.siemens.com
---
CoaguChek XS Pro System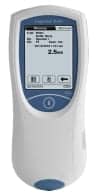 Built-in bar code reader captures patient information
The CoaguChek® XS Pro system, from Roche, Indianapolis, is a point-of-care anticoagulation monitor with a built-in bar code reader that can automatically scan and capture operator and patient identification information. The bar code reader, designed to monitor patients on warfarin therapy, can help prevent errors that could occur from manually entering the information in conjunction with PT/INR (blood clotting time) testing. Requiring only 8 µL of blood, the system provides test results in about 1 minute. It uses built-in quality controls, with the option to run two levels of additional liquid controls. The meter can store up to 1,000 patient results and 500 optional liquid quality control results, and the operator has the option to enter comments related to either type of result.
Roche
(317) 521-2000
www.roche.com
---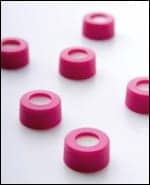 PINK Autosampler Vial Caps
Both screw thread and snap caps available
Thermo Fisher Scientific, West Palm Beach, Fla, launches its special edition Thermo Scientific PINK autosampler vial caps. Part of the proceeds of the special edition caps will go toward breast cancer research and education. The caps come in a comprehensive range of 8-mm and 9-mm screw thread, 11-mm snap cap options, as well as in convenient packs, with options for a variety of applications. They can be used in conjunction with any given autosampler. Sample packs are available.
Thermo Fisher Scientific
(800) 532-4752
www.thermo.com
---
ARCHITECT HIV Ag/Ab Combo Assay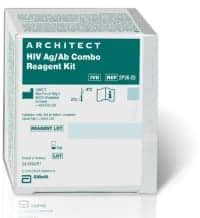 Diagnoses early infections before antibodies emerge
The ARCHITECT HIV Ag/Ab Combo assay, from Abbott, Abbott Park, Ill, is the first test approved in the United States that can simultaneously detect both HIV antigen and antibodies. The assay is a chemiluminescent microparticle immunoassay for the simultaneous qualitative detection of HIV p24 antigen and antibodies to HIV type 1 (HIV-1 group M and group O) and/or type 2 (HIV-2) in human adult and pediatric serum and plasma (EDTA and heparin). It is intended to be used as an aid in the diagnosis of HIV-1/HIV-2 infection, including acute or primary HIV-1 infection. The new assay detects the HIV p24 antigen, or the direct presence of HIV, allowing for diagnosis of early infections days before antibodies emerge. The test runs on Abbott's ARCHITECT family of diagnostic testing instruments.
Abbott
(800) 553-7042
www.abbott.com
---
Bead Bath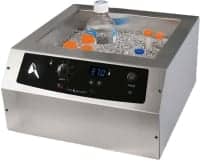 Waterless alternative to traditional baths
Lab Armor™, San Antonio, introduces the new Bead Bath™, a waterless alternative to traditional laboratory water baths. The bath keeps samples organized, naturally holding vessels in place without the need for racks, floats, and bottleneck weights. Vessels that can be used with the Bead Bath are not limited to watertight containers. Users can safely incubate multiwell plates, petri dishes, and open-top samples at any angle. In addition, beads can be used to replace water in existing water baths, aluminum blocks in dry baths, and even ice in ice buckets. Beads can also be used in containers placed in ovens and incubators to replace sample racks. The beads support a wide temperature range of -100°C to +400°C in laboratory equipment.
Lab Armor
(800) 210-8612
www.labarmor.com