Orchard® Pathology
CP/AP information system solution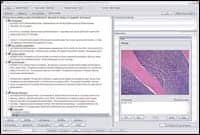 In 2006, Orchard Software, Carmel, Ind, developed and began installing a fully integrated anatomic pathology system to help eliminate barriers between CP and AP systems. Orchard® Pathology is an information system for the comprehensive pathology lab to help eliminate the manual system of audit trails and paper files and fully integrate all lab departments. The product is either a stand-alone anatomic pathology information system or is integrated to the clinical lab with Orchard Harvest LIS. For labs with clinical, molecular, cytology, and pathology testing, the fully integrated system uses a common database. With a single mouse click, users access the patient's entire clinical history and add clinical results to cytology or pathology reports. The streamlined process may help save time in producing the finished report. Clinical results can be added to the AP worksheet. Pathologists can report historical results without manual manipulation.
Data mining tools help simplify quality/statistical reporting in histology and cytology. Reports can be created and scheduled as may be required by inspectors and administration. The rules engine triggers reflex testing based on specified text or interpretation. Users can reflex a CAP cancer protocol based upon microscopic verbiage or trigger an HPV based upon a thin prep pap interpretation. Linked images, such as photomicrographs and scanned consultation reports, can be added to worksheets.
Orchard Software
(800) 856-1948
www.orchardsoft.com
---
Ariol
Automated image analysis system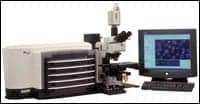 Ariol, from Genetix Applied Imaging, UK, is a high-throughput automated image analysis system for the quantification of biomarkers on microscope slides in research, clinical, pharmaceutical, genomic, and proteomic applications. Capable of brightfield and fluorescent imaging, it scans and quantitates IHC, FISH, immunofluorescence, micrometastasis, angiogenesis, DNA ploidy, and tissue microarray slides. The product is FDA-cleared for in vitro diagnostic use of HER-2/neu, ER, and PR IHC, PathVysion, and the detection of micrometastases in bone marrow. Key features include automated slide handling; automatic loading, scanning, and analysis of up to 50 slides per batch, which allows work to be done unattended or overnight; positive identification of every slide in the system via an integrated bar code reader that accommodates mixing different types of analysis within the same run; and precise repositioning of slides onto the stage (within ±5 µm) via a robotic slide arm that aids in the relocation of scored objects for manual review through the oculars. Users can document and archive images and data in logical case files for later retrieval; reprocess stored cases with new scoring parameters; and print case reports with images, data, and histograms.
Genetix Applied Imaging
+ 44 1425 624 609
www.genetix.com
---
Liquichek Tumor Marker Control
Monitors tumor marker testing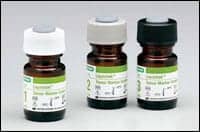 Bio-Rad Laboratories Inc, Hercules, Calif, introduces the new Liquichek tumor marker control, a liquid, human serum-based third-party control for monitoring the precision of tumor marker testing procedures. The Unity Interlaboratory Program with peer group comparison is available for use with the product. The multianalyte control has three levels and features 17 tumor markers: CA 15-3, CA 19-9, CA 27.29, CA 72-4*, CA 125, AFP, ß-2-microglobulin, CEA, Cyfra 21-1,* Ferritin, hCG/ß-hCG, IGF-1, PAP, Prolactin, Total PSA, Free PSA, and thyroglobulin. *These are not available for diagnostic use in the United States but are for international use only. The product has a 2-year shelf life when stored frozen (-20°C to -70ºC). It provides 30-day open-vial stability at 2–8ºC for most analytes. It includes high target levels of cancer antigens and Ferritin, and a low level of PSA. Assayed values are provided for manual and automated test methods.
Bio-Rad Laboratories Inc
(800) 224-6723
www.bio-rad.com/diagnostics
---
QuickVue iFOB Test
FDA cleared and CLIA waived
Quidel Corp, San Diego, has acquired the immunochemical Fecal Occult Blood Test (iFOBT) from Alfa Scientific Designs Inc, Poway, Calif, an FDA-cleared and CLIA-waived test that validates clinical efficacy and ease of use. Medicare reimbursement rates awarded iFOBTs over the current Guaiac-based fecal occult blood tests are higher, since they have no dietary or medicinal restrictions and exhibit higher clinical sensitivity. The test may help physicians educate patients by emphasizing the importance of routine colon cancer screening and determining the need for further tests, including colonoscopy.
Quidel Corp
(800) 874-1517
www.quidel.com
---
Mesomark Test
Mesothelioma ELISA

The Mesomark test from Fujirebio Diagnostics Inc, Malvern, Pa, is an enzyme-linked immunosorbent assay (ELISA) for the quantitative measurement of soluble mesothelin-related peptides (SMRP) in human serum. The FDA under the Humanitarian Device Exemption (HDE) program as an aid in the monitoring of patients diagnosed with epithelioid or biphasic mesothelioma has approved the test. Data indicates the use of this test is probably beneficial. However, its effectiveness has not been demonstrated. Therefore, its values are to be interpreted in conjunction with all other available clinical and lab data. The test is available in the United States exclusively through ARUP Laboratories. HDE approval requires physicians ordering the test to be certified by Fujirebio's central institutional review board prior to ordering the product.
Fujirebio Diagnostics Inc
(877) 861-7246
www.fdi.com