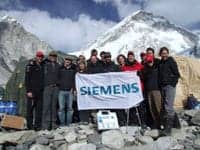 Steve Carey (fifth from left) and the Xtreme Everest investigators at Everest base camp.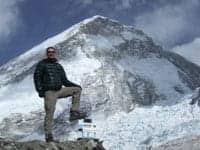 Steve Carey and the Siemens RapidLab 348 EX Blood Gas System by the Khumbu Icefall on the Khumbu Glacier, elevation: nearly 18,000 feet.
BY: JUDY O'ROURKE
Xtreme Everest 2, an organization comprised of intensive care physicians, nurses, and scientists who conduct experiments on themselves and other volunteers at high altitude in an effort to develop novel therapies to improve the survival rates of their patients, recently returned to Mount Everest for another round of testing.
Steve Carey outside the Everest base camp lab.
Once again, the team deployed a blood gas system from Siemens Healthcare Diagnostics, Tarrytown, NY, to help them perform this critical work. Steve Carey, a UK-based Siemens employee with deep knowledge of blood gas point-of-care testing, accompanied the team at base camp for 3 weeks, helping to conduct testing and analyze their findings.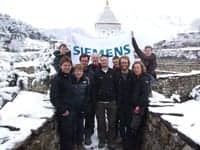 Steve Carey and the Xtreme Everest investigators at Namche Bazar.
CLP recently caught up with Steve, soon after his return home.
CLP: Tell us about the Mount Everest base camp lab—what were the conditions like and how does the instrumentation/equipment withstand them?

Steve Carey: Mount Everest base camp is an extreme environment for both humans and equipment alike. There's approximately half as much oxygen available to breathe compared to sea level, along with very cold temperatures at night.
Siemens' RAPIDPoint® 500 Blood Gas point of care analyzer, which delivers test results in approximately 60 seconds, worked superbly well in these conditions. Plus, to prevent our reagents from freezing at night, we wrapped them in a special electric blanket.
CLP: What experiments is the team performing?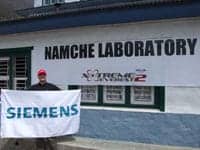 Steve Carey outside the Namche Bazar lab, elevation: 11,290 feet.
Carey: In all, there are 60 separate studies being performed, ranging from simple exercise and blood pressure tests to hemoglobin mass studies and muscle biopsies looking at mitochondrial function. There are also a number of studies investigating the role of nitrogen oxides in adaption to hypoxia.
CLP: How will these experiments yield information that will, in turn, help patients?

Carey: Hypoxia—lack of oxygen reaching the body's vital organs—is often seen in patients in an intensive care unit. By investigating human adaptation to hypoxia in a high-altitude environment, the team hopes to move a step closer to developing novel treatments for critically ill patients suffering from hypoxia as a result of their presenting health care condition.
Sherpas are people of the Tibetan culture living in mountains high in the Himalayas, in eastern Nepal. They are renowned as expert guides and hardy porters for mountain climbers and expeditions trekking in extremely high altitudes.
CLP: How does blood gas testing fare with the Sherpas?

Carey: Sherpas are renowned for being kings of the mountain, yet little is known about the differences in their physiology that generate such clear advantages over lowland individuals. Testing the Sherpas presented its own challenges. For many, it was the first time they had given blood, so they were understandably nervous. We also found that many had never been on a bicycle, so the exercise testing (which involved a stationary bike) was another new experience for them.           
CLP: How long did you stay on the mountain—and what were your impressions and experiences?

Carey: My trip was a little over 3 weeks in total, with the climax being 3 nights camping at Everest base camp. For the research, it was essential that all subjects stick to the same strict ascent profile. You cannot rush up to that altitude, and it's important to give your body time to acclimatize. Nepal is a beautiful country, to appreciate the scale of the mountains you need to see it in person.
Cardiopulmonary exercise
testing (CPET) testing was
carried out at various altitudes.

Looking at microcirculation.

CLP: What role did you play and what is your takeaway?

Carey: While at Everest, I took part in the studies on a daily basis at various altitudes and assisted the Xtreme team with technical questions and blood gas results findings. As I have a special interest in blood gas analysis, I can see that in time, the research has the potential to bring about vital improvements to the outcome of patients in intensive care units.
Judy O'Rourke is editor of CLP. For more information, send an e-mail to [email protected]