Dispensing Accuracy
Small volumes delivered correctly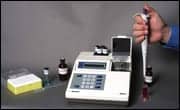 Small volumes delivered correctly To combat the risk of liquid-delivery error in molecular laboratories, Artel, Westbrook, Me, offers its Pipette Calibration System (PCS) and Multichannel Verification System (MVS), tools that rapidly verify the accuracy and precision of liquid-delivery devices. Able to measure small volumes at the benchtop level, the company's technologies provide stronger ensurance of data integrity, helping laboratories avoid failed assays, inefficiency, and noncompliance. As tested liquid volumes decrease in size, minor fluctuations have a greater impact on assay results, because the chemistries of the measured reactions are more sensitive. In today's molecular laboratories, technicians typically work with volumes in the 10 µL to 20 µL range and employ liquid-handling instrumentation throughout the testing process. The potential for error is significant. To offset this risk, molecular laboratories can implement Artel's PCS to verify single-channel devices and MVS to verify multichannel and automated devices. These systems are based on the company's Ratiometric Photometry, which measures light absorption by two specially formulated reagents to combat problems associated with small-volume measurement.
Artel
(207) 854-0860; www.artel-usa.com.
Integrated Analyzer
Range of chemistry on one unit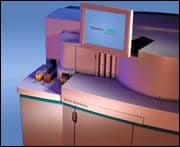 Dade Behring Inc, Deerfield, Ill, has announced it has shipped its first Dimension Vista 1500 Intelligent Lab Systems—an ultraintegrated analyzer for high-volume clinical laboratories. Using four advanced detection technologies, the system provides laboratory personnel with the ability to efficiently perform a broad range of high-quality chemistry and immunochemistry tests on one analyzer. The company previously received regulatory clearance for the analyzer and numerous tests. Through the introduction of new Loci Advanced Chemiluminescence Technology, the system provides clinical laboratories with the capability to run a broad menu of tests. This menu includes panels for cardiac disease, thyroid disorders, therapeutic drug monitoring, drugs-of-abuse testing, protein testing, and routine and specialty chemistry testing. In the future, the company intends to expand the test menu to offer, among others, fertility, anemia, infectious-disease diagnostic, and cancer-marker monitoring tests.
Dade Behring Inc
(847) 267-5300; www.dadebehring.com.
Automated Dispensing
Fast solution change
BioTek Instruments Inc, Winooski, Vt, has announced that the new NanoQuot Microplate Dispenser is now in full production, expanding BioTek's line of liquid-handling products. Each product shipped will now include the new NanoQuot PC Control Software for intuitive and flexible dispense program creation and liquid profile management, making it easy for the researcher to quickly change dispense solutions characterized by different viscosities. A .NET developers' software package is available to make integration into automated robotic systems simple. The device's high-speed, low-volume noncontact dispensing, based on BioTek's proprietary dispense technology, allows easy miniaturization of assays used in various fields of life sciences, including genomics, drug discovery, proteomics, and diagnostics. NanoQuot offers scientists noncontact dispensing of reagents and samples across a very broad range of volumes from 0.1 to 40 µL in 96-, 384- and 1,536-well microplates.
BioTek Instruments Inc
BioTek Instruments Inc (888) 451-5171; www.biotek.com.
Modular Laboratory Automation
Can be interfaced with most LISs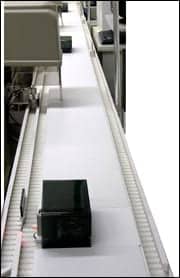 Integrated Laboratory Automation Solutions Inc, Troy, Mich, has introduced the Efficiency Series system to provide customized modular laboratory automation systems that are readily configured to provide a solution that meets customer's requirements at far less cost than imported systems. The system interfaces with a wide variety of chemistry and immunochemistry instruments from different companies so the laboratory can select and use instruments that best fit their specific requirements. The system can also be interfaced with most laboratory information systems. The Efficiency Series is designed so that samples can be sorted automatically and delivered to as many different locations throughout the laboratory as required. The workload is carefully and automatically balanced to handle stats in the most efficient and productive way so results are available in the shortest possible time. A wide variety of tube sizes can be used, which significantly increases the total number of tubes that can be handled automatically by the system and avoids significant labor costs.
Integrated Laboratory Automation Solutions Inc
(866) 825-3477; www.lab-iLAS.com.
Pipetting System
Accommodates single tubes or plates
epMotion automated pipetting systems from Eppendorf North America Inc, Westbury, NY, offers application flexibility and total pipetting accuracy. With four models available, there's an epMotion that fits application needs from cell biology to molecular biology to chemistry. Features include a 4 to 12 deck that accommodates single tubes to 384-well plates, accuracy from 5% CV at 1 µL—precise enough for exquisitely reproducible qPCR—and certified tools that come with a 2-year warranty. Designed for user-friendliness and convenience, setup and training takes less than 1 day.
Eppendorf North America
(800) 645-3050; www.eppendorfna.com.
Image Analysis
Instant interpretation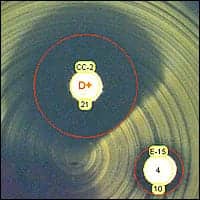 Giles Scientific Inc, Santa Barbara, Calif-produced Biomic V3's color image analysis instantly reads, interprets, and records D-Test results when erythromycin and clindamycin disks are placed, and the appropriate organism conditions recommended by CLSI are met. When a flattening of the clindamycin zone is detected and displayed on-screen, these isolates will be reported as "clindamycin resistant." The device reads antibiotic disk diffusion tests and commercial bacteria and yeast identification panels including RapID (Remel), API (bioMérieux), Crystal (BD), and CHROMagar (BD). High-resolution color test images can be saved for further evaluation. Biomic V3 serves as a primary or complementary AST-ID system for microbiology laboratories of all sizes and setups. A bidirectional LIS interface can be added to further speed workflow. Users can create and modify drug panels to match changing formulary and physician needs. The unit connects to a standard Windows®-based PC and requires no routine maintenance or service.
Giles Scientific Inc
(800) 603-9290; www.biomic.com.
For more information on lab products go to the buyers guide and search for the companies listed in this section.