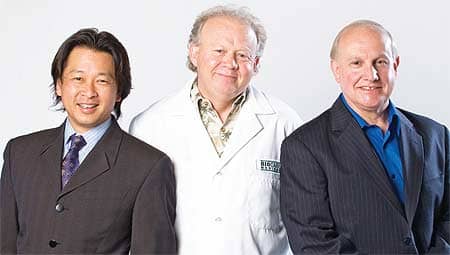 Pictured from left to right: Roy Paxton Yih, CEO, Dr David Tacha, CSO, Gene Castagnini, CFO.
Intent on creating diagnostic products to improve patient care delivery, Biocare Medical LLC offers a portfolio of integrated products to address the cancer and infectious disease research and diagnostic markets. Founded in 1997 by Roy Paxton Yih, CEO; Gene Castagnini, CFO; and David Tacha, PhD, CSO & VP of R&D, the company now serves customers from a wide range of settings, including clinical histology laboratories, pharmaceutical companies, CROs, and biotechnology companies, as well as academic, government, military, and other non-profit laboratories.
"Biocare Medical offers an expanding portfolio of integrated products to address the rapidly growing cancer and infectious disease diagnostic and research markets with novel tissue immunohistochemistry and in situ hybridization methods," says Rhonda Henshall-Powell, PhD, Director of Marketing and Education, Biocare Medical LLC. "We have developed innovative automated immunohistochemistry instrumentation, and the full range of reagents for IHC and ISH lab testing. We have also developed a micro-polymer detection system that enables unsurpassed specificity and sensitivity. PromARK animal IHC detection kits are optimized for rodent, canine, feline, bovine, equine, porcine, and ovine tissues and feature proprietary blocking and retrieval reagents, resulting in virtually background free IHC staining."
The company is currently promoting its Multiplex IHC product line, which allows for simultaneous testing for morphologically distinct markers, solving complex clinical problems and simplifying interpretation. The Multiplex IHC line allows simultaneous testing for multiple IHC markers, supplies diagnostic data, and allows for rapid exclusion or diagnosis of disease states. Another benefit that the products offer is that one Multiplex IHC stain can replace up to four single antibody stains, reducing labor and reagent cost.
"Multiplex IHC is an innovative technology designed to assist in the resolution of complex clinical dilemmas faced by pathologists daily," says Henshall-Powell. "We do this by combining highly sensitive and specific antibodies into a single test, performed on a single IHC slide. This results in not only superior diagnostic data, but in increasing the predictive value of the test; all the while, significantly conserving precious patient tissue, reducing labor, and reagent costs to the lab."
But Biocare offers more than diagnostic products. In addition, the company's offerings include an educational outreach system as well as support staff. The support staff is comprised of certified histologists, software engineers, and instrumentation specialists, and undergoes continual training and recertification in order to maintain a high level of technical capability to support its customers. The educational programs offered by the company give its customers access to educational resources and webinars that educate them on Biocare's products.
"We offer this extensive Educational Outreach program because further or continuing education is very important to Biocare," says Henshall-Powell. "We want to ensure that the clients understand that we are not just a commercial company selling IHC and ISH reagents and instrumentation, but that we are an educational resource for them to interact with. Having a clear understanding of the products and the technology behind them is important, but more importantly, the clinical utility empowers the user to adopt these tools into their workflow."
Ultimately, Biocare is concerned with the improvement and advancement of patient care. The company believes in connecting its core values and ideas with that of other organizations with similar missions. Through its involvement, contributions, and support of the efforts of other groups, the company is aiming to transform the health and medical fields.


4040 Pike Lane
Concord, CA 94520
(800) 799-9499
www.biocare.net