Anti-Prostate Specific Antigen
AVAILABLE CONCENTRATED AND AS A REAGENT
BioGenex, San Ramon, Calif, polyclonal anti-Prostate Specific Antigen antibody is designed for the specific localization of Prostate Specific Antigen (PSA) in formalin-fixed, paraffin-embedded tissue sections that are used in IHC applications. PSA is a glycoprotein with a molecular mass of 33 to 34 kD and is biochemically and immunologically distinct from prostatic acid phosphatase. It is restricted to the cytoplasm of acinar and ductal epithelia of normal, benign or malignant prostate tissue. Furthermore, PSA from prostatic cancers has been shown to be immunologically and biochemically similar to that of normal prostate tissue. Elevated serum PSA levels have become an important marker of prostate pathologies, which include benign prostatic hyperpalsia, prostatitis, and especially prostate cancer.
BioGenex offers anti-Prostate Specific Antigen antibody in concentrated form and as a ready-to-use reagent for manual use. The antibody is designed for use with the BioGenex Super Sensitive Ready-to-Use Detection Systems.
BioGenex
(800) 421-4149; www.biogenex.com
Oral Drug Screen
ONE-STEP TESTS FOR SIX SUBSTANCES
Branan Medical Corp, Irvine, Calif, has launched the Oratect III Oral Fluid Drug Screen Device. The test results are stable up to 30 minutes and is a one-step procedure for the accurate detection of six drugs of abuse in oral fluids, including marijuana (THC), amphetamine, methamphetamine/ecstasy, cocaine, opiates, and either PCP or benzodiazepines. Collection and testing entail swabbing the collection pad inside the mouth until blue lines in the test panels start to flow, indicating a sufficient amount of saliva has been collected. The presence of a red line corresponding to a specific drug on the panel indicates a negative result, while the absence of a red line indicates a presumptive positive result. Presumptive positive results are confirmed by sending the device's collection pad in an included vial to a SAMHSA laboratory.
Branan Medical Corp
(866) 468-3287; www.brananmedical.com
Serum-free, Animal Origin-free Culture Medium
OPTIMIZED FOR LARGE-SCALE SUSPENSION
Invitrogen Corp has announced the availability of its Protein Expression Medium. This serum-free, animal origin-free culture medium is specifically developed for the efficient production of recombinant proteins in PER.C6® cells. This media supports the adaptation, growth, and expansion of transfected PER.C6 human embryonic retinoblast cells for large-scale, high-density suspension culture in shake flasks, roller bottles, and bioreactors. This medium also supports parental PER.C6, HEK 293, and HeLa cells in suspension culture for protein-expression applications.
Invitrogen Corp
(800) 955-6288; www.invitrogen.com/bioproduction
Microbial Identification
ALONG WITH KINETIC CHARACTERIZATION
Biolog Inc, Hayward, Calif, has introduced a new system capable of both microbial identification and kinetic characterization of cellular functions. The company's proprietary method for microbial identification allows laboratories to easily identify and characterize a wide range of gram-negative and gram-positive bacteria across diverse fields of microbiology. With the added capabilities of Phenotype MicroArray technology for elucidation and kinetic quantitation of phenotypes, researchers are able to measure cell-pathway activities and phenotypes by analyzing cells under thousands of culture conditions. Biolog microbial identification is based on the use of 95 different carbon compounds contained in a convenient prefilled microtiter format to measure metabolic reactions. After inoculation and incubation, a characteristic metabolic pattern or "fingerprint" is generated by the organism and compared to hundreds of onboard profiles to interpret and confirm a species identification with a demonstrated level of accuracy that is comparable to molecular methods.
Biolog Inc
(800) 284-4949; www.biolog.com
Hematology Control
COMPATIBLE WITH MANY TESTS
Sickle QC from R&D Systems, Minneapolis, is a positive and negative control for solubility tests used to detect Hemoglobin S. Sickle QC control is compatible with the following sickle cell tests: Chembio Diagnostic System Sickle-STAT, Columbia Calibre Sickle Cell Reagent, Dade Behring Sickle Sol Solubility Test, Ortho/Johnson & Johnson SICKLEDEX, Pacific Hemostasis SickleScreen Sickling Hemoglobin Screening Kit, and Streck Sickle-Chex Solubility Kit. It is packaged in a 2.5-mL vial and carries a 100-day open-vial and a 195-day closed-vial stability. CBC-Monitor, a complete quality-control program, is provided to Sickle QC users. The program, which includes a peer-group analysis, is now available online and provides Internet access for both data submission and report retrieval.
R&D Systems
(800) 428-4246; www.RnDHeme.com
Whole Blood Control
TRILEVEL ASSAY
CBC-4K Plus Retics from R&D Systems, Minneapolis, is a trilevel five-part differential whole-blood control with reticulocytes designed specifically for the Abbott Sapphire and Cell-Dyn 4000 hematology analyzers. Assay disks are provided for assay-value uploading. CBC-4K Plus Retics resembles human samples and is sensitive to reagent and analyzer changes. It is available in three distinct levels and is packaged in pierceable screw-cap tubes with noncoring septums. Each tube contains a full 3.0 mL of control. CBC-4K Plus Retics carries a 75-day closed-vial stability, or 2 QC months, and an 8-day open-vial stability. A companion calibrator product is available. CBC-Monitor, a complete quality-control program, is provided to CBC-5D users. This comprehensive program, which includes a peer-group analysis, is now available online and provides Internet access for both data submission and report retrieval.
R&D Systems
(800) 428-4246; www.RnDHeme.com
Stem Cell Medium
FREE FROM ANIMAL COMPONENTS
Sigma, a division of Sigma-Aldrich, St Louis, has introduced Stemline Neural Stem Cell Expansion Medium, a new serum-free stem-cell medium optimized specifically for the expansion of human neural stem cells. Stemline Neural Stem Cell Expansion Medium has been developed for superior neurosphere as well as monolayer NSC expansion. The medium is the first that will specifically support research in the area of neurodegenerative diseases such as ALS (Lou Gehrig's Disease). This new culture medium offers a consistently high neural stem-cell yield in a serum-free environment. In order to be regulatory friendly, the formulation was designed to be entirely animal component-free as well as complete and ready to use, requiring only supplementation with the desired growth-factor cocktail (not included). The elimination of serum effectively reduces performance variability and removes safety risks associated with possible adventitious agents in serum.
Sigma-Aldrich
(800) 521-8956; www.sigma-aldrich.com
Trilevel Control
ASSAY TABLE FOR NRBC
LH-nRBC from R&D Systems, Minneapolis, is a trilevel control designed to monitor the nucleated red blood cell (nRBC) parameter on the Coulter LH750/LH755 hematology analyzers. The assay table provides nRBC absolute values, nRBC absolute per 100 WBC values, and total WBC and RBC values. The control is packaged in 3.0-mL pierceable tubes and carries a 14-day open-vial stability and a 75-day closed-vial stability. CBC-Monitor, a complete quality-control program, is provided to users. This comprehensive program, which includes a peer-group analysis, is now available online and provides Internet access for both data submission and report retrieval.
R&D Systems
(800) 428-4246; www.RnDHeme.com
Cardiac Assay
DETECTING MYOCARDIAL DAMAGE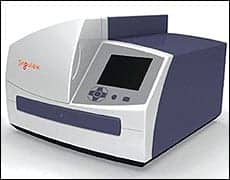 Singulex Inc, Hayward, Calif, has announced that research conducted by scientists at University of California, San Francisco (UCSF) and Singulex reports on the clinical application of Singulex' Erenna Bioassay System (formally referred to as Singulex' Zeptx System) for detecting cardiac troponin I (cTnI), a well-understood biochemical marker for myocardial damage. This research offers preliminary clinical results for the use of Singulex' customized Erenna assays in the early detection of acute myocardial infarction (AMI) and demonstrates diagnostic capabilities that meet recently redefined criteria for AMI diagnosis as outlined and recommended by the European Society of Cardiology and the American College of Cardiology. Singulex' Erenna Bioassay System incorporates patented direct single-molecule detection technology with customized clinical assays that are capable of quantitatively detecting therapeutically significant biomarkers at subpicogram concentration levels. In this study, Erenna was shown to reduce sample background significantly and enable the differential detection of dyes from other molecules with reproducible, signal-to-background efficiency.
Singulex
(510) 259-1000; www.singulex.com
RNAi Screening
FULLY CUSTOMIZABLE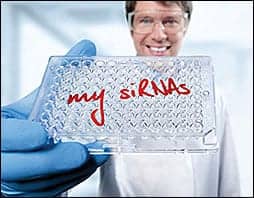 FlexiPlate siRNA from Qiagen, Valencia, Calif, is a giant leap forward for more flexible and economical RNAi screening. FlexiPlate siRNA allows the creation of exactly the set of siRNAs needed without compromising on any requirements, enabling fully customized RNAi for pathway analysis or follow-up screening experiments. FlexiPlate siRNA can be ordered at 0.1-nmol, 0.25-nmol, and 1-nmol scales in 96-well plates for any human or mouse target genes. siRNAs and controls can be selected and arranged on plates using an interactive Web interface. The unit enables design of RNAi experiments to suit individual requirements. siRNAs for any human or mouse genes and positive or negative controls can be selected and placed in any of the wells of a 96-well plate with the drag-and-drop tool at the GeneGlobe Web portal. Variable scales allow cost-effective experiments using lower or higher siRNA amounts, as required. Qiagen's HP OnGuard siRNA Design ensures that siRNA is potent and specific.
Qiagen
(800) 426-8157; www.qiagen.com/GeneGlobe
FFPE Tissue Kit
DELIVERS FULL-LENGTH PROTEINS READY FOR ANALYSIS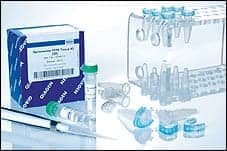 As the standard method for histological tissue preparation, millions of formalin-fixed paraffin-embedded (FFPE) samples are classified and archived each year. Now, the Qproteome FFPE Tissue Kit from Qiagen, Valencia, Calif, enables efficient extraction of full-length proteins suitable for western blotting and protein arrays. Because formalin fixation creates chemical crosslinks, stabilizing samples for histological analysis but rendering any subsequent protein analysis (that is, by western blotting) impossible, analysis of FFPE tissue has been limited to histochemical techniques. This kit uses innovative proprietary chemistry to reverse the cross-linking process and deliver full-length proteins ready for analysis by western blotting and protein array, with subsequent immunodetection. The kit offers a unique tool for analysis of samples whose pathological status has been determined, but whose precise protein makeup has until now remained inaccessible.
Qiagen
(800) 426-8157; www.qiagen.com
31d Human Druggable Genome
UP-TO-DATE GENOME DATABASE
Qiagen, Valencia, Calif, a leader in whole genome siRNA sets, has taken a step forward for RNAi screening of the human druggable genome with the launch of the Human Druggable Genome siRNA Set v3.0. This set provides state-of-the-art siRNA design and the most current genome database coverage, enabling potent and specific knockdown of ~7,000 genes of potential therapeutic value. It is provided in flexible scales and formats to suit specific screening requirements. Subsets targeting 490 GPCR genes, 696 kinase genes, or 205 phosphatase genes are also available. siRNAs are provided as individual siRNAs or pools for maximum flexibility. The Human Druggable Genome siRNA Set v3.0 is provided with complete siRNA-sequence disclosure at no extra cost. All rights to any invention or discovery developed by researchers using these sequences belong to the researcher, allowing freedom for discovery.
Qiagen
(800) 426-8157; www.qiagen.com/siRNA
siRNA Design
ONLINE UPDATES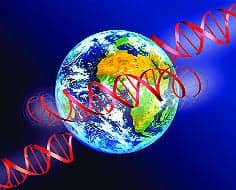 HP OnGuard siRNA Design from Qiagen, Valencia, Calif, is an upgrade to the HiPerformance siRNA design algorithm. It uses advances in the knowledge of the RNAi mechanism to reduce the risk of off-target effects and increase potency, ensuring successful RNAi. The new design incorporates an innovative neural-network algorithm; proprietary homology analysis; and exciting, newly added features. siRNAs are available at Qiagen's GeneGlobe Web portal at www.qiagen.com/GeneGlobe. Design features include 3′ UTR/seed region analysis, SNP avoidance, and interferon motif avoidance. siRNA design is reinforced using the results from QIAGEN's siRNA validation project in which thousands of siRNAs have been tested for effectiveness by real-time RT-PCR. Data from Affymetrix GeneChip analysis is used to minimize the potential for off-target effects. As well as siRNAs designed using HP OnGuard siRNA Design, matching RT-PCR assays, RNAi controls, and products for transfection and downstream analysis are available at GeneGlobe, covering the entire RNAi workflow.
Qiagen
(800) 426-8157; www.qiagen.com/GeneGlobe
35 Cardiac Control
LIQUID QUALITY CONTROL
Cliniqa® Liquid QC™ cardiac control SP is intended for use as an assayed quality-control material for serum cardiac markers. It is available in Level 1, 2, 3, and Tri-Level kit configurations. The assayed, liquid quality-control product contains CK-MB, hsCRP, myoglobin, troponin I, troponin T, digoxin, and NT-proBNP. It requires no frozen storage, and it is stable for 2 years from the date of manufacture when stored unopened at 2°C to 8°C. Once opened, it is stable for 30 days when stored at 2°C to 8°C. Cliniqa and Vitro are cofounders of "The Quality Alliance," formed to provide a range of innovative quality-control products and peer-review software through common distribution channels in Europe, the United States, and Asia. They are also jointly marketing InterQC. This Web-based software can be used with any Cliniqa control or LiniCAL calibration-verification product, instrument, or reagent combination.
Cliniqa Corp
(800) 728-5205; www.cliniqa.com
Oral Alcohol and Drug Test
RAPID RESULTS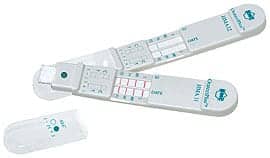 Branan Medical Corp, Irvine, Calif, has released the OratectPlus, which combines drug and alcohol oral-fluid testing in a single device. This new on-site saliva screen test allows test administrators to obtain the rapid results without the concern of handling a urine specimen. By simply having the subject swab his/her mouth with the test device, drug and alcohol initial test results can be available in minutes. The reliability of an oral-fluid test is comparable to urinalysis testing for the most commonly abused drugs. The device simultaneously tests for six drugs, including marijuana, cocaine, opiates, amphetamine, methamphetamine/ecstasy, and either PCP or benzodiazepines, plus alcohol. The test device consists of a collection pad on one end, two test panels in the middle for the drug results, and a separate pad for the alcohol result. With a presumptive positive result, the collection pad is detached from the device and sent to a SAMHSA laboratory for further testing, allowing confirmation of the on-site result without the drawing of another sample.
Branan Medical Corp
(866) 468-3287; www.brananmedical.com
A1-Acid Glycoprotein
PLASMA PROTEIN
Lee Biosolutions, St Louis, has made available polyclonal anti human alpha-1-acid glycoprotein and human alpha-1-acid glycoprotein antigen. A1-acid glycoprotein is a plasma protein found in mammals and birds. It is a glycoprotein, composed of approximately 38% carbohydrate. Increased levels in the bloodstream are often associated with inflammation, pregnancy, surgery and a number of conditions, including acute myocardial infarction. A1-acid glycoprotein is also known as orosomucoid. It's an acute-phase reactant synthesized within the liver, in response to inflammation and tissue damage. For healthy individuals, the normal range is 50 to 120 mg/dl. A1-acid glycoprotein concentrations have been found to rapidly increase for 48 hours following surgery, and then begin to decrease after about 120 hours, regardless of the severity of the injury. Serum A1-acid glycoprotein levels have also proven useful as a diagnostic tool in neonates with bacterial infections, as an increase in production is common in most infected neonates.
Lee Biosolutions
(314) 968-1091; www.leebio.com
Diabetes Test
LABORATORY QUALITY IN MINUTES
Quotient Diagnostics Ltd, London, has launched the Quo-Test Point-of-Care System, which speeds up diabetes testing. The company exploits the so-called fluorescent-quenching properties of a patented reagent to measure A1C in a way that matches the performance of existing laboratory-based methods. First, the fluorescence of a conjugate of boronic acid and a fluorophore is reduced (or "quenched") upon binding to cis–diol groups that are present on carbohydrates that are attached to haemoglobin molecules. By using solid-state opto-electronic technology, the Quo-Test desktop reader quantifies the concentration of A1C in the sample from this subtle quenching effect. Second, the total amount of haemoglobin is quantified by absorption measurement. The combination of these two measures produces an A1C% result. Quo-Test is a fully automated homogenous assay system, so there are no separation steps and the system controls all the critical steps that may influence or affect the quality of the result. All of this combines to deliver results in about 3 minutes from a blood sample of less than 5 µL.
Quotient Diagnostics Ltd
+44(0)20 8481 9016/9; www.quotientdiagnostics.co.uk
Stem Cell Lines
AVAILABLE INDIVIDUALLY OR AS A KIT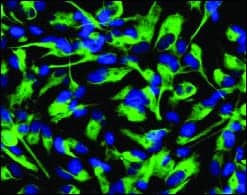 Millipore Corp, Billerica, Mass, has launched the ReNcell product line, a human immortalized neural somatic stem-cell line. The ReNcell products provide a solution for scientists needing reproducible results with neurons easily derived from human cells. These progenitor cells are useful in drug-discovery applications, where the development of these pathways can be monitored during screening. The product line consists of two cell lines of immortalized human neural progenitor cells and media for the maintenance, expansion, and freezing of the cells. These cell lines and media are available either individually or as a kit. This product line is a result of a distribution agreement between Millipore Corp and ReNeuron Group plc. These immortalized human neural progenitor cells have the ability to readily differentiate into neural cell types and will replicate indefinitely. ReNcell immortalized cells display the same marker patterns as normal cells and are able to grow and remain stable after culturing.
Millipore
(800) 548-7853; www.millipore.com
MicroTip Assay
ELIMINATES SAMPLE AND REAGENT CARRYOVER
Ortho-Clinical Diagnostics, Raritan, NJ, a Johnson & Johnson company, offers a new MicroTip assay to measure homocysteine concentration in blood plasma. The Vitros Chemistry Products Homocysteine (HCY) Reagent is available for use with the Ortho-Clinical Diagnostics Vitros 5,1 FS Chemistry System. The reagent is used in the diagnosis and treatment of patients suspected of having hyperhomocysteinemia, a medical condition characterized by high levels of homocysteine in the blood, and homocystinuria, an inherited disorder of the metabolism of the amino acid methionine. This reagent is the 26th MicroTip assay that Ortho-Clinical Diagnostics has introduced for use on the Vitros 5,1 FS Chemistry System since October 2004. The technology provides an extended menu of proteins, therapeutic drugs, and cardiac, diabetes, and other critical assays. MicroTip assays are processed using disposable tips and cuvettes.
Ortho-Clinical Diagnostics
(800) 421-3311; www.orthoclinical.com