Certificate of Analyses
ONLINE DATABASE
MicroBioLogics, Inc, Saint Cloud, Minn, has made available the new online Certificate of Analysis system. This system, which is found on www.microbiologics.com, has been designed to provide customers instant access to Certificate of Analyses for microorganism products. MicroBioLogics chose to build a database behind this system rather than uploading portable documents to the Web site. The company offers over 550 quality control microorganism strains in their product line. MicroBioLogics customers can access a detailed Certificate of Analysis online that provides the microbiology laboratory complete and accurate documentation to defend their quality system. The document reports the specifications for each lyophilized microorganism produced by the company along with macroscopic and microscopic features and biochemical results. Using the product label, a customer can go to the MicroBioLogics Web site and enter a 4-digit product catalog number and specific 5-digit lot number (both found on the product label) and create the document 24/7.
MicroBioLogics Inc
(320) 253-1640; www.microbiologics.com
Label Everything
FROM PRINTER OR BY HAND
Computer Imprintable Label Systems LLC (CILS) has launched its new direct order catalog and Web site featuring more than 10,000 durable laboratory-label products. CILS offers the widest range of high-specification customized and stock labels suitable for laser, thermal transfer, ink-jet printing, and handwriting. All labels are exclusively manufactured by CILS and are supplied in economical pack quantities or convenient booklets for slides, tubes, vials, plates, bottles, glassware, and more. The new catalog and Web site allow for fast and easy ordering with same-day online quotations for customized labels.
Computer Imprintable Label Systems LLC
(888) 921-8877; www.cils-international.com
26 Premade Labels
CUSTOM FOR INDIVIDUAL COMPANIES
Label-Ease from Computype, Roseville, Minn, is a new alternative to in-laboratory labeling. By purchasing fully customized, prelabeled labware from Computype, companies can rely on proven labeling experts to provide accurate sample identification, freeing up laboratory employees for more important activities. Label-Ease is designed for pharmaceutical companies and other organizations with large compound storage libraries, where accuracy and efficiency are crucial. After a thorough analysis of each company's needs, prelabeled labware is delivered with a 1D or 2D bar code already affixed. LabelEase is made for tubes and vials, slides, plates, and other labware to which it may be difficult to apply labels manually. Its labware is completely customized and packed to user requirements. Bar codes are affixed with either a pressure-sensitive label or are laser etched. All Computype labels use the latest material, adhesive, and print technology for optimal performance, in end-use environments involving harsh chemicals and/or extreme temperatures. Labels can be customized to meet all handling, packaging, and data-tracking requirements.
Computype
(800) 328-0852; www.computype.com
Atomic Models
EASY TO ASSEMBLE AND TAKE APART
Harvard Apparatus, Holliston, Mass, under license from the American Society for Biochemistry and Molecular Biology, is the exclusive worldwide provider of CPK 3D atomic models. They can be assembled, disassembled, and reassembled easily using simple construction tools. CPK atomic models are offered in three different ways: as individual atomic models, connectors and accessories; as sets for construction of specific molecules; and as assembled molecular structures (for example: amino acids, purine nitrogen base, pyrimidine nitrogen bases, purine nucleosides, fatty acids and derivatives, enzyme cofactors, water- and fat-soluble vitamins, and many more). CPK models can be used as teaching and new-drug-presentation tools, and they enable users to visualize chemistry for enhanced understanding. They are also extremely durable and provide a view of the molecular world not available on computer simulations.
Harvard Apparatus Inc
(800) 272-2775; www.harvardapparatus.com
Protective Apparel
CHEMICAL RESISTANT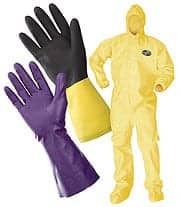 Kimberly-Clark Professional, Roswell, Ga—the maker of KleenGuard brand protective apparel, gloves, accessories, and masks—has introduced three new high-performance products that provide chemical resistance as well as all-around comfort for industrial workers in a range of industries. The new Chemical Resistance Bundle includes KleenGuard G80 Purple Nitrile Chemical Resistant Gloves, KleenGuard G80 Neoprene/Latex Chemical Resistant Gloves, and the KleenGuard A70 Chemical Spray Protection Coveralls. Exclusive glove shape is optimized for fit based on more than 40 dimensions. They also offer a 13-inch length to protect the forearms as well as the hands, textured fingers for grip, and a cotton flock lining for added comfort. The gloves protect hands against acids, alcohols, fats, caustics, detergents, ketones, and refrigerants. The coveralls provide protection for hazardous waste remediation, environmental cleanup, acid and caustic handling, biohazard cleanup, tank cleaning, and pharmaceutical manufacturing.
Kimberly-Clark Professional
(800) 255-6401; www.kcprofessional.com
Weight Calibration
THREE CERTIFICATES IN ONE
Troemner, Thorofare, NJ, has announced a new Premium NVLAP Calibration Package for one-piece weights. The company has combined all the NVLAP calibration certificates into a premium package. The package includes a NVLAP Weight Calibration, a NVLAP Density Determination Calibration, and a NVLAP Magnetic Susceptibility Determination Calibration. Troemner is the only private NIST/NVLAP accredited laboratory in the United States for all three of these mass-calibration services. The package provides essential documentation for the weights used in a laboratory to ensure that quality standards are being met. Weight calibration provides compliance in both measurement process and data reports to meet a variety of standards, including NVLAP Handbook 150-2, ISO 9000, ISO/IEC 17025, FDA, GMP, GLP, DOD, ANSI/NCSL Z540-1, and nuclear requirements. The company's mass metrology laboratory can determine the actual density of one-piece mass standards that range in size from 1 g to 5 kg.
Troemner
(800) 352-7718; www.troemner.com