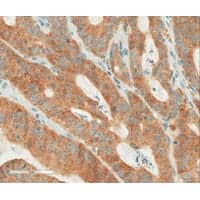 Colorectal carcinoma positive with BRAF V600E (VE1) IHC with OptiView DAB IHC detection.
Ventana Medical Systems Inc, Tucson, Ariz, a member of the Roche Group, introduces its BRAF V600E immunohistochemistry (IHC) test, which detects the BRAF V600E mutation—the most frequent BRAF mutation—in a range of tumors.
The mutation has been found to play a key role in a variety of cancers, including colorectal cancer (the third leading cause of cancer deaths worldwide), melanoma, papillary thyroid cancer, and hairy cell leukemia.
The Ventana BRAF V600E (VE1) Mouse Monoclonal Primary Antibody IHC assay is the result of the company's exclusive license agreement with the German Cancer Research Center and the University Hospital Heidelberg, Germany, to commercialize the novel IHC primary antibody that detects the V600E mutated BRAF protein.
It is the only fully automated IHC test providing lab professionals and pathologists with a highly sensitive and specific, standardized testing method for the assessment of the BRAF V600E mutation in tissue, according to the company.
The assay is optimized to perform on all VENTANA Benchmark IHC platforms with the OptiView DAB IHC Detection Kit.
Roche also offers the cobas® 4800 BRAF V600 Mutation Test which is the companion diagnostic for Zelboraf® (vemurafenib). This test was clinically validated to select patients in the pivotal BRIM-3 study, and only patients selected by this test were shown to benefit from Zelboraf therapy.
[Source: Ventana]