Aiming to educate federal legislators and their staffs about patient safety issues as they consider related legislation, regulatory oversight, and constituent service
By Mara G. Aspinall, president and CEO, Ventana Medical Systems, Inc.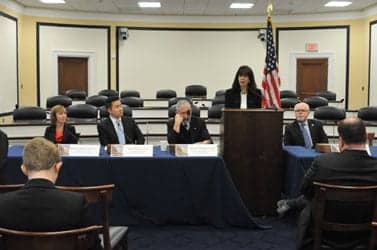 Left to right: Patricia McGaffigan, Eric Walk, MD, Maurie Markman, MD, Mara G. Aspinall, Rep Ron Barber
In November 2012, Rep Ron Barber of Arizona hosted a first-of-its-kind Congressional briefing on the often-overlooked risks to patients related to tissue processing in pathology laboratories. In line with Ventana's mission to improve the lives of all patients afflicted with cancer, the company sponsored the briefing, which was titled "A Dialogue on Patient Safety and Cancer." The purpose was to educate federal legislators and their staffs about patient safety issues as they consider related legislation, regulatory oversight, and constituent service in the future. I had the honor of moderating the expert panel.
The briefing was attended by senior health and science aides for members of Congress; congressional committee staff; executives from professional and trade associations involved in health care delivery, medical research, and medical technology; and representatives of the broader cancer community.
The panel consisted of Maurie Markman, MD, senior vice president of clinical affairs/national director of medical oncology, Cancer Treatment Centers of America; Eric Walk, MD, FCAP, senior vice president, medical and scientific affairs, Ventana; and Patricia McGaffigan, RN, MS, interim president, National Patient Safety Foundation.
The surgical pathology lab is vital to cancer diagnosis and optimal treatment, but is one of the least visible parts of the health care system. We at Ventana as well as others in the industry understand the surgical pathology lab in a profound way and are able to explain the potential risks of current practices. We were honored to communicate on behalf of our customers and the patients we serve about the dangers of surgical pathology laboratory errors due to specimen misidentification and cross-contamination.
Understanding these issues is a vital first step for those considering legislation that could reduce risk and improve US patient safety practices moving forward.
Markman testified first, giving an overview of the threats to the safety of cancer patients in the clinical setting, and of the proactive measures that the Cancer Treatment Centers of America have taken to mitigate those risks.
"Patient safety is an essential attribute of quality care and an ethical and moral imperative," Markman said. "We have an obligation to our patients, their caregivers, and one another to protect against errors or failures. At Cancer Treatment Center of America, there is no priority higher than patient safety. If there is a conflict between safe practice and speed, efficiency, or patient satisfaction, patient safety will always win."
Walk testified next about the greatest risks for error in the surgical pathology laboratory—specimen misidentification and "floater" contaminationas he recounted two high-visibility cases illustrating each type of error and its potential impact on patients. "Compared to other health care disciplines and industries, the error rate in surgical pathology labs is unacceptably high," he said.
"I hope you agree with me that the frequency with which these errors occur and cause harm to patients is completely unacceptable," Walk said. "I further hope that increased public awareness of these errors will focus more attention on this issue and lead to robust solutions for reducing error rates, thereby improving patient safety overall."
The briefing concluded with testimony from McGaffigan, who told the moving story of her daughter's delayed diagnosis with a rare type of tumor, and of its consequences. "Fundamentally changing the way our pathology laboratory systems are set up and operate—advancing the information systems and connectivity of laboratory systems and applying advancements in molecular diagnostics—is going to be really, really vital. And in that regard I see labs as an important source of progress."
I also shared with those attending that I once suffered significant loss of time, money, and quality of life due to a misdiagnosis. This personal experience as the result of a medical error only makes me more passionate about putting this issue squarely before the public and policymakers. I believe that is up to our industry to push for greater transparency and more meaningful guidelines and regulations to protect patients and ensure quality.
It is critical that all stakeholders have the fullest possible understanding of the role of diagnostics in the health care system as baseline rules and guidelines are put into place. The safety of cancer patients—a uniquely vulnerable population—depends upon it.
Click here for more information about patient safety in the lab from SaferPath.org, a Ventana-sponsored Web site.
The pace of research into this long-neglected issue is increasing. To learn more:
A Cahill and J Pearson. Measurement of stainer bath contamination and evaluation of common mitigation strategies. Levels of tissue cross contamination in the histology laboratory. Journal of Histotechnology. 2012 Sept; 35:130-139.
A Laslowski and R Savino. A new approach to minimise the problem of patient to patient contamination in histology. Comprehensively examines the tissue handling and staining, and identifies sources of tissue cross contamination during these processes, along with the diagnostic dilemmas it creates. Australian Journal of Medical Science. 2012 May; 33: 42-47.
JB Carpenter. Risk of misdiagnosis due to tissue contamination may be higher for certain specimen types. Changes to laboratory staining techniques offer opportunity to reduce contamination events. Dark Daily [Internet]. 2011 March. Available from: http://www.darkdaily.com.
IB Dimenstein. Gadgets for 'floaters' prevention in the histopathology laboratory. J Histotechnol. 2011; 34:88–90.
LJ Layfield and BL Witt. Extraneous tissue: a potential source for diagnostic error in surgical pathology. Am J Clin Pathol. 2011; 136:767–72.
AH Fischer. Complying with cross contamination question. CAP Today [Internet]. 2010 May. Available from: http://www.cap.org.
J Hunt, A Bennett, L McDonald, P Sommer and E Platt. Tissue floaters and contaminants in the histology laboratory. Arch Pathol Lab Med. 2009; 133:973–78.
College of American Pathologists (CAP). Commission on Laboratory Accreditation, Laboratory Accreditation Program (LAP) 9/27/2007 revision, Cytology Checklist, CYP.07680. Revised September 27, 2007.
Department of Health and Human Services, Centers for Medicare and Medicaid Services. Clinical laboratory improvement amendments of 1988; final rule. Fed Register. 2003: 3711 42CFR493··1274(e)(6) .
GN Gephardt and RJ Zarbo. Extraneous tissue in surgical pathology: a College of American Pathologists Q-Probes study of 275 laboratories. Arch Pathol Lab Med. 1996; 120:1009–14.
D Shibata. Identification of mismatched fixed specimens with a commercially available kit based on the polymerase chain reaction. Am J Clin Pathol. 1993; 100:666–70.
For more information, contact Editor Judy O'Rourke, [email protected]