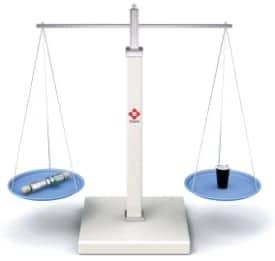 Tosoh offers a complete solution for HbA1c testing needs.
Diabetes is a group of diseases that manifest as high blood glucose due to problems with insulin production and insulin action. Insulin is naturally produced by the pancreas, but when someone develops diabetes, his or her pancreas can no longer produce enough or, in the case of type 1 diabetes, any insulin. The four main classifications of diabetes are type 1, type 2, gestational, and other, which may be maturity-onset diabetes of the young, or related to illness, medication, surgery, or other factors. Type 2 diabetes is most common, accounting for approximately 90% to 95% of all cases.
The Centers for Disease Control and Prevention (CDC) estimates that more than 25 million people have diabetes—and 7 million of them are undiagnosed. Risk factors associated with diabetes include age, race, weight, diet, level of regular physical activity, and family history. Nearly equal numbers of men and women develop diabetes, and the lifetime risk for developing it is estimated to be 30% to 40%, depending on race. The National Diabetes Education Program (NDEP), Bethesda, Md, says diabetes is the seventh leading cause of death in the United States.
The American Diabetes Association (ADA), Alexandria, Va, estimates the total costs of diabetes care in the United States is $218 billion annually, which includes patients who have been diagnosed, patients who are undiagnosed, and patients with gestational diabetes. Health care for a patient with diabetes is 2.3 times higher than that for a patient who does not have diabetes.
DIABETES COMPLICATIONS
According to the CDC, "Diabetes is the leading cause of kidney failure, nontraumatic lower-limb amputation, and new cases of blindness." Other complications of diabetes include heart disease, stroke, hypertension, eye and dental problems, kidney and nervous system disease, and increased risk of coma.
"The main reason for treatment is prevention of complications," says Randie Little, PhD, research associate professor, University of Missouri, Columbia, Mo. "With an increase in the number of patients diagnosed, there is increased need for the best treatment approaches."
Because complications of diabetes can be life-threatening, the development of diabetes testing technology that is all encompassing is increasingly important. Devices that can test for a variety of complications as well as diabetes disease monitoring are very useful.
DIABETES TESTING AND HBA1C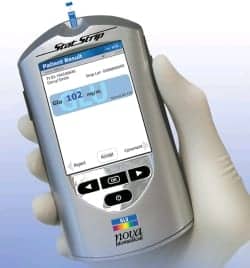 Nova Biomedical's StatStrip test strips have minimal lot-to-lot variations and no calibration codes to enter, so strip lots can be used interchangeably.
NDEP suggests HbA1c screening quarterly, and a fasting lipid profile, serum creatinine, and a number of other health measures annually.
Typically, diabetes is diagnosed by a fasting plasma glucose (FPG) test, an oral glucose tolerance test (OGTT), or a random plasma glucose test. The FPG is the most common test because of its low cost and convenience for patients. Relatively little preparation is needed—although it does require fasting, which can be difficult for some patients. The FPG may miss prediabetes and certain types of diabetes, making the OGTT more sensitive. The OGTT requires patients to fast for at least 8 hours prior to testing. When a patient's blood glucose is 200 mg/dL or higher for a sustained period of time, or when it is accompanied by symptoms such as frequent urination and polydipsia (excessive or abnormal thirst), it can signal a patient has diabetes. The FPG can diagnose impaired fasting glucose while the OGTT can diagnosis impaired glucose tolerance; these two groups are different but with overlap.
Beginning in 2010, the ADA recommended using the A1c test for diabetes diagnosis. With this test, no fasting is required, it provides an estimate of the average glucose level in the blood for the past 2 or 3 months, and physicians are familiar with the use of this test for monitoring. In the past, it was used only to monitor patients who had already been diagnosed. Standardization of A1c testing accounts for the addition of this test to the diagnostic panel options. A1c is known for its stability, but it cannot be used for monitoring or diagnosis in patients with abnormal red cell turnover, recent blood loss or transfusion, or some anemias.
HbA1c results can be affected by hemoglobin variants, such as those of different ethnic groups. "If you don't have a device that accounts for those variants, the accuracy of your results may be affected," says Lauren Foohey, MPH, director, Urinalysis and POC Diabetes, Siemens Healthcare Diagnostics, Deerfield, Ill. Foohey says that although HbA1c has been recommended for monitoring for a long time, it is now recommended for diagnosis.
Little says it's too early to tell if there has been an increase in diagnosis because people are using HbA1c. "It is easier to do an A1c, so the idea is that more people would be tested, and, therefore, more people would be diagnosed," Little says. HbA1c is well accepted worldwide as a management tool. For diagnosis, it is well accepted in the United States, but perhaps a little less well accepted elsewhere in the world, although the World Health Organization also includes it as a way to diagnose diabetes, she adds.
Physicians can now use HbA1c to diagnose prediabetes, which occurs when HbA1c or blood glucose levels are higher than they should be, but not high enough to diagnose diabetes. This small elevation indicates an increased risk for developing diabetes as well as heart disease and stroke. The CDC estimates 79 million Americans are prediabetic—which amounts to approximately one-quarter of the US population.
BEST NEW TECHNOLOGIES FOR LABORATORIANS AND PATIENTS
Many products are available for testing and management within the laboratory and at the point of care (POC), and the number of testing options is growing.
"The POC assays are often CLIA waived and can be used with minimal amounts of training," Little says. "In general, the lab testing is much better quality-wise, but there is some overlap."
Clinicians and physicians expect consistency in the quality of results between POC and core laboratory instrumentation. In the past, laboratory directors have prevented other areas of an institution from running POC tests for fear of potential errors and quality control (QC) issues. Increased connectivity between devices helps to ensure quality results and allows for greater administration of POC tests. "Because it's now possible to monitor QC and compliance, lab directors are now allowing more POC sites to conduct HbA1c testing," Foohey says. "With greater connectivity to analyzers, there is greater oversight over quality control and operator compliance."
LABORATORY TECHNOLOGY
The HbA1c product line from Tosoh Bioscience Inc, South San Francisco, includes the G8 HPLC Analyzer, as well as the newly introduced ST AIA-PACK HbA1c assay, which can be run on Tosoh's AIA-360, AIA-600II, and AIA-900 immunoassay analyzers.
The G8 HPLC Analyzer is the newest and offers results of HbA1c tests in only 1.6 minutes. It features a touch screen for ease of use, and it is available with either a 90- or 290-sample loader. "The G8 provides one of the industry's lowest CVs of less than 2%," says Ranka Milojkovic, MBA, senior HPLC product manager, Tosoh. "The instrument-reagent system utilizes the gold-standard ion-exchange method for HbA1c-level testing to effectively monitor diabetes.
"Since diabetic patients usually come in for monitoring on a quarterly basis, as a physician you want to see those HbA1c results go down over time. However, you also need to know if you are getting a believable result," Milojkovic adds. "You can control this with high-quality Tosoh analyzers and reagents that have great reproducibility and low imprecision. Being able to trust the results that come off your Tosoh instrument leads to better patient care when you can properly assess the effectiveness of the treatment program."
The G7 analyzer offers many of the same features and benefits of the G8, and also allows for two modes of analysis: Variant, which produces HbA1c results in 2.2 minutes; and ß-thalassemia, which is an extended test that produces HbF and HbA2 results in 7.55 minutes. The G7 analyzer is very similar to the G8 analyzer, but since it offers the ß-thalassemia mode it can be used to test for ß-thalassemia—a blood disease prevalent among patients with Mediterranean, Asian, and Arab backgrounds as well as presumptive identification of hemoglobin variants or hemoglobinopathies.
Three immunoassay analyzers Tosoh offers can be used in diabetes monitoring: AIA-360, AIA-600II, and AIA-900. The AIA-360 is a benchtop model that has a touch screen, produces 36 results per hour, has random access and continuous loading capabilities, and has alerts set up to warn operators about short samples. The AIA-600II is also a benchtop analyzer that has additional features than the AIA-360. It can output 60 results per hour, has a bidirectional interface, and has STAT positions for processing of urgent samples. The AIA-900, a stand-alone model, has an output of 90 results per hour and is a scalable analyzer in that you can add front-end processing through nine or 19 tray sorters without additional method validation.
The ST AIA-PACK HbA1c assay has been shown to be substantially equivalent to the HPLC method. It has a within-run precision of < 2% and a total precision of < 4%. Utilizing Tosoh's Unit Dose Test Cup reagent technology, ST AIA-PACK HbA1c has a 90-day calibration stability and a 1-year shelf life from date of manufacture. This greatly helps low-volume HbA1c users to minimize costs and prevent reagent wastage.
Quantimetrix Corp, Redondo Beach, Calif, introduced its Dropper A1c Diabetes Control—a quality control material for A1c assays—in July. One of the benefits of Dropper A1c is its variety of storage options: frozen, refrigerated, or even room temperature for labs without refrigeration. Dropper A1c control is for use with most major immunoassay and boronate affinity laboratory and POC analyzers. The dropper-style bottle facilitates portability and ease of use.
Because chronic kidney disease (CKD) is a frequent complication of diabetes, better diagnosis of this condition is also necessary. The Cystatin C assay offered by Siemens Healthcare Diagnostics is a reliable method of measuring estimated glomerular filtration rate (GFR). GFR is used to measure kidney function and determine the stage of kidney disease. Although a number of tests are available to determine kidney function, the National Kidney Foundation, New York, cites testing GFR as the best method. Cystatin C is available through three separate Siemens Healthcare Diagnostic core laboratory products: the Dimension Vista® system, BN ProSpec® System, and ADVIA® Chemistry system.
Research has shown that Cystatin C is superior to measuring creatinine and creatinine clearance for many reasons, including it has the ability to detect early-stage CKD; its reference ranges are the same for children and adults; it is not affected by other conditions such as liver disease; and there are no known analytical interferences, which often occur with creatinine.
POINT OF CARE DIABETES TESTING AND MANAGEMENT TECHNOLOGY
One of the many diabetes-testing-oriented products from Siemens Healthcare Diagnostics is the DCA Vantage Analyzer. This analyzer is for POC use in physician's offices and offers "lab-like results," wherein its reliability and accuracy are the same as laboratory instrumentation, according to the company. It provides results for HbA1c from whole blood within 6 minutes, and A:C ratio, albumin, and creatinine in urine within 7 minutes. Features include remote access, user-defined reference ranges, only 1 microliter of blood needed to run the test, and touch screen or bar code data entry. Outside the United States, the DCA Vantage Analyzer also delivers trending graphs to enable more comprehensive patient disease management, as well as Estimated Average Glucose (eAG) information to help physicians better understand how well patients are managing their diabetes.
Because results are readily available, patients can receive feedback about management and compliance within the same physician visit. In addition to managing diabetes, the DCA Vantage provides important information about kidney function with the onboard GFR calculator. "Physicians use the DCA Vantage Analyzer for monitoring diabetes and diagnosing early-stage kidney disease," Foohey says. The microalbumin test that can be done on this analyzer helps physicians and clinicians with this task.
Nova Biomedical, Waltham, Mass, offers a number of products related to diabetes testing and monitoring both at the POC and in the core laboratory. The Nova StatStrip® Hospital Glucose Monitoring System is a handheld point of care analyzer that has been clinically validated by more than 50 peer-reviewed studies worldwide.
"The key to StatStrip's superior accuracy is the patented design of the test strip," says Rick Rollins, Nova Biomedical. "It uses a multilayer system that reads glucose plus the level of hematocrit and common interfering substances. StatStrip measures the hematocrit level for each test and eliminates its effect from the glucose reading, providing an accurate result." StatStrip also corrects for the effects of common substances such as vitamin C, acetaminophen, and maltose, he says.
StatStrip test strips have minimal lot-to-lot variations and no calibration codes to enter, so strip lots can be used interchangeably. No calibration codes means there is one less variable that could cause inaccurate readings. Users receive their results in 6 seconds. It has a bright, color touch screen and 2D bar code capability. Many hospitals are moving to 2D bar codes to capture more data for patient records.
Studies suggest that discussing results of HbA1c tests with patients helps with their glucose-control efforts. The in2it Analyzer from Bio-Rad Laboratories, Hercules, Calif, is a POC testing device that can be used to measure HbA1c. It uses cartridges to capture samples. Accessories that can be used with the analyzer including a printer, a bar code reader, and a keypad, for improving quality control and patient safety. The accessories prevent errors in patient identification and can eliminate transcription issues. The in2it Analyzer strives to produce reproducible and accurate results. The analyzer itself correlates with gold-standard HPLC technology, and because it has a CPT code, it is reimbursable and can help labs decrease the number of tests they send out.
---
Elizabeth Kamp is a contributing writer for CLP.