By Dirk Ahlbrecht, product manager, software and pharma solutions
Marketing Lab Products and Services
Sartorius Weighing Technology GmbH, Goettingen, Germany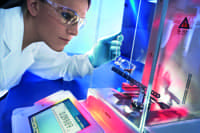 Reliable and Efficient Laboratory Processes with Cubis individual
Today, many laboratories rely on computerized systems for management of samples and lab analysis orders.
Analytical systems, such as chromatographs and spectrometers, are often directly connected to such laboratory information management systems (LIS or LIMS).
However, these connections fall short of areas where samples are prepared and especially where weighing is performed. Weighing applications still need to be carried out manually, without the balance being directly linked to a LIMS. Lab staff members frequently spend more than one-third of their daily time doing paperwork to log weighing results.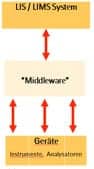 Computerized Workflows Increase Efficiency in the Lab
Meanwhile, a growing number of laboratories have been searching for ways to increase efficiency in daily lab routines and to enhance data and sample management. The solution lies in the practical implementation of computerized workflows that facilitate and automate data handling. Usually, middleware is installed for this purpose, which is implemented in addition to the existing LIMS. Middleware includes database systems, electronic lab journals, workflow tools, and dedicated software for data connection and data transport. In all of these cases, additional software layers are added on below the LIMS architecture (see Diagram 1) and have to be evaluated, implemented and validated.
Computerized workflows not only ease data handling but they also increase the reliability of lab work. Software ensures that the instructions and protocols defined in standard operating procedures, SOPs, are followed 100%. This eliminates the need for additional monitoring steps, thereby increasing efficiency while augmenting safety and reliability.
Sartorius Q-Apps Make Weighing Applications Easier
Individual workflows, or SOPs, can now be downloaded into Sartorius Cubis® balances. These integrated Q-Apps guide the user step by step throughout an entire weighing procedure. The application programs are installed as integrated software in the balances and can be retrieved at any time from a task list.
A specific example is the Q-App called "USPmin" that helps laboratories comply with the requirements for determination of the minimum sample weight according to USP 34, Chapter 41. This Q-App prompts the user to place the appropriate test weight on the balance and to remove it once the weight has been saved. After the user has performed the prescribed number of weight measurements, the balance will then calculate the standard deviation and uncertainty of measurement, and determine whether the mass of the test weight meets these USP requirements. If this is the case, the value can be saved as the SQmin weight in the Cubis balance.

From Standard to Entirely Individual Procedures: A Full Range of Q-Apps to Suit Each Process
Sartorius Q-Apps also support other frequently used weighing applications, application-specific calibration and adjustment, and even pipette calibration performed using certified Sartorius software. All Q-Apps are available online from the Sartorius App Center and can be quickly and conveniently downloaded to an SD card and installed on a Cubis balance. All that is needed is a software update of the Cubis operating system that can be obtained free from the Sartorius Web site. Q-Apps can be tested for 30 days free of charge before the user needs to purchase a license. Further details on Sartorius Q-Apps are provided at www.sartorius.com/cubisindividual.
For users who have defined specific workflows in their SOPs, a customized Q-App may be the preferred choice. This app is tailored to the particular process and ensures that each protocol or analytical procedure is performed exactly as defined in the respective SOP. A Sartorius product specialist programs a customized Q-App according to the user's SOP using a process configurator and subsequently downloads this app into the Cubis balance. Therefore, this turns a standard Cubis into a Cubis individual version.
Simple Validation and Fast Data Exchange
Weighing sequences of all Q-Apps are saved in the balance itself and are considered embedded software on which fewer validation requirements are placed. In the simplest case, validation can be carried out with minimum effort just by using a flow chart. Sartorius supports such validation and, if requested, will take care of the entire validation process.
Q-Apps enable data to be exchanged with a higher-level system, such as LIMS, either over an FTP server or by using Web services. These are Internet-based, internationally recognized, and qualified. In this way, Cubis®can be quickly and easily connected to any LIMS.
Summary
Cubis individual, with its Q-Apps, supports both common and customized weighing processes that are exactly tailored to the user's requirements. This balance provides a viable alternative to external middleware software, so PCs or laptops no longer have to be connected to the balance inside a laboratory. In this way, Cubis with Q-Apps increases the efficiency and reliability of daily lab work.
[Source: Sartorius Weighing Technology]