Microsite for New Explorer Balance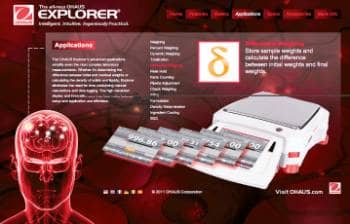 Hub of product data and imagery
OHAUS Corp, Parsippany, NJ, has launched www.OhausExplorer.com, a hub of product data and imagery highlighting the eight essential features of the new Explorer® balance. End users can access detailed application information, specs, and accessories for the latest addition to the company's portfolio. Highlighting features and benefits of the scales, the microsite explains how the Explorer boosts lab productivity. The Explorer delivers accurate results within seconds, offers easy-to-use SmarText™ 2.0 graphical software, provides access and visibility to the weighing chamber, and features antistatic coated glass and smooth, ball bearing glide tracks above the weighing chamber.
OHAUS Corp
(800) 672-7722
www.ohaus.com
---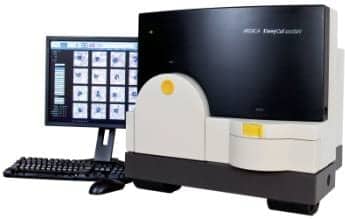 Automated Cell Imaging Analyzer Software
Allows multiple DIFF stations for review
Sysmex America Inc, Mundelein, Ill, introduces expanded software products for its Sysmex WAM™ middleware and the Medica EasyCell® assistant automated cell imaging analyzer (pictured). The EasyCell assistant automated cell imaging analyzer enables smaller clinical laboratories to achieve greater detection and examination of abnormal cells while providing more detailed imaging records compared to other, more traditional manual methods. The EasyCell automated system improves data management in the areas of normal differentials, red blood cell morphology, and low-count samples. The addition of EasyCell Remote software allows multiple DIFF stations for review and real-time consultation among clinicians.
Sysmex America Inc
(866) 779-7639
www.sysmex.com/usa
---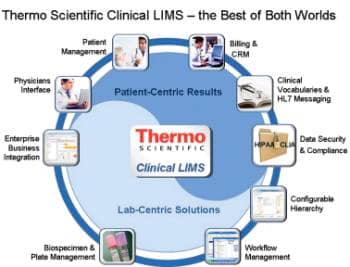 Laboratory Information Management System
Improves the management of laboratory workflow
Thermo Fisher Scientific Inc, Fremont, Calif, introduces the new Thermo Fisher Clinical laboratory information management system (LIMS). The new system is a fully functional data and sample-management system that is designed to improve the management of laboratory workflow and drive a clinical lab's processes while enabling bidirectional communication between physicians and the lab. The LIMS delivers the end-to-end laboratory data and patient data-management functionality needed by scientists and technicians involved in clinical and molecular diagnostics. The system facilitates compliance with all industry regulations related to patient privacy, such as HIPAA, and those related to clinical testing, such as Clinical Laboratory Improvement Amendments (CLIA). Thermo Scientific Clinical LIMS also supports the most widely used ANSI-accredited standard for interoperability of health information technology (Health Level 7 Messaging – HL7), and is designed to enable laboratories to operate in compliance with applicable regulatory requirements.
Thermo Fisher Scientific Inc
(866) 463-6522
www.thermofisher.com