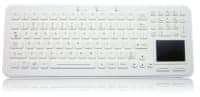 Rechargeable Wireless Keyboard
Designed for infection control
iKey, Austin, Tex, presents a rechargeable wireless keyboard designed for infection control. The SBW-97-TP is a fully sealed, rechargeable, wireless keyboard, using QuickPair™ technology. QuickPair offers the ability to pair to a USB dongle over a 802.11G wireless frequency without interacting with the host PC. This solution does not require the user to press any buttons on the dongle or interact with the computer's operating system. Powered by a lithium ion battery, the keyboard has a battery life of 2 weeks with regular use, and is easily recharged with its included micro USB cable. The keyboard takes only 5 hours to fully charge, and maintains full functionality while charging. Its case and silicone rubber keys are fully sealed, washable, and compatible with hospital-grade disinfectants. Measuring only 14.96 inches x 5.91 inches x 0.84 inches, the keyboard includes an integrated touchpad and 10-key numeric pad.
iKey
(800) 866-6506
www.ikey.com
---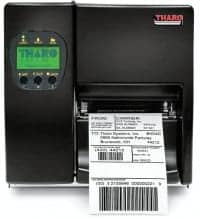 Label Printer
Performs software functions without a computer
Tharo Systems Inc, Brunswick, Ohio, offers a stand-alone label printing station that, once label formats are downloaded from a computer, can be remotely operated and can perform many software functions using a keyboard with no computer attached. These thermal/thermal transfer label printers set standards in flexibility of use, security, and standard, out-of-the-box features. Download label formats, graphics, and databases to the printer's flash memory, disconnect the printer from the PC, plug in a standard PC keyboard, and take the printer to another location. Using the keyboard, you can input data, specify the number of labels to print, and merge database information into your format. The H-Series printers provide security as well, because a format downloaded to the flash memory cannot be altered without reattaching the printer to a PC.
Tharo Systems Inc
(800) 878-6833
www.tharo.com