---
Cassette Label
Harsh environment-approved labels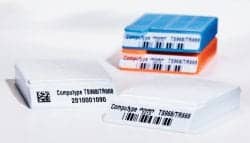 Computype Inc, St Paul, Minn, offers the TS968 Histology Cassette Label, an addition to the company's suite of harsh environment-approved labels. Requiring no additional equipment, the TS968 Histology Cassette Label conserves lab space and works with pathology automation. The labels are resistant to harsh chemicals and extreme temperatures. The labels permanently adhere to cassettes. The TS968 Histology Cassette Label also works with automated pathology systems.
Computype Inc
(800) 328-0852
www.computype.com
---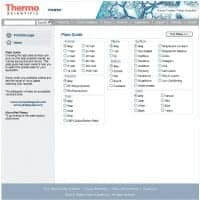 Online Plate Selector Tool
Select the correct plate format for applications
Thermo Fisher Scientific Inc, Fremont, Calif, offers its Thermo Scientific Nunc online plate selector guide, a tool for users to select the correct plate format for their applications. Choosing the right plate surface for cell- and protein-based assays can optimize resulting data while increasing lab efficiency. The new plate selector guide enables users to enter their selection criteria and view the range of Thermo Scientific Nunc plates that match their requirements. Users of the online plate selector guide can choose specific criteria such as well format, polymer type, sterility, surface treatment, and shape. Results are subsequently displayed in an organized table that includes the catalog number for each product. Detailed product information can be found by clicking on the catalog number.
Thermo Fisher Scientific Inc
(585) 586-8800
www.thermoscientific.com/plateguide