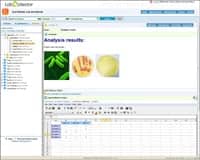 Electronic Lab Notebook
Notebook to share laboratory work
AgileBio, New York, has released the LabCollector's Electronic Lab Notebook (ELN) v2.1. The ELN is an efficient notebook to store, organize, find, and share laboratory work. It is a Web-based solution. The latest release of LabCollector's ELN includes new features with a modernized and more intuitive user interface, which enables users to work with the ELN as a great support/complement or even replacement to the lab paper notebooks. Due to Web technologies, it provides a collaborative environment using the lab network. The upgrade includes improvement of the user interface, a multilanguage interface, multiple images and file uploads at once, task-time reporting, an archive function, and diagram designer tool, among other features.
AgileBio
(800) 453-9128
www.agilebio.com
---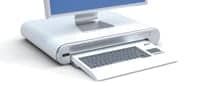 Self-Sanitizing Keyboard
Addresses need for continual disinfection efforts
The FDA has cleared the self-sanitizing computer keyboard for use in health care settings from Vioguard LLC, Seattle. The product is the first FDA-cleared computer keyboard to use the germicidal properties of ultraviolet light (UV-C) to automatically clean its surfaces, according to the company. UV-C is a proven killer of flu, MRSA, and other harmful viruses and germs. The keyboard was developed to address the need for continual disinfection efforts in the medical workplace and directly deals with the issue of cross-contamination among shared workstations by automatically destroying deadly microorganisms such as MRSA. The self-sanitizing keyboard has the look and feel of a standard notebook keyboard, and requires no software or special hardware to function. A microprocessor controls UV exposure, operation of the sensor, and monitors safety interlock switches and lamp status. On a user-triggered or predetermined basis, the keyboard automatically retracts into its own clean, light-tight enclosure. The keyboard is then safely flooded with high-power germicidal UV light. By waving a hand within inches of a built-in motion sensor, the motorized keyboard drawer quietly opens and presents a completely sanitized keyboard and touchpad.
Vioguard LLC
(866) 910-0471
www.vioguard.com
---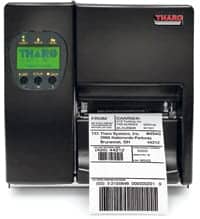 Wide Label Printers
Available in 203 or 300 DPI
The H-400/H-600 series thermal transfer product identification and bar code label printers from Tharo Systems Inc, Brunswick, Ohio, which are available in 203 or 300 dpi, feature a durable all-metal construction with a cast aluminum center wall for added strength. The large media window allows for easy viewing and monitoring of supplies. Standard features include a high-speed USB 2.0 interface for fast data transfer and a real-time clock for time and date stamping of labels. The standard Stripper Sensor on the H-400 series can be used for either strip-and-peel or tear-off applications. The H-600 series come standard with internal ethernet. Along with all of these standard features, the Tharo H-series printers also ship with a free version of Tharo Systems' EASYLABEL® Start software for custom designing and printing labels. Available options include a cutter, internal rewind, ethernet adapter (H-400 series), and applicator interface.
Tharo Systems Inc
(800) 878-6833
www.tharo.com
---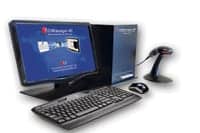 Digital Agglutination Test Card Reader
Standardized test interpretation
Arlington Scientific Inc, Springville, Utah, has received 510(k) clearance for the ASiManager-AT™ for clinical diagnostic testing. The ASiManager-AT tabletop system includes an imaging unit, software, and an integrated CPU providing user-friendly technology requiring minimal training. This system is designed to provide standardized test interpretation, an initial predictive titer analysis, and provides for storage, retrieval, and transmittal of the test results.
Arlington Scientific Inc
(801) 489-8911
www.arlingtonscientific.com