Observa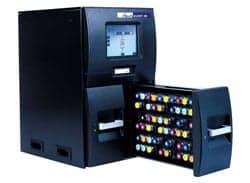 Data-management software
bioMérieux Inc, Durham, NC, will make its next-generation data-management software, Observa noninterfaced version 3, available to customers within the blood bank industry. The Windows XP platform software consolidates data and results from the automated BacT/Alert 3D microbial detection device. This system upgrade will be available to all blood centers starting third quarter 2007. The software offers the convenience of monitoring multiple data from a single workstation. This feature can possibly help reduce production costs and improve data management. The software will provide blood bank laboratories with 21 CFR Part 11 compliance and audit tracking to improve system security and confidence.
bioMérieux
(800) 682-2666
www.biomerieux-usa.com
---
NovoPath Now with optional structured data entry
Novovision Inc, Princeton, NJ, a leading provider of software solutions for anatomic pathology laboratories, announces the addition of the optional structured data entry and technical/professional component split solutions to its anatomic pathology software platform, NovoPath. The structured data entry module saves valuable time when entering case information by intelligently loading the diagnosis, CPT, and ICD9 codes most appropriate to the case at hand. This module reduces billing variations that create unnecessary audit risks and lets users focus on special cases that truly require attention. With the new NovoPath TC/PC solution, pathology labs and their clients can use the platform to achieve their goals without compromise.
Novovision Inc
(877) 668-6123
www.novovision.com
---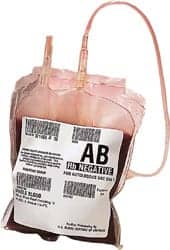 Hema Trax
Digi-Trax Corp, Lincolnshire, Ill, will soon release its Blood Bank Information System partners, the latest version of Hema Trax. Version 3.0 is a TCP/IP service that will update, correct, and extend the ICCBBA product label database, and remove any restrictions to the five-character testing code. Label verbiage will comply with all FDA labeling requirements. Users who have paid a Lifecycle Software Support fee can now download updates directly from the Digi-Trax Web site. Hema Trax V 3.0 enables printing ISBT 128-compliant patient ID wristbands and compatibility labels to electronically match bar-coded blood units to bar-coded patients.
Digi-Trax Corp
(847) 613-2100
www.digi-trax.com
---
Peak Analysis
Chart software for PowerLab
ADInstruments, Sydney, Australia, launched Peak Analysis, a new Chart software module for use with PowerLab data-acquisition systems. The module speeds up and enhances analysis of peaks in waveform data. It can be used in a variety of applications including isolated tissue studies, hemodynamic measurements, amperemetry, cardiac physiology, neurophysiology, and current measurements. PowerLab Systems and Chart software are used to acquire, display, and analyze a virtually unlimited range of physiological signals. The Peak Analysis Module extends the system's capabilities by providing automatic detection and analysis of peaks in waveform data previously recorded by Chart, or online as the data is acquired. The software includes a range of preset analysis types suited to general and specific waveforms.
ADInstruments
(888) 965-6040
www.adinstruments.com
---
Freezerworks Program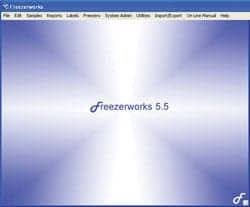 Freezer inventory software
Dataworks Development Inc, Mountlake Terrace, Wash, is distributing its Freezerworks program at no charge for stand-alone versions of Freezerworks 5.5 for both Windows and Macintosh. The no-charge policy is the company's way of celebrating its 20th anniversary. The software is a freezer inventory program designed to give laboratories a quick way to enter and search for frozen and refrigerated samples. The program is user configurable and designed to work for all freezers and tanks, providing sample security, 21 CFR part 11 compliance, cryogenic-safe bar-code labeling, user-defined fields, and searching. The program is available by request from the company Web site.
Freezerworks
(425) 673-1974
www.freezerworks.com