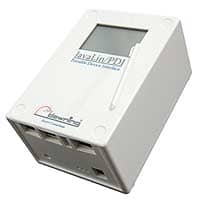 Intelligent Clinical Interface
Small-format clinical interface
The new JavaLin/PDI Portable Device Interface from Dawning Technologies Inc, Fort Myers, Fla, is the most advanced small-format clinical interface the company has released to date. It is the fifth generation of intelligent clinical interfaces and provides a range of features and capabilities primarily aimed at the connection of clinical instruments to information systems. The PDI can be used to establish individual instrument or other device connections directly to a LIS, or as part of a larger-scale JResultNet middleware system controlling many devices. The clinical version JavaLin/PDI is principally a new platform for Dawning's JResultNet Interface Engine Software, the company's middleware application. The PDI hardware is a modular design that provides more power in a smaller footprint than the company's previous devices and allows for future expandability. It can serve one or two analyzers and host system connections. The PDI runs any of the instrument driver modules available in the company's Java Driver Library.
Dawning Technologies Inc
(800) 332-0499
www.dawning.com
---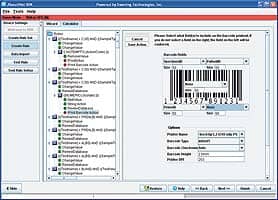 Lab Middleware Product
Can be run from a number of platforms
JResultNet Middleware is Dawning Technologies Inc's, Fort Myers, Fla, flagship lab middleware product that can be run from a number of platforms across a wide application scale, from single instrument connections to enterprise-wide autoverification. JResultNet provides a common user interface and a robust set of configuration tools, which include support of a variety of industry standard protocols such as HL7, ASTM, XML, CSV, CDF, and HPRIM. A complete set of message mapping tools is provided, allowing each connection to be configured to precisely match requirements. Rules can be created in the JResultNet Rules Development Kit, an application (separate from the core middleware) available only from Dawning. The RDK allows rapid and easy development, testing, and validation of rules, resulting in faster turnaround times, fewer errors, and increased efficiency. JResultNet provides laboratorians a significant tool in leveraging lab data more effectively.
Dawning Technologies Inc.
(800) 332-0499
www.dawning.com
---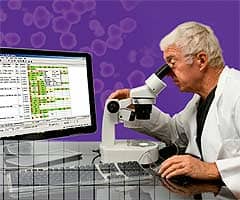 SoftLab LIS
Accommodates hospitals, IDNs, and labs
SoftLab, the LIS solution from SCC Soft Computer, Clearwater, Fla, provides quantifiable improvements in clinical outcomes, workflow efficiencies, and return on investment. SoftLab helps clients reach top productivity. This application is designed to accommodate hospitals, IDNs (integrated delivery networks), and labs of every size. With its advanced integration capabilities and multisite functionality, SoftLab can be used in a wide variety of clinical lab settings, as well as at university and teaching facilities. Utilization management, medical necessity checking with Advanced Beneficiary Notices (ABNs), specimen tracking, call lists, and comprehensive report management are all provided to create real improvements in the efficiency and quality of lab services. It computerizes and manages all data processing and lab activities, from order entry and result reporting to interfacing with lab instruments. The fully integrated SoftLab system provides an interface that links all clinical lab departments throughout the enterprise.
SCC Soft Computer
(727) 789-0100
www.softcomputer.com
---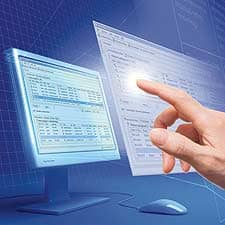 Diagnostic Pathology Support System
Offers reliable data capture
SoftPathDx, a diagnostic pathology support system from SCC Soft Computer, Clearwater, Fla, provides reliable data capture as well as a highly customizable and client-configurable reporting and workflow structure. A diverse imaging and reporting system allows a personalized setup. Integration with SCC's Genetics Information Systems Suite applications provides easy reflex ordering of tests in the sister applications, such as reflex HPV tests to SoftMolecular® or chromosome analysis in SoftCytogenetics®, with final reporting in the Pathology Report. SoftPathDx also enables users to share specimens between other labs such as biochemistry, flow cytometry, cytogenetics, and molecular. This allows for integrated resulting and the ability to track specimens throughout multiple labs. SoftPathDx also enables users to optimize workflow by focusing on site-specific protocols and rules to assist the technologists and pathologists in decreasing turnaround times and managing patient data.
SCC Soft Computer
(727) 789-0100
www.softcomputer.com
---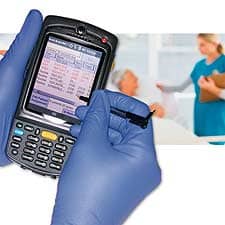 SoftID
Wireless verification of patient identification
SoftID, from SCC Soft Computer, Clearwater, Fla, uses a combination of bar code scanning with automation technologies to provide labs with a wireless, efficient, mobile, and dependable means of verifying patient identification prior to blood collection. SoftID provides both PC and handheld versions to facilitate the management of this information. It provides positive patient and specimen identification at the point of care. This effective lab software solution enhances patient safety by accurately identifying the patient and the appropriate lab test and ensuring that patient lab specimens are correctly bar coded and labeled. SoftID improves lab efficiency by automating the documentation of specimen collection data. When the collection is complete, SoftID will transmit data back to the LIS for real-time updates.
SCC Soft Computer
(727) 789-0100
www.softcomputer.com
---

CLIN1 Laboratory Information System
Uses easy-to-configure Microsoft Windows technology
Clinical Software Solutions, Queen Creek, Ariz, has been providing laboratory information systems and clinical lab software to client facilities since 1987, including the CLIN1 Laboratory Information System. Whether integrated or stand-alone, the company offers the tools and capabilities your lab needs to provide outstanding service to your customers where, when, and how they need it. Using easy-to-manage and easy-to-configure Microsoft Windows technology along with off-the-shelf components for analyzer interfaces, the company helps keep your overhead low and your options and throughput high in a cost-effective way. Industry-standard SQL Server technology assures that your information is secure, but accessible where and when it is needed.
Clinical Software Solutions
(800) 570-0474
www.clin1.net
---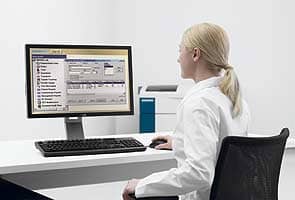 Rules-Based LIS
Easy-to-use graphical interface
NOVIUS® Lab from Siemens Healthcare Diagnostics, Tarrytown, NY, is an award-winning, rules-based LIS that helps lab professionals manage all lab workflows and results. NOVIUS Lab interfaces with reference labs, point-of-care data managers, instruments, lab automation systems, clinical repositories, and financial systems. The LIS provides a flexible system that can accurately enter information from multiple inpatient and outpatient facilities. It helps increase overall lab productivity, and supports provider initiatives to improve patient outcomes. The system can reduce costs, improve customer service, and enhance overall lab workflow and efficiencies. It also gives labs a way to control specimen collection and testing, and test results routing. NOVIUS Lab offers an easy-to-use graphical interface, high-performance capabilities, and scalability to accommodate future growth.
Siemens Healthcare Diagnostics
(888) 588-3916
www.siemens.com/diagnostics
---
Orders and Results Management Software Program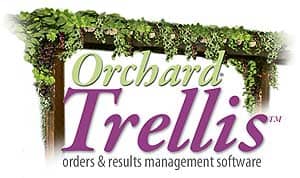 Pass orders, results between low-volume POC analyzers and EMR
Orchard® Trellis™ from Orchard Software, Carmel, Ind, is an orders and results management software program that serves as a simple "review, click, and go" cost-effective bridge for electronically passing orders and results between low-volume POC analyzers and your EMR. Whether your POC testing is in a Protime clinic, a pediatrician's office, a lipid clinic, or any other POC testing facility, Trellis is a solution designed to enable connectivity and electronically integrate POC results back into your EMR. Trellis is very flexible and deployed in a variety of ways; from a basic installation in a small practice where a single Trellis is used as a simple bridge between the EMR and a few low-volume instruments, to being deployed in network of multiple POC testing locations linked to a centralized lab using Orchard Harvest LIS.
Orchard Software
(800) 856-1948
www.orchardsoft.com
---
Orchard Harvest LIS
Improves reimbursements and simplifies medical necessity validation
Orchard® Harvest™ LIS from Orchard Software, Carmel, Ind, uses process automation, seamless integration, and rules-based technology to simplify lab workflow. Orchard Harvest LIS improves reimbursements and simplifies medical necessity validation during order entry by automatically screening ICD-9 codes, testing frequency, and experimental procedures. Customizable rules reduce errors and aid decision-making for order routing, autoapproval of results, reflexing additional testing, automatic comments, and clinical follow-up recommendations. Orchard Microbiology and Orchard Pathology electronically integrate these departments with the rest of the lab. Orchard's single database provides immediate access to the patient's entire history, where clinical or molecular results and images are integrated with interpretive text on the pathology worksheet and patient report. Orchard specializes in the seamless integration with host systems, EMRs, billing, and reference labs and linking multiple lab sites is possible.
Orchard Software
(800) 856-1948
www.orchardsoft.com
---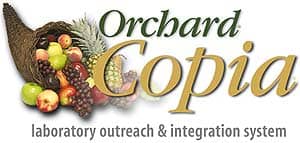 Outreach and Connectivity Tool
Clients have access to your lab via the Web
To remain competitive, independent labs or hospitals with outreach must provide EMR integration and Web-based access for remote order entry and result delivery. Orchard® Copia® from Orchard Software, Carmel, Ind, is a flexible outreach and connectivity tool that makes doing business with your lab easy. With Copia, your clients have access to your lab via the Web or directly through their EMRs. With electronic access, you not only retain clients, but you will eliminate paper requisitions, reduce errors, save time, improve efficiency, and increase revenue. Copia is designed for complex outreach business scenarios such as those found in hospitals and independent labs serving multiple business entities. Designed to work with Orchard's various laboratory systems or as an add-on to your existing lab system, Copia's application is a front-end, Web-based outreach system designed to increase your lab's marketability by providing easy Web-based access and direct integration to your clients' EMRs and other information systems.
Orchard Software
(800) 856-1948
www.orchardsoft.com
---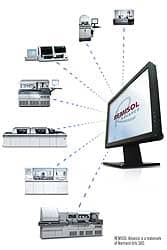 Data Management System
Consolidates patient test information
The REMISOL Advance v1.5 data management system from Beckman Coulter Inc, Brea, Calif, consolidates patient test information from multiple instruments in the lab or from multiple labs in the hospital network. It improves lab workflow and the result-management process, and is helpful in the lab accreditation process. The system offers a dynamic version of Extended Quality Control (EQC) that features step-by-step creation of protocols to ensure quality results. It optimizes lab operations by decreasing turnaround times for results reporting, standardizing lab processes, and enabling the connectivity of multiple Beckman Coulter instruments through a single point of management. REMISOL Advance v1.5, in unison with EQC, provides an integrated view of the analyzers' QC status with patient results. Audit and traceability features allow all events related to the creation, modification, or deletion of a result to be saved for later reference.
Beckman Coulter Inc
(800) 526-3821
www.beckmancoulter.com
---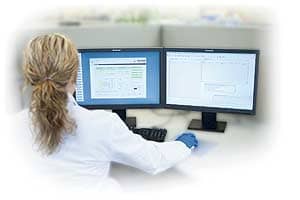 Instrument Management System
Manage lab workflow, improve decision-making steps
The new Command Central v3.0 instrument management system from Beckman Coulter, Brea, Calif, helps manage lab workflow and improve decision-making steps. Connecting up to 18 instruments and automated systems and up to five networked Command Central workstations within a single lab, Command Central provides lab technicians with a real-time view of lab systems from a single point of control to maximize workflow efficiencies. The system offers labs the option to either integrate with a data manager or function independently. Command Central works with data managers such as REMISOL Advance to achieve workflow efficiencies, or can serve as a standalone product for users to run automation and quickly respond to any instrument issues. In addition to serving labs that don't use data management software, Command Central provides an opportunity to apply other Beckman Coulter information systems and workflow solutions.
Beckman Coulter Inc
(800) 526-3821
www.beckmancoulter.com
---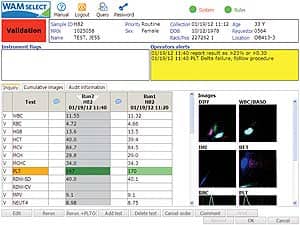 Middleware Software Platform
Suited for small to medium-sized clinical labs
Sysmex WAM Select™ from Sysmex America Inc, Mundelein, Ill, is a middleware software platform enabling enhanced efficiency and control over hematology workflow and results management for small to medium-sized clinical labs performing less than 350 hematology orders per day. This hematology software solution for clinical labs with Sysmex® X-Series instruments and the Sysmex SP-1000i™ slidemaker/stainer interfaces to both instruments. It then interfaces through a single ASTM interface to the LIS. This streamlined approach saves testing time and may also save on LIS interface charges. Data is stored online for up to 90 days (depending on the lab's LIS criteria) for easy access and delta checking. This comprehensive system includes a hematology-specific rules library with true autovalidation capability, and it is packaged to enable fast installation with minimal disruption to lab operations.
Sysmex America Inc
(800) 379-7639
www.sysmex.com/us
---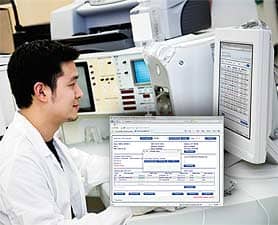 Add-On Applications for LIS
Deliver advanced functionality to legacy LIS software
e.lixa from Psyche Systems, Milford, Mass, is a suite of add-on applications that extend and enhance a lab's existing LIS with Web-based outreach capabilities, and advanced result management reporting. Because it is delivered as a securely hosted application suite, e.lixa can deliver advanced functionality seamlessly to even legacy LIS software at a fraction of the cost of a new LIS or even a system upgrade. The suite offers an EMR Internet Interface to connect all of your physician office EMR and practice systems to your lab. e.outreach gives physicians secure online access to critical patient care information and for fast, accurate online order entry directly. e.charts allows users to create patient reports that feature graphical analysis. MicroPath automatically associates required culture media, generates the required number of specimen and media labels, and seamlessly supports nonculture or serological testing.
Psyche Systems
(508) 473-1500
www.psychesystems.com
---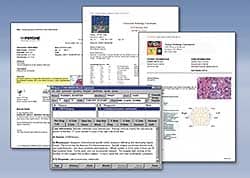 Anatomic Pathology Information System
Quickly adapts to the specific needs of any lab
WindoPath from Psyche Systems, Milford, Mass, is a highly advanced, full-featured anatomic pathology information system with a modular, customizable design. The design allows it to quickly and easily adapt to the specific needs of labs of all sizes and testing capabilities, including hospitals, private pathology groups, commercial labs, physician office labs, cytogenetics, and molecular labs.
Psyche Systems
(508) 473-1500
www.psychesystems.com
---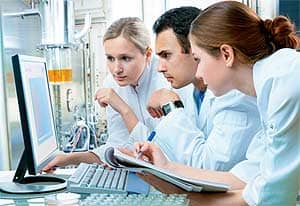 LABHEX LIS
Provides a high level of flexibility
LABHEX LIS from HEX Laboratory Systems, Encinitas, Calif, has many new features and options providing a high level of flexibility to handle all types of labs. Integrated billing provides a system for commercial labs needing financial software along with their LIS. HEX Billing can be purchased separately and interfaced to another system. The latest release includes the ANSI 5010 billing format. LabCentral Web portal for results and orders has undergone a revision with a new look, including more features and adapted for mobile devices. Focusing on EMR interfaces, the company has developed a cost-effective way for labs to interface to multiple EMR systems. HEX can install a new system within weeks, install a new analyzer interface within days, and can fix most problems the same day. The company has support staff 24/7 and phones that are answered by live people.
HEX Laboratory Systems
(800) 729-2085
www.hexlab.com
---

Horizon Lab
Integrated solution for all lab settings
McKesson Corp, Alpharetta, Ga, offers Horizon Lab™, an integrated solution for all lab settings that automates the entire lab process: order entry, point-of-care specimen collection, specimen management, analytic operations, information distribution, and financial and business performance management. The solution suite also includes Horizon Blood Bank™, Horizon MobileCare™ Phlebotomy, Horizon OutreachWP® for Lab, Horizon Lab Financials™, and the company's newest offering: Horizon Lab Analytics, providing a dashboard for lab operations management.
McKesson Corp
(404) 338-6000
www.mckesson.com/laboratory
---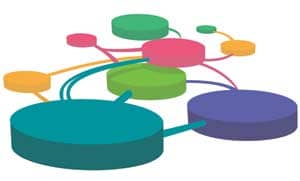 Middleware Solutions
Handles all technical aspects of lab workflow
The TD-Harmony Suite from TECHNIDATA CANADA Inc, Montréal, Québec, Canada, is a range of middleware solutions designed to handle all technical aspects of labworkflow, from dispatching samples to clinical review, and reporting results. With comprehensive information and organizational management capabilities, TD-Harmony is suited for facilitating the consolidation and management of a network of labs and giving a new lease on life to your existing LIS. Key benefits include the ability to cover all lab disciples, reduced turnaround time, a highly scalable architecture, multisite management, noninstrument/LIS vendor specific, and a decrease in production costs.
TECHNIDATA CANADA Inc
(514) 270 7777
www.technidata-web.com
---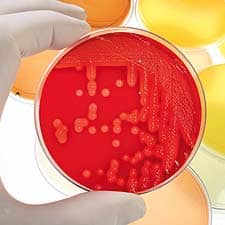 TD-Synergy Microbiology Module
Modern, paperless system
The TD-Synergy Microbiology module from TECHNIDATA CANADA Inc, Montréal, Québec, Canada, was created through years of consultation with microbiologists worldwide. It is a modern, paperless system that embodies best safety practices and provides fast access to results within a flexible, fully auditable environment. The TD-Synergy LIS solution incorporates a module completely dedicated to microbiology. It offers workflows for bacteriology, mycology, and parasitology due to customizable analytical protocol design and flexibility in result entry methods. The module offers flexibility with customizable protocols and workflow and the ability to define expert rules on the fly. The system also offers an ergonomic user interface, customizable results entry screen, and can be used with worksheets or paperless.
TECHNIDATA CANADA Inc
(514) 270 7777
www.technidata-web.com
---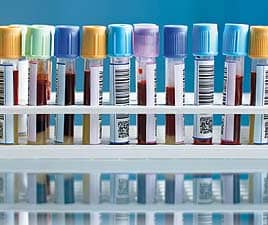 TD-Synergy Suite
Wide range of dedicated modules
The TD-Synergy suite from TECHNIDATA CANADA Inc, Montréal, Québec, Canada, is a blend of technologies dedicated to managing lab information. It offers a wide range of dedicated modules to serve the specific needs of all lab disciplines. TD-Synergy provides comprehensive data and organizational management capabilities—from creating test requests to producing and reporting results—allowing labs to improve patient safety and efficiency by automating workflows, reducing turnaround time, and improving traceability. The system can manage multiple labs in different locations with a single LIS, automates the lab for better efficiency, facilitates the lab accreditation process with a wide range of features and full traceability, and supports standard protocols for easy interfacing.
TECHNIDATA CANADA Inc
(514) 270 7777
www.technidata-web.com
---
LabAccess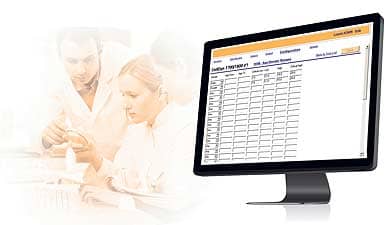 Move lab results from analyzers to an EMR
LabAccess, from Merge Healthcare, Chicago, is an economical lab middleware product designed to manage and move lab results from analyzers, where the results are produced, into an EMR System. LabAccess supports inbound HL7 demographics and/or orders interfaces from an EMR system, multiple instrument interfaces, and remission of HL7 Result messages to the EMR. It supports the manual entry of offline lab results for kit tests such as flu and strep screens. If desired, LabAccess can be configured to print hard copy lab reports, consolidating all results for the physician order into one document. The LabAccess internal data store may be configured for either short- or long-term (up to 2 years) storage of patient information and result data. The LabAccess software can be installed on any PC running Windows XP Pro or Window 7 Pro OS, offers secure user login for HIPAA compliance, and user-definable physician, test, and profile tables.
Merge Healthcare
(312) 565-6868
www.merge.com