Adoption of LEAN principles at Morristown Medical Center has increased employee buy-in and vastly improved lab operations.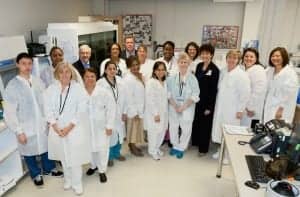 Morristown Medical Center laboratory staff members
Helping patients at Morristown Medical Center has been a process in creating a structure and culture of process improvement and empowerment for its employees. The biggest changes in the system have been empowering the staff through process improvement. Michael Overa, Atlantic Health laboratory director, who started with Six Sigma in 2001, moved into LEAN because "it enables us to change the culture of the laboratory," he says.
One of the unique features of Morristown is the implementation of a career-ladder program called PACT: Professional Advancement Clinical Tracks. In this program, a staff technologist signs up to do more than he or she does on a regular basis by taking on similar duties of a coordinator or manager-level employee. LEAN is a major portion of the PACT program. Staff members themselves come up with the process-improvement projects as part of the PACT program. At the end of the program, both the institutions and technologists benefit.
Having LEAN, and marrying it with the PACT program, has increased employee engagement scores considerably over the last couple of years, to where they are now among the highest within the institution of Morristown Medical Center. "We went from a 48% engagement score back in 2003/2004, and now we're in the '90s," Overa says. "What I try to convey is that not only are people happier to work here—more engaged—but their workload has increased about 33% at Morristown."
Overa says when he first arrived at Morristown, employees were constantly saying, "We need more people." More staff members weren't necessarily added, but the processes in all lab sections were changed, with employee help. In doing that, the engagement scores have now essentially doubled. The LEAN program eliminated waste of extraneous activities such as answering phones or filing papers, freeing up technologists to do what technologists are trained to do.
"What I'm most proud of is that we've been able to improve our quality, and one of the measures of that is turnaround times," Overa says. "We have greatly improved turnaround times for all testing. The staff is much more engaged in the needs of their customers than they were in the past, and we've decreased our cost over time because we're adding more volume. On a cost-per-unit basis, we're much lower than we were previously, while offering a much higher-quality product."
How does this improvement translate to better patient care? We have been able to decrease cost per test by more than 25%. We have been able to absorb approximately 500,000 tests annually while improving Test/FTE by 30%. During this same period, turnaround times have decreased significantly; for example, a STAT CBC with differential would have taken 2 hours in 2003. It is now completed within 18 minutes. A basic metabolic panel is completed within 28 minutes. "We have worked hard to have our medical laboratory scientists perform scientific tasks, and reallocating clerical duties to appropriate personnel," Overa says. This saves patients a lot of time and worry. The lab no longer has to differentiate between STAT and routine tests. Everything that comes in is acted upon immediately.

Morristown Medical Center
Morristown, NJ
www.atlantichealth.org/morristown
LEAN principles have made significant changes for customers, including pharmacy, infection prevention, physicians, and nursing. Multidisciplinary projects driven by the laboratory to improve patient care include nosocomial infection marker reduction, positive patient identification for blood specimens collected in the emergency department, second specimen protocol for the blood bank, nursing duplicate test ordering, and blood inventory and tracking system in the operating department.
This has been culture change for many people. Many come from the experience that a physician spells out what to do. But at Morristown, everybody gets to be part of the process and take pride in that. When you're part of the process, Morristown's thinking is you should be part of fixing the process, or making it better … part of improving the process. Morristown Medical Center is constantly looking at what it does, and adapting to changes very quickly.
---
JL Silverman is a contributing writer for CLP.