Diagnostic development for microbiology and virology labs trends toward panels to improve time to treatment and long-term cost
BY: RENEE DIIULIO
A patient is in the hospital, admitted for care following a medical incident or perhaps for a surgical procedure. Things are going well—or maybe they are not—but they take a turn for the worse with the development of an infection. For the patient who is already sick and/or immunocompromised, such a pathogen could be fatal, particularly if the organism is drug-resistant. At the very least, it could lead to the need for increased testing, more medication, and a longer hospital stay, all of which have significant cost for both the patient and the health care system.
If the infection originated as a wound or urinary tract infection, there's a good chance it could be an enterococcus pathogen. Enterococcus species are the fourth most common cause of hospital-acquired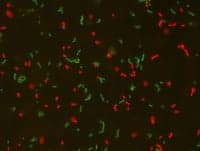 The new Enterococcus QuickFISH BC test by AdvanDx uses proprietary PNA technology to identify Enterococcus species results within 20 minutes directly from a positive blood culture. The results pictured here are a mixed positive shown at 60x magnification.bacteremia in the United States and the fifth most common in Europe, according to AdvanDx, Woburn, Mass. Unfortunately, the two enterococcus species most commonly associated with hospital-acquired infections require different treatment approaches. Even more unfortunately, a clinician cannot tell the difference without laboratory testing to identify the organism—testing that has traditionally taken 3 days.
The same situation exists for a patient who has developed a respiratory infection. Which of the multiple organisms—there are more than 20 options—is responsible? Adenovirus? Coronavirus? Influenza? If coronavirus, is it coronavirus HKU1, NL63, 229E, or OC43? If influenza, which type is it? Influenza A or B? If A, is it A/H3 or A/H1-2009?
Or what about the patient exhibiting symptoms associated with a myriad of genetic conditions? Which disease could be responsible for the patient's problems? And how does one approach a question that has multiple, potential answers and consequences? What to test for? Should tests be run serially or simultaneously? How long can treatment be delayed?
The answers are dependent on a number of factors that include the suspected disease state, the patient's condition, and the available test options. Naturally, the sooner a result can be obtained, the sooner a treatment can be started and with greater confidence, and the less likely time or money will be spent on the wrong treatment.
Today, the testing options are expanding, with new diagnostic technologies recently introduced or in development that can deliver more clinically useful information in less time. The challenge for the microbiology and virology laboratory is to implement the right technologies and procedures to maximize their capabilities, optimize the patient's outcome, and economize their resources.
THE RIGHT TREATMENT THE FIRST TIME
In the area of health care-acquired infections or HAIs, there is the additional challenge associated with expense: many payors, particularly the Centers for Medicare and Medicaid Services (CMS), will no longer reimburse costs associated with an HAI. It is, therefore, even more so in the health care organization's interest to quickly identify and treat these conditions—if not prevent them altogether.
Rather wisely, hospitals are actively instituting HAI-prevention policies. Many are focusing on simple strategies, such as hand washing, to reduce the spread of infectious agents. Some are increasing the amount of sterilization performed in certain workspaces, such as the emergency department and surgical suites. And others are implementing infection control policies that incorporate screening, whether testing incoming patients, care providers, or both.
"A lot of times, a person will be colonized with an organism like MRSA [methicillin-resistant Staphylococcus aureus] or VRE [vancomycin-resistant Enterococcus] and [they] are not outwardly sick, but if they come into contact with a patient who is immune-compromised, they could give that patient the organism," says Jim Coull, PhD, chief technology officer, AdvanDx. Screening tests identify carriers so they can be decontaminated versus diagnostic tests, which are used to guide treatment of active infections.
When an outbreak does occur, health care organizations need to be prepared to react quickly so as to avoid an in-house epidemic. Quick quarantine and rapid treatment can reduce cost, both in terms of patient outcome and hospital expense.
With the release of AdvanDx's Enterococcus QuickFISH BC, health care systems have a new tool in their armory of diagnostics to enable a swift and targeted response. The QuickFISH platform uses proprietary PNA technology to produce results within 20 minutes. The pathogen is identified directly from a positive blood culture and can be reported with the Gram stain results. "Many laboratories are now bundling the tests together when they report results to physicians," Coull says.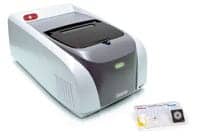 The FilmArray Respiratory Panel from BioFire Diagnostics integrates sample preparation, amplification, detection, and analysis for 20 bacterial and viral infections into one system with a small footprint that requires 2 minutes of hands-on time and 65 minutes to run. When the results are delivered, treatment—the right treatment—can begin, much sooner than in the past, often within an hour, according to Roger Graham, chief commercial officer, AdvanDx. This means that physicians can wait to begin targeted treatment faster. The decision about whether to prescribe the inexpensive and common ampicillin or a more powerful antibiotic to counteract a drug-resistant enterococcus species is then easy, not to mention safer and more cost-effective for the overall health care system over the long term.
"Appropriate medication not only improves the patient outcome, but it also decreases inappropriate antibiotic utilization," Graham says, noting that antibiotic resistance is a big concern for health care organizations today.
The Enterococcus QuickFISH test is the second to be released on the company's platform, joining a diagnostic for the identification of Staphylococcus aureus and coagulase-negative staphylococci. The QuickFISH products were introduced to the market last year, the first generation of PNA FISH tests roughly 5 years ago. As a result, the technologies have been the subject of a number of clinical studies that have provided support for claims regarding outcomes and cost savings.
One of the studies available on the company's website looks at both outcome and cost through a retrospective assessment of cases at the University of Arizona Medical Center in Tucson. The researchers found that PNA FISH testing for yeast decreased crude all-cause mortality 7.7% to 26.8%, decreased ICU mortality 5.9% to 41.7%, and avoided an estimated $2.2 million in costs over the course of 1 year.1 While the cost of a life cannot be measured, the large financial savings can certainly be used to justify related equipment expense and show a return.
THE RIGHT TREATMENT ON TIME
The same can be said for the updated [removed]FilmArray Respiratory Panel [/removed]from BioFire Diagnostics Inc, Salt Lake City, though no published studies have yet quantified cost savings. The recently FDA-cleared multiplex PCR test integrates sample preparation, amplification, detection, and analysis for 20 bacterial and viral infections into one system that requires 2 minutes of hands-on time and 65 minutes to run. By reducing the turnaround time to a little over an hour, a clinical laboratory can increase its testing volume and, ultimately, reimbursement revenue.
More importantly, however, the quick results can lead to faster treatment, improved outcomes, and the associated reduced cost. A study conducted at Seattle Children's Hospital found that use of the test facilitated a significant reduction in the average and median turnaround time of results (compared to standard processes).2
"Using FilmArray respiratory viral panel resulted in a more than four-fold reduction in the average and median turnaround time for respiratory viral testing," says Mix Xu, MD, PhD, program director for the core laboratory, Seattle Children's Hospital. "Of the patients admitted to [the] Emergency Department (ED) who tested positive for influenza, over 80% were given oseltamivir (Tamiflu) or its prescription in the ED or within 3 hours after discharge. Current guidelines recommend the medication be given with 48 hours of symptom onset for greatest effectiveness.
"Our implementation of FilmArray for rapid respiratory virus testing was particularly effective because we implemented the technology in a core laboratory whose purpose is rapid turnaround time," Xu adds. "Most labs implement PCR technology in a specialized virology or microbiology lab, which usually will result in slower turnaround time."
This is not by chance. BioFire builds its panels with an eye toward clinical value. The company spends a considerable amount of time and resources analyzing current testing patterns by surveying and interviewing the clinical laboratory community and other health care providers.
| | |
| --- | --- |
| | "Many infectious diseases share symptomologies, making it impossible to tell what is making a patient sick. Testing for multiple pathogens increases the probability that an etiological agent is identified within a clinically relevant timeframe." ~Wade Stevenson, director of marketing for clinical products, BioFire Diagnostics Inc. |

"We assess current testing patterns and look for opportunities for consolidation where there is a need for streamlined testing and faster turnaround times," says Wade Stevenson, director of marketing for clinical products, BioFire. Other considerations include technical and microbiological limitations as well as anticipated regulatory hurdles. Whenever it makes sense, bundling occurs.
"The fundamental challenge addressed by the FilmArray is that many infectious disease symptomologies invoke diagnostics capabilities that go beyond two or three pathogens," Stevenson says. He offers upper respiratory tract infections as an example, noting they can be caused by any one of dozens of respiratory pathogens, which lead to patterns of symptoms that are indistinguishable from one another.
"It's impossible to tell what is making a patient sick in these cases based on symptoms alone. The picture is further complicated by the fact that most diagnostic technologies available today only test for a limited number of pathogens," Stevenson says. By testing for 20 organisms at once, the FilmArray RP increases the probability that an etiological agent is identified within a clinically relevant time frame.
THE RIGHT TREATMENT IN TIME
The same is true for next-generation sequencing, particularly when searching for genetic markers of disease. The more data gathered, the more that can be learned about a person's health and health risks. However, the more data gathered also means more information to analyze, argue, and agonize about.
Currently, the resources required to sequence a whole genome or exome are overwhelming for most institutions, but smaller, more focused disease panels provide an excellent balance of clinical value and cost-effectiveness.
"The issues related to bioinformatics and ethics create more than a trivial speed bump in terms of bringing the technology forward. Smaller disease panels focus on the more immediate disease possibilities and are based on what we currently understand to be actionable and predictive," says Stephen Peiper, MD, Peter A. Herbut professor and chair in the Department of Pathology, Anatomy, and Cell Biology, Thomas Jefferson University, Philadelphia.
The health care organization recently announced an agreement with Vela Diagnostics, Fairfield, NJ, to jointly develop, evaluate, and deploy molecular diagnostic assays for improved patient care. The projects include, but are not limited to, both next-generation sequencing and quantitative PCR assays. Though Peiper could not commit to a firm time line nor divulge specifics regarding disease targets, ideally, the effort could produce mutational panels and some study results within the next year (6 to 9 months).
The aim is to produce panels that can efficiently offer prognostic and predictive data that is affordable and reimbursable. In addition, Peiper notes that Vela approaches diagnostics with a scalable architecture—one offering modularity and varied footprints—allowing facilities to acquire and expand technology along with need and resource availability.
The ability to provide sophisticated technologies can be a marketing advantage for today's health care facilities, as can positive data regarding performance and quality. Health care consumers may not understand how advanced technologies improve diagnostics, but they do understand better outcomes, fewer complications, and shortened hospital stays.
Hospitals with positive numbers are using these statistics in advertising and other collateral materials to draw physicians and patients. Microbiology and virology laboratories can use these numbers to justify expense on new technologies that can help to maximize their capabilities, optimize the patients' outcomes, and economize their resources.
References:
1. Gamage DC, Olson DP, Stickell LH, et al. Significant decreases in mortality and hospital costs after laboratory testing with PNA FISH. Poster #D-1302b. ICAAC 2011. Available at: http://www.advandx.com/Technology/Scientific-Publications/Clinical-Benefits.aspx. Accessed March 19, 2013.
2. Xu M, Qin X, Astion ML, et al. Implementation of filmarray respiratory viral panel in a core laboratory improves testing turnaround time and patient care. Am J Clin Path. 2013;139(1):118-123.
Renee Diiulio is a contributing writer for CLP. For more information, contact Editor Judy O'Rourke, [email protected]