Calibration verification testing fulfills a critical need in ensuring that clinical test systems are reporting accurate and reliable results throughout the system's reportable range. It is critical to fully understand the importance of calibration verification testing to set up a program that reflects the realities of the lab's needs, along with meeting regulatory compliance.
By Robert J. Janetschek, MS, MT(ASCP)
Today, the clinical laboratory landscape must contend with numerous regulatory bodies and agencies. As such, it can at times be confusing, time consuming, stressful, and expensive for laboratorians to follow, meet, and conform to all necessary regulations and mandates to achieve full compliance. And this is regardless of the laboratory's size and scope.
When looking at one of the busiest sections of the laboratory—the clinical chemistry department—one such mandate has become a critical requirement for the automated system responsible for testing: the calibration verification of the clinical testing system. It's critical not to underestimate the importance of proper calibration verification testing, since it is frequently reported as one of the top reasons for a laboratory to be cited with a deficiency during inspection.
The reason for calibration verification is not to burden the laboratory with additional frivolous testing, but to confirm that the clinical test system is reporting accurate test results throughout the test system's reportable range. In reality, the ultimate goal and purpose of such testing is improved patient care.
That said, at first it will be beneficial to review a few of the key terms, definitions, and applications necessary to this discussion:
§ Calibrator: A solution containing known concentrations of given clinical analytes, which are traceable to national and international standards. They are also commonly referred to as calibration materials, calibration standards, or standard materials. Calibrators, according to the FDA, are designed to inspect and measure the test system to assure the system is suitable for its intended use and can produce valid results.1
§ Calibration: A process of using a calibrator for testing and adjusting an instrument or test system to establish a correlation between the measurement response and the concentration or amount of the substance that is being measured by the test procedure. In short, calibration is setting the analyzer with a reference point to which patient samples are compared to produce test results.1
§ Calibration Verification: According to the Centers for Medicare and Medicaid Services (CMS), calibration verification means the assaying of materials of known concentration in the same manner as patient samples to substantiate the instrument or test system's calibration throughout the reportable range for patient test results.1
§ Linearity: As defined by the Clinical Laboratory Standards Institute (CLSI) EP06-A Guideline, linearity is the ability, within a given range, to provide results that are directly proportional to the concentration of the component in the test sample.3 Surprisingly, the term "linearity" does not appear anywhere within the CLIA regulations, but reportable range does.
§ Reportable Range: Per CLIA, this is defined as the span of test results, low end to high end, that the laboratory can accurately verify the results of a clinical instrument system for a given assay.1–2 Confusingly, the College of American Pathologists (CAP) further defines this as the analytical measuring range (AMR), meaning the range of numeric results a method can produce via the normal measuring process and without any special specimen pretreatment, such as a dilution.4
To understand why such verification testing is required, we need to go back to January 2003, when the Centers for Disease Control and Prevention (CDC) and the CMS published amended laboratory regulations to the Clinical Laboratory Improvement Amendments of 1988 (CLIA) which were set to go into effect in April of that year. These amended regulations included requirements for calibration and calibration verification for nonwaived tests.2-5
Nonwaived tests include both moderately and high complexity tests, and had an immediate impact on the clinical chemistry laboratory where these tests are frequently performed. Once again, the purpose of this testing was formally initiated to ensure that the clinical test system in use is reporting accurate patient test results throughout the test system's stated linearity and the laboratory's ascertained reportable range.
As for the frequency of such testing, current requirements mandate that, at a minimum, calibration verification of a clinical test system must be performed once every six months. However, if the laboratory determines that more frequent verification is required, say quarterly as opposed to twice annually, CLIA has no issue with that.
Aside from the minimum, other times for additional testing per CLIA include if quality control results indicate a shift, a noticeable trend, or are out of the laboratory's established acceptable range. Second, if any major preventative maintenance procedure is performed on the clinical testing system, or there is a replacement of critical analyzer components, then it should be tested. Finally, testing should be conducted whenever a new lot of reagent is introduced, unless the laboratory can effectively verify that there is no change in results.
Reviewing the Materials
Acceptable materials that may be used for calibration verification include calibrators with known values; quality control materials with known values and are NIST traceable; proficiency testing samples with known results; and patient specimens with known values.
However, a minimum of three levels of materials—a low, a mid, and a high—must be used for every analyte to be assessed and these materials must be able to effectively span across the linear, or reportable, low-end range and high-end range of the assay. Most often, commercially available, multi-level calibration verification materials is the easiest and most cost-effective route for the laboratory.
Once the laboratory obtains an acceptable source of materials, and testing is performed for a given analyte, all results must be documented. Again, three levels of material for each and every analyte must be run—low, mid, high—just as if one were running actual patient samples. The accepted number of test samples run must be determined by each laboratory, as CLIA does not state a minimum number, or replicates, allowed.
Actual test results must be compared to expected values and the laboratory must document these and determine if the results meet the acceptance criteria established. Data must be plotted as a linear graph by hand or by computer program. Reporting programs available via manufacturers of calibration verification materials, or other outside suppliers, are also acceptable.
To aid and support clinical laboratorians in satisfying their obligations with calibration verification testing and the proper utilization of such materials, Verichem Laboratories, Inc. currently offers a comprehensive line of liquid stable, NIST traceable and verified, ready-to-use bio-synthetic clinical reference materials for calibration verification testing. These products serve as critical and valuable tools for the laboratory and are currently in use and producing reliable and accurate results within the most demanding clinical testing facilities.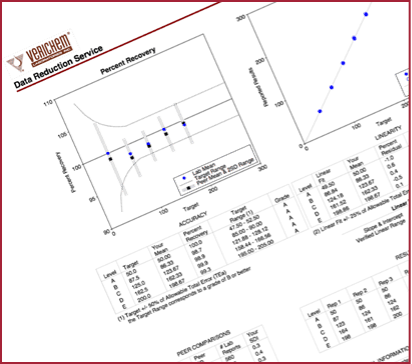 In addition, Verichem also offers customers a CLIA-approved data reduction and test reporting service for calibration verification testing at no charge to its customers (Figure above).
Featured photo: Clinical reference materials available from Verichem Laboratories. Photo: Verichem Laboratories
ABOUT THE AUTHOR
Robert Janetschek is a seasoned veteran of the clinical laboratory with over 40 years of relevant experience. Aside from his direct clinical experience, he has also held technical, sales, marketing, and business development leadership positions with a number of IVD Manufacturers. He is now affiliated with Verichem Laboratories Inc. (Providence, RI) as the company's director of business development. He can be reached via e-mail at [email protected]
References
1. CLIA '88: Section 493.2 – Definitions.
2. CLIA Brochure No. 3: www.cms.hhs.gov/clia.
3. CLSI Document EP6-A: Evaluation of the Linearity of Quantitative Measurement Procedures – A Statistical Approach. Approved Guideline.
4. www.cap.org/apps/docs/laboratory_accreditation/audio_conferences/cvl_webinar_presentation.pdf/.