Laboratorians are a vital link in providing care to the LGBTQIA+ community. Developing systems to recognize the unique needs of these individuals, will help improve both access and treatment.
By Kollyn Conrad
Although strides have been made since the 1980s in providing comprehensive medical care to the LGBTQIA+ community, there remains some gaps in the realm of compassionate and comprehensive care. The LGBTQIA+ community contains within itself a microcosm of society at large—all races, colors, creeds, genders, political affiliations, and socioeconomic groups exist—which leaves some members even more vulnerable to the shortcomings of medical care and compassionate treatment.
LGBTQIA+ people can face a range of discriminatory behavior from the medical community. With a recent increase in anti-LGBTQIA+ legislation, this discriminatory behavior seems to be heading in the wrong direction from all of the positive steps forward made in the last few decades. Transgender people, for example, are having their access to healthcare stripped away from them via bills targeting gender-affirming care.
Other members of the community are experiencing ongoing microaggressions, a lack of knowledge from doctors on the specific needs of the community, as well as privacy concerns regarding testing and lab work. The U.S. Department of Health and Human Services1 has stated that the recent onslaught of anti-gender-affirming care legislation runs the risk of creating a "chilling effect" on medical providers, further separating provider and patient.
During the AIDS crisis, the needs of the LGBTQIA+ community were thrust into the national spotlight, and the importance of accessible and discrimination-free testing became abundantly clear. Unfortunately, what the community needed wasn't always what they were able to receive.
The critical role of clinical labs in LGBTQIA+ healthcare was evident, and that role remains of paramount importance today.
The Role of the Lab
One of the biggest issues within the medical care community when it comes to serving LGBTQIA+ people is creating a comfortable, accepting environment. Many people in the LGBTQIA+ community have had a negative experience with the medical community in the past, coloring their approach to receiving care in a timely and effective manner. Some may try to hide their sexual orientation, not disclose medical issues or concerns, or not disclose their gender identity for fear that they may be discriminated against or, at the very least, ridiculed. The problem with this fear of disclosure is that it causes disparity in medical care, as clinicians, lab techs, and doctors cannot provide adequate care without all of the facts.

Lab technicians play a vital role in LGBTQIA+ healthcare as they are often the ones checking hormone levels, allowing doctors to diagnose intersex conditions, and providing necessary STD/STI testing. As social awareness of the unique needs of the community has expanded, lab technicians are giving better, more compassionate care. There has also been an increase in private lab care availability, with STD/STI testing available in the home.
The clinical lab plays a significant role in proactive healthcare for the LGBTQIA+ community. Instead of waiting for a crisis situation, such as the rapid uptick in HIV/AIDS infections in the early 1980s, clinical labs can use the strides made in awareness and advocacy to meet the LGBTQIA+ where they are. The labs can offer better privacy, informed technicians who have training on the unique needs of the LGBTQIA+ community, and a more compassionate approach so that health outcomes can be improved ahead of any major crisis.
Communicating with Compassion
One of the most difficult parts of clinical lab work—and medical service in general—is communicating less-than-favorable results to patients. Compassionate care needs to be the bedrock of any lab technician's approach, but it begins with education and understanding.
Lab technicians need to be well-versed in cultural differences presented within the LGBTQIA+ community. This includes being aware of preferred terminology, recognizing the challenges faced by the community, and acknowledging that those challenges persist. Clinical lab staff must be open to developing communication approaches—spearheaded by laboratory leadership—that take into account all of the needs of the community from scheduling all the way through to giving results.
A large part of the compassionate care approach comes with protecting the privacy of LGBTQIA+ patients. HIPAA, the granddaddy of all health privacy laws, should be enough to protect patient information from falling into the wrong hands—for example, the hands of legislators who want to make a public example out of members of the LGBTQIA+ community—but is not always enough to protect confidential patient information.
Recent anti-trans and anti-intersex bills2 seeking to "Save Women's Sports" have proposed genetic testing, testosterone level testing, and even genital "checks" to keep transgender and intersex athletes away from competing with other females. These proposals leave the protection of HIPAA a moot point; if transgender and intersex people want to compete where these bills have been accepted, they will have to release lab results.
The more lab technicians are educated and made aware of these assaults on the privacy rights of members of LGBTQIA+ community, the more they can counteract the discrimination with compassionate care and understanding diagnostic work. Open patient and clinician or technician communication is key to building the trust necessary to give the best, most comprehensive care possible.
Learning New Ways of Care for the LGBTQIA+ Community
Even 10 years ago3, lab technicians may have been unaware of what to look for within the tests of someone on hormonal gender-affirming care. The changes in levels and what that meant for the person taking the hormonal treatment were something technicians learned about as they worked. Now, education and textbooks are starting to include these markers, and new technicians are becoming far more aware of the specific unique markers of some of the members of the LGBTQIA+ community.
Several states, including New Jersey4 and even Florida5, provide continuing education opportunities for lab technicians to become educated in the care of LGBTQIA+ people. However, non-required continuing education may not be sufficient in this age of increased scrutiny and discrimination against this community—especially in the medical space.
Care for LGBTQIA+ people needs to be a standard part of lab technician training from day one. The training needs to be continuously updated to include new findings, new understandings, new terminology, and new legislative decisions that seek to protect the rights of the community.
Reaching the LGBTQIA+ Community
Given that many in the LGBTQIA+ community are still reluctant to completely trust the medical community, including clinical labs, how can these labs reach the community and build a foundation of trust? Our program, Publicly Private, provides discreet and convenient access to many of the services needed by this community. With an emphasis on privacy, many LGBTQIA+ people will be able to let down their guard and accept care from vetted, compassionate clinicians.
Allowing patients access to virtual care, when available, is also a way to cater to the unique needs of this community. Because there remains a fear of outing, misunderstanding, misgendering, or mistreatment, virtual services can sometimes put people at ease with receiving results or a follow-up on results already given.
Clinical labs often run independently of hospitals and healthcare organizations. Well-known labs such as LabCorp and Quest can take a strong stand in protecting the privacy of the LGBTQIA+ community and catering to their needs. Outward support by these bigger players in the clinical lab community would allow the other labs to follow suit.
Electronic medical records (EMRs) and in-lab processes need to change as well. Currently, lab information systems and the most used EMRs do not have spaces for gender identity or preferred names, and this discrepancy can and does cause confusion within medical records and, cruicially in the reporting of lab results. The systems are capable of updates, and making these changes would go a long way in establishing a more equitable and accepting environment for the LGBTQIA+ community.
The medical community has largely recognized that they may have some catching up to do in terms of providing services for the LGBTQIA+ community. While ordering labs, getting tested, and receiving results may seem like standard medical care, it can be complicated for someone who is LGBTQIA+. By keeping privacy, compassion, and communication as a priority, clinical labs can lead the way toward better understanding and support.
ABOUT THE AUTHOR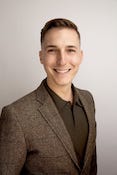 Kollyn Conrad is the founder and Executive Director of Publicly Private, a nonprofit organization offering supplies, support and empowerment to the LGBTQIA+ community. Publicly Private was inspired by Conrad's personal journey of growing up as a gay man in the South. He was always passionate about helping and befriending underserved individuals, so he combined his passion and his experience to create Publicly Private and aid LGBTQIA+ individuals in their lifelong journey.


References