The demanding task of isolating and growing anaerobe microorganisms has become simplified and more accurate with the development of commercial PRAS media and has achieved the status of Best Practice in evidence-based microbiology, according to Oxyrase Inc, Mansfield, Ohio.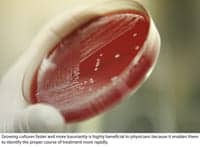 Today, clinical labs are increasingly adopting PRAS plates not only because they seek more reliable results that meet the Best Practice criteria, but also because they are finding that manufactured PRAS plates are in a number of ways more reliable and economical.
"With PRAS media, you get better growth than traditional non-PRAS media," says Timothy R. Cassity, PhD, clinical microbiologist, Southern Ohio Medical Center, Portsmouth, Ohio. "Anaerobes normally grow slowly and some produce such small colonies that they are difficult to work with. Because the same anaerobes grow more quickly and abundantly on the commercial PRAS media, it is much easier to work with them."
Isolating and growing anaerobes is tedious and time-consuming, the company says.
Commercially produced (prereduced anaerobically sterilized) PRAS medium, such as OxyPRAS plates, is specially packaged to maintain reduced and anaerobic conditions and comes ready to use. All of the QC is done.
The plates are packaged in special oxygen barrier pouches to maintain the proper oxygen-free and reduced environment.
The plates offers microbiologists a convenient way to accomplish a difficult job and provide them with more control throughout the entire anaerobe recovery process, the company says.
Click here to read more.
[Source: Oxyrase]