The American Society for Clinical Pathology (ASCP), Chicago, will receive funding from the American Board of Internal Medicine (ABIM) Foundation to help physicians engage patients in conversations aimed at reducing inappropriate tests and procedures that will improve their care and reduce costs.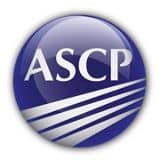 Support for the $50,000 grant comes from the Robert Wood Johnson Foundation and extends the efforts of the ABIM Foundation's Choosing Wisely campaign in local communities across the United States for the next 2 years. ASCP was one of 21 state medical societies, specialty societies, and regional health collaboratives to receive this grant.
Through this grant ASCP, in partnership with the California Society of Pathologists (CSP), Sacramento, Calif, will further advance the discussion with physicians and patients locally about appropriate test utilization for specific patients. The Society released its list of five targeted, evidence-based recommendations in February as part of the Choosing Wisely campaign, an initiative of the ABIM Foundation.
"This grant allows ASCP to help build pathologists' and laboratory professionals' communications skills to work with clinical colleagues to optimize diagnostic decisions for our mutual patients," says Lee H. Hilborne, MD, MPH, FASCP, DLM(ASCP)CM, 2011–2012 chair of the ASCP Institute Advisory Committee, who spearheaded the process of determining and then defining the five initial tests physicians and patients should question for ASCP. "We must use new skills to work ever stronger together as a health care team. That way we will be able to optimize medical services. We will be increasingly able to identify and address barriers and solutions for implementation of the Choosing Wisely recommendations."
[SEE RELATED ARTICLE: Pathologists and Lab Professionals: Choosing Tests Wisely for Clinicians and Patients, by Hilborne]
The funding will allow ASCP to develop a joint educational symposium for pathologists attending the 2013 CSP Annual Educational Meeting in San Francisco to be held in December to build their knowledge and communications skills about test utilization and the Choosing Wisely campaign. The symposium will feature presentations by topic experts and will be simulcast to reach another 200 attendees.
The session also will serve as part of a web-based educational toolkit. Other components will include ASCP articles about Choosing Wisely; video interviews and media stories that pertain to ASCP's five recommended tests; links to the ABIM Foundation and other lists from medical societies participating in Choosing Wisely; profiles of laboratories that offer test utilization review services; a template for articles about the Choosing Wisely campaign for pathology societies' newsletters; and tips on how to write an Op Ed column and Letters to the Editors about Choosing Wisely for local newspapers. Additionally, ASCP will apply the resources and lessons learned in California on future initiatives nationwide.
The measurements for success will include how many physicians and practices receive the ASCP Choosing Wisely toolkit; the number of hospitals that promote ASCP's Choosing Wisely list to its clinicians; increase in traffic to the ASCP Choosing Wisely microsite originating from other organizations' Web pages; participation from other organizations in the campaign; and the amount of media coverage it receives.
"Measuring outcomes is essential to the quickly evolving changes in health care and is underscored by the axiom, 'right test, right patient, right time,' " says E. Blair Holladay, PhD, CT(ASCP), executive vice president, ASCP. "Examples of inappropriate and over-utilized tests are pervasive throughout both anatomic and clinical pathology and laboratory medicine. This grant will further the changes in thinking about appropriate tests for patients and ultimately improve patient care and reduce costs on the local level."
[Source: ASCP]