An interview with Gilbert Hakim, founder and CEO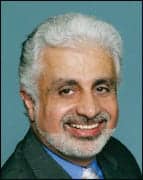 Gilbert Hakim, founder and CEO
In the early days of SCC Soft Computer, founder Gilbert Hakim wrote, designed, sold, implemented, and maintained his own LIS in his living room in Queens, NY. He began the company in 1979 with a staff of three and an initial investment of less than $1,000. Thirty years and more than 1,200 employees later, he remains extremely hands-on in the development of enhancements to his current product line as well as his company's future direction. CLP recently spoke with Hakim about some of SCC's latest innovations and where the clinical lab industry is heading.
Q: What can you tell us about the new features in the Softbank II, released in August 2008?
A: The recent update to functionality of the SoftBank II® software offers the ability to print ISBT-compliant labels and the ability to modify or change units in batch. This functionality significantly improves workflow.
In addition, the SoftBank II allows for electronic cross-match compatibility testing based on specific qualifying between patient and unit record, and provides interfaces to blood bank instruments to transfer test results generated by an instrument to the SoftBank system. Verification of results is included in the workflow prior to posting results to the patient record. Transfusion Service Management reports as well as utilization reports are also provided, including online supervisor review of test results and quality control.
Q: How does this product differ from others in the blood banking space?
A: The system is evolving to meet the challenges in the ever-changing transfusion service environment. The improved functionality of the SoftBank II system has the ability to generate ISBT-compliant labels from the system or via a third-party labeling system, and is designed to meet the needs of a multisite transfusion service including centralized transfusion testing.
Q: How does customer feedback influence the way your company does business?
A: SCC hosts an annual conference called SNUG (Soft Network User Group). SNUG is designed to provide exceptional educational and networking opportunities combined with technical sessions and product demonstrations for our clients. SNUG creates a forum for cultivating knowledge and allows our clients to work directly with SCC team members to increase workflow efficiency and discuss product applications. This forum allows SCC to gain valuable insight from our end users while improving operations and building strong customer loyalty.
Q: How do labs see a return on their investment after purchasing what can be costly LIS systems?
A: SCC Soft Computer continues to focus on providing our customer base products that enable them to compete in the highly competitive marketplace.
Our clients can realize a significant return on investment by implementing the features in SCC's powerful software modules, which improve workflow, increase productivity, and maximize revenue, transforming their operations from cost centers to profit centers.
Q: How is the LIS industry changing?
A: The LIS is getting more complex. Genetics has now moved into the mainstream. However, most LIS vendors are behind the industry curve. Integration with institutions' core systems, including the LIS, is going to be a continued challenge. For reporting, you need all lab results to flow into a common system (integration of LIS and Genetics LIS and interfacing with other enterprise systems). LIS providers on the forefront of clinical information systems must be able to respond to the advancements in molecular diagnostics and genetics testing with solutions designed to address the technological needs of today's medical enterprise.
Q: How often should labs upgrade their LIS?
A: Science and technology are evolving faster than ever. Additionally, rapidly changing testing protocols mandated by regulatory agencies and internal review boards have made some conventional LIS systems obsolete. We recommend minor service upgrades every 2 to 3 years and a major service upgrade every 3 to 5 years.
Q: Changing or upgrading automated systems can be a hassle for some labs. How can labs best minimize the inconvenience?
A: Labs can best minimize the inconvenience of switching or upgrading their LIS systems by setting goals up front. Understanding what the LIS needs to achieve is a crucial step to identifying what system or upgrade to implement. After researching the best system or upgrade, the facilitator should contact a sales representative who can help them determine the best implementation approach and the modules needed to achieve their business needs.
Q: What types of labs would be a good fit for trying out SCC Soft Computer's LIS?
A: For 30 years, SCC has met the needs of the health care industry by providing powerful, information-management solutions to clinics, hospitals with multisite capability, large integrated delivery networks, and laboratories, as well as teaching and research facilities.
Q: What trends in automation have you been noticing?
A: As labs lose staff, they are adopting automation and implementing more financially attractive robotics. Through the use of robotics, rules engines, and logical merging of instruments, labs are able to reduce the volume of data they need to review and release disparate results from multiple instruments on one screen. Robotics and rules engines are good for LIS companies.
Specimen handling continues to be the primary area to be automated. SCC supports robotics automation with no need to touch the specimens after they've been put on the line. The specimen can be collected, received, tested, stored, and results auto verified.

To keep up to date with lab software, bookmark our website.
Controlling the information flow is the next level in advanced automation. And health care IT providers need to maintain an eye on future informatics development in this rapidly changing and complex field. The new frontier of genetics research and diagnostics has presented this community with a challenge unlike any other they have faced in the relatively short combined history of laboratory information science and genetics research and testing, and this challenge will only increase by 2015.
Q: What does the future hold for SCC?
A: SCC's vision is to move forward, providing clients with the most innovative, long-term LIS and workflow solutions. We will continue to focus on understanding, anticipating, and accommodating our clients' future needs, and will continue to provide superlative customer service response, follow-up, and resolutions in all product and service areas.
---
Stephen Noonoo is associate editor of CLP.