Automated Gel Electrophoresis System
Features precast, prepackaged gel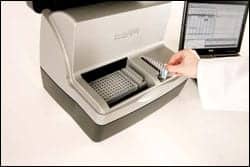 Lab901, Edinburgh, United Kingdom, has created the ScreenTape system, an automated, walkaway solution for gel electrophoresis. The equipment features a TapeStation, which carries out liquid handling, electrophoresis, and imaging; and ScreenTape, a consumable containing the precast, prepackaged gel and running buffer, and bespoke software. The system requires no gel or buffer preparation or system priming, so operators can quickly generate reproducible data. The first ScreenTape consumables are useful for analyzing DNA fragments up to 800 bp. The system is designed for applications such as multiplex or simplex PCR analysis, genotyping, QC of Q-PCR products, and QC of DNA prior to microarray printing. Integrated bar coding and generation of secure file formats for analyzed data is designed to ensure efficient data storage. Labs using gel electrophoresis can obtain full traceability and GLP compliance. Lab901 is developing tapes for the analysis of larger DNA fragments, proteins, and RNA.
Lab901
+44 (0) 1489 557672
www.alto-marketing.com
---
Specimen-Processing System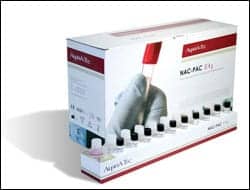 Portable unit
Alpha-Tec Systems Inc, Vancouver, Wash, has created Nac-Pac EA3, which combines the company's specimen-preparation reagents in a package designed to be transported as a whole and used in the biosafety cabinet. Each unit includes six bench trays; each tray contains enough Nac-Pac Red, NPC-67 neutralizing buffer, and pellet-resuspension buffer to prepare 10 samples for diagnostics. The specimen-preparation system aids in the recovery of accurate positive AFB specimens and helps reduce the number of contaminated or reprocessed samples through rigid control of pH throughout the preanalytical process. The format is designed to improve recovery of mycobacteria, and to provide fewer false-positive results.
Alpha-Tec Systems Inc
(800) 221-6058
www.AlphaTecSystems.com
---
Wide Label Printers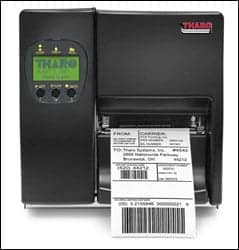 With 4% and 6% wide devices
H-400/H-600 Series thermal transfer product identification and bar code label printers available in 203 or 300 DPI, offered by Tharo Systems Inc, Brunswick, Ohio, feature all-metal construction with a cast aluminum center wall. Media windows aid in viewing and monitoring supplies. Standard features include a high-speed USB 2.0 interface for data transfer, and a real-time clock for time- and date-stamping labels. The standard stripper sensor on the H-400 Series can be used for strip-and-peel and tear-off applications. H-Series printers include a free version of the company's EasyLabel Start software for custom designing and printing labels. Options include cutter, internal rewind, ethernet adapter, and applicator interface. A PC is not required to print labels; users can download label formats to the printer's flash memory, unplug the printer from the PC, plug in a standard PC keyboard, and move the printer to another location for printing.
Tharo Systems Inc
(800) 878-6833
www.tharo.com
---
Label Printers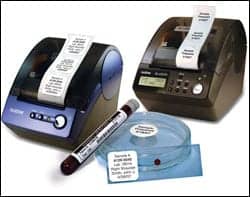 Prints in seconds
The Brother QL-550 and Brother QL-650TD label printers, new from Brother International Corp, Bridgewater, NJ, enables health care professionals to print legible, customized 23-mm laboratory slide labels and a variety of other label sizes in seconds. Labels print directly from Brother labeling software, including Pathlogix Anatomic Pathology software, as well as from Microsoft Word. The printers feature low operating costs and easy-to-load label rolls. The Brother QL-650TD also enables stand-alone printing, and time and date labels.
Brother International Corp
(866) 395-8781
www.brother.com