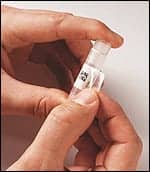 Histology and Pathology Labels
Withstand harsh lab environments
Computype, St Paul, Minn, introduces a suite of high-performance, customized labels for histology and pathology laboratories, which print high-quality, 600-dpi images. The company's high-performance line includes three core histology and pathology applications. The Flexible Lamination After Printing (FLAP) label is designed for use on pathology slides to withstand harsh chemicals and stains. The histology cartridge labels are designed to stay adhered on histology cassettes while withstanding harsh chemicals; its sister labels are designed to withstand the cryogenic process.
Computype
(800) 328-0852
www.computype.com
---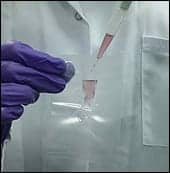 Stomacher 80 microbag
Processes biological samples at low volumes
Seward, Worthing, UK, offers small tissue processing solutions, including the Stomacher® 80 microbag, designed specifically to prepare and process biological samples at volumes less than 1 mL. The bag features a V shape, which enables it to be processed by a single paddle in the Stomacher machine, and gives users the choice of diluent-free sample processing while ensuring a completely homogenized sample with maximal cell recovery. The sample can then be pulled down to the tip of the V between the thumb and forefinger and extracted using either a Pasteur pipette or by cutting the bag to a sufficient height when using a standard pipette.
Seward Ltd
(631) 750-5660
www.seward.com