IntelliPath flx
Automated slide stainer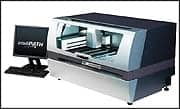 Biocare Medical LLC, Concord, Calif, introduces the IntelliPath flx, a fully open, continuous, random-access immunohistochemistry staining instrument. The automated open platform provides clinical and research histology labs stat capability with priority processing, rapid four-step multistaining, and onboard preparation of chromogens. Features include inventory control, LIS compatibility, prioritizing incubations, wash cycles after adding new slides, ultrasonic no-touch liquid-level sensing, and an intuitive graphical user interface. The unit offers a 50-slide capacity in a compact footprint. It should be offered for commercial sale is early 2008.
Biocare Medical LLC
(800) 799-9499
www.biocare.net
---
Janus Varispan + MDT
Automated workstation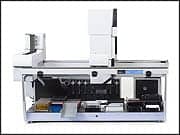 The Janus Varispan + MDT automated workstation from PerkinElmer, Waltham, Mass, offers multiple pipetting technologies on a single instrument platform with options to automate plate movement. The instrument consists of a modular platform that expands and combines the flexibility of a four- or eight-tip arm with the speed of a 96- or 384-channel modular dispense technology (MDT) dispense head. Flexibility is not compromised for throughput with the convergence of the company's liquid-handling technologies. The product is available in the standard, integrator, and expanded platforms to address application capacity requirements.
PerkinElmer
(800) 762-4000
www.perkinelmer.com
---
Biomic V3
Microbiology system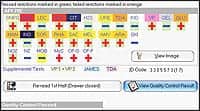 The Biomic V3 microbiology system from Giles Scientific Inc, Santa Barbara, Calif, reads and interprets the quality control of species identification (ID) test panels based on proposed CLSI M50-P guidelines. This provides a means to record ID QC results. Color digital images of QC panels are displayed and interpreted on-screen. The equipment automates varieties of RapID (Remel), API (bioMérieux), and BBL Crystal (BD) panels. It also automates antibiotic disk (AST) QC testing based on CLSI M2 and M100 guidelines. A range of ID and AST QC summary reports following CLSI and CAP requirements facilitate lab inspections. It serves as a primary or complimentary AST-ID system for microbiology labs of differing sizes and setups.
Giles Scientific Inc
(800) 603-9290
www.biomic.com
For more information on lab products, see the company section of our Buyer's Guide and search for the companies in this section.