The first product developed from the collaboration between BioCision, Larkspur, Calif, and ATCC, Manassas, Va, is the alcohol-free CoolCell® LX cell cryopreservation container, which decreases specimen variability and improves the validity of diagnostic test results.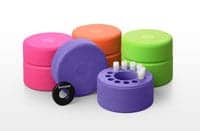 BioCision's CoolProduct devices achieve temperature uniformity when cooling, freezing, thawing, and handling biomedical samples, ensuring reproducible temperature profiles and instantly standardizing temperature-sensitive lab procedures.
All ATCC cell-freezing protocols are being updated to recommend the use of CoolCell LX containers to maintain the optimal controlled freezing rate when cryopreserving a variety of cells and cell lines for archival storage.
This is an important advance, because the majority of laboratory diagnostic errors occur during the preanalytical phase, the company notes. BioCision products address the need for consistency in specimen collection, handling, and storage.
ATCC's collections of microorganisms and cell lines serve as reference materials for diagnostic products.
[Source: BioCision and ATCC]