Axio Lab.A1 Microscope
Switches from orthoscopy to conoscopy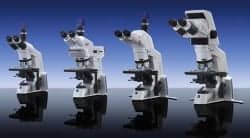 Carl Zeiss, Thornwood, NY, introduces the new Axio Lab.A1 microscope, featuring rapid, reliable switching from orthoscopy to conoscopy. The new stand for conoscopic examinations includes an integrated depolarizer and a rotary analyzer. A focusable Bertrand lens placed on the stand is linked to the analyzer. The transmitted light illumination includes a high-performance 35-watt halogen bulb. The microscope also features a 4x centerable objective turret and a 22-millimeter field of view.
Carl Zeiss
(800) 233-2343
[removed]www.zeiss.com/micro[/removed]
---
Discovery Series Balances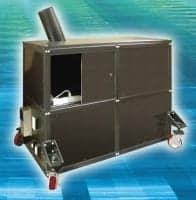 SmarText software helps guide use
OHAUS, Pine Brook, NJ, offers the Discovery line of analytical balances, utilizing SmarText™ software and an Advanced AutoCal™ calibration system to guide users through setup and application use for accurate and consistent weighing. The series features four analytical models with capacity range of 310g x 0.1mg. A FineRange™ model offers 10-microgram readability. Constructed of durable glass and steel, the balances are resistant to the effects of both static and corrosion. Delivered through a two-line backlit LCD and clearly marked buttons, the SmarText software guides users through a step-by-step process to maximize balance functionality. The AutoCal internal calibration system automatically calibrates the balance when it senses a temperature change significant enough to affect the weighing accuracy.
OHAUS
(800) 672-7722
www.ohaus.com
---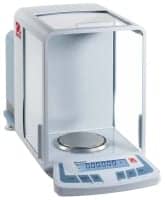 Customized Darkbox Enclosures
Designed to block all ambient light
Kinetic Systems, Boston, offers customized darkbox enclosures for production, testing, or research in the optics field. Designed to block all ambient light, these mobile structures can be produced to customer-specific requirements. Enclosures can be large enough to incorporate optical tables, breadboards, or workstations. They are available with heating and air conditioning, electrical connections, laser ports, and/or computer network (LAN) connections, and can include multiple tiers of shelving for cameras, spectrometers, reflectors, vibration-damping breadboards, benchtop vibration-isolation platforms, monitor stands, or power supplies. Lighting is available for assembly, installation, or repositioning.
Kinetic Systems Inc
(800) 992-2884
www.kineticsystems.com
---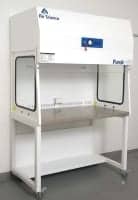 Vertical Laminar Flow Cabinets
Airflow directly strikes work surface
Air Science, Fort Myers, Fla, introduces a new line of vertical laminar flow cabinets. Cabinets are manufactured with rear wall perforations, which remove a small amount of air at the rear of the cabinet to minimize any turbulence. In vertical flow cabinets, the ULPA filter is mounted above the work surface, providing a larger workspace, both taller and deeper, making it ideal for large equipment in the work zone. The cabinets are available in 36-, 48-, and 72-inch widths. All three models provide a nominal filter face velocity of 0 to 45 m/s (90 fpm), which ensures a sufficient number of air changes to maintain cleanliness within the work zone.
Air Science USA
(800) 306-0656
www.air-science.com
---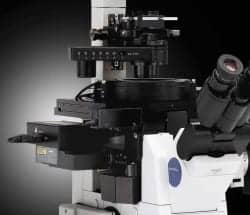 IX81-ZDC2 Zero Drift Inverted Microscope
Offers continuous autofocus for time-lapse imaging
Olympus, Center Valley, Pa, introduces the new IX81®-ZDC2 Zero Drift microscope system, a motorized inverted microscope with a comprehensive, integrated autofocus solution for time-lapse experiments. The autofocus system is designed to operate continuously, helping maintain focus even when the events being observed happen quickly and experiments occur over a short timescale. The system can easily be set to operate in a discrete, one-shot mode designed to facilitate applications that require maintaining multiple focus positions, such as experiments involving multiwell imaging. It is optimized for use with total internal reflectance fluorescence (TIRF) and other advanced applications.
Olympus
(800) 446-5967
www.olympusamerica.com