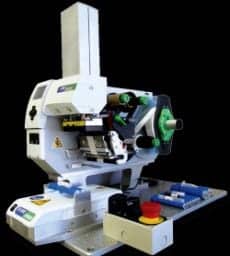 Labeling System
Labels a variety of tube shapes and sizes
Computype Inc, St Paul, Minn, in partnership with Nautilus Systems, has launched the PR100i TubePro Print-and-Apply System, an advanced desktop applicator designed for challenging labeling requirements. With the ability to label a variety of tube shapes and sizes, the system offers precision placement and versatility in various types and sizes of labels and containers. The PR100i with TubePro Accessory is a turnkey system specially designed for labs and other facilities where labels must be printed and wrapped around various tubes and vials. Simply place a tube or vial in a specially configured roller fixture, press a button, and the system prints the label, places it on the tube or vial, and wraps it perfectly around the tube or vial. System capabilities include labeling 15 vials per minute, 900 tubes per hour; printing high-quality (600 dpi thermal-transfer) labels; and providing accurate label placement (+/- 0.2 mm), among other features.
Computype Inc
(800) 328-0852
www.computype.com
---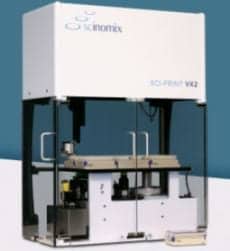 Automated Vial Handler
Rack tube labeling capabilities
Computype Inc, St Paul, Minn, and Scinomix have partnered to offer the Scinomix SCI-PRINT VX2, a fully automated vial handler. The system includes rack tube labeling capabilities and bar code technology. Functions of the SCI-PRINT VX2 include vial labeling, uncapping and capping of screw-top lids, filling, and cherry picking. An optional 2D bar code reader can be used to identify Matrix and Micronic 2D vials prior to processing. In addition to the microtube format, the SCI-PRINT VX2 has been successfully adapted for use with a variety of other tube styles and sizes, including Vacutainer-sized tubes. The system labels up to 300 tubes per hour, offers thermal-transfer bar code printing (300/600 dpi), works with vial sizes from 0.5 mL to 15 mL, has a 10,000-label capacity (depending on label size), and works with Windows-based software.
Computype Inc
(800) 328-0852
www.computype.com