Vista Clinical Diagnostics offers the industry's most advanced testing, and recently introduced a partnership program for smaller and medium-size labs.
Davian Santana, president, and Nathan Hawkins, vice president.
What if your favorite fine restaurant were to start offering even better menu choices—while lowering their prices, and reducing your wait time? You'd probably start going there more often, while telling your friends about it. What if you were in the restaurant business as well? You'd definitely want to know how they were able to do all that! Well, this is how they did it… except we're not really talking about a restaurant.
We're talking about an independent lab that has grown at an average rate of 60% per year for 9 years. A lab that just recently began partnering with other labs—sharing their formula for success—and is now helping those labs grow as well.
Vista Clinical Diagnostics offers the industry's most advanced testing (including molecular pathology), with prices at Medicare levels, in 44 spa-like centers, with 98.6% of their test menu results delivered the same day.
When Vista began offering same-day results in 2004, physician after physician would say, "You can't give me results that fast. It's impossible." To which, Vista simply said they would, and they did. Then, as if that wasn't enough, Vista began charging self-pay patients at the same low rates as Medicare reimbursement. And, for those who thought Vista's low rates were just a market-penetration tactic for the short term, that pricing structure has remained in place for the long term.
Yet, none of these accomplishments would have been possible had Vista not been founded on the principle of always putting the patient first.
HOW IT ALL BEGAN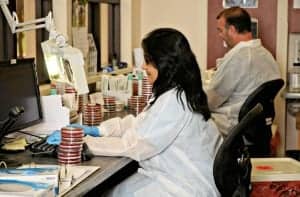 Microbiology Department
In 2000, Davian Santana (Vista founder and president) was working for Beckman Coulter, installing and validating medical equipment in Florida. In doing his job, Santana got to see the internal operations of many laboratory facilities across the state. That's when he began to notice an ongoing lack of personalized care, compounded by high prices and long wait times (for the patient's on-site time, and for their results to be delivered).
"The patient was not being put first. Likewise, neither were the physicians or the facilities who depended on those labs to deliver timely and accurate results," Santana says. "Everywhere I looked, it was another upside-down paradigm—another case of 'the tail wagging the dog.' "
Santana had seen firsthand that, although many clinical laboratories talked about patient-focused care, most labs did not deliver with the hard work and dedication it took to create such an experience. Envisioning an opportunity in the existing market—for a focus truly based on service, value and timely accuracy—Santana shared his thoughts with longtime friend, Nathan Hawkins (Vista cofounder and vice president).
Hawkins and Santana met in 1996 while working as medical technologists at a hospital in Alabama. At the time, Santana had recently received an honorable discharge from the Navy, and Hawkins was still on active duty in the Air Force.
Then, after about 3 years in Alabama, Hawkins went to Ortho Clinical Diagnostics in Pennsylvania, while Santana made his move to Florida—where he soon saw the need for an organization like Vista, and contacted Hawkins.
"For 3 hours on the phone, we bounced ideas off each other—ideas that would become Vista," Hawkins says. "Even though I'd just received a promotion and built a new home in Pennsylvania, by the end of that phone call I was already planning my move to Florida."
Leveraging their homes, assets, and time, while often working a combined total of 200 hours a week between their day jobs and building their lab at night, Santana and Hawkins realized their vision when Vista Clinical Diagnostics was incorporated in July 2003.
CHOOSING BETTER SERVICE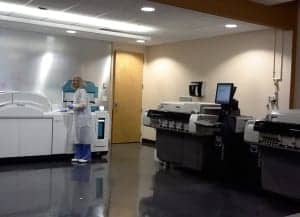 Chemistry Department
Having been built upon the ethics of higher-quality health care at affordable prices with excellent service, Vista has been consistently rewarded—allowing Santana and Hawkins' first little laboratory in Minneola to progressively expand across 13 Florida counties.
Offering some Zen-like insight into their tremendous growth, Santana simply says, "What's good for our patient is what works for us." In other words, Vista has grown by choosing to provide better service.
Patients at each of Vista's 44 locations are treated in a spa-like atmosphere that is relaxing, attentive, and never lengthy—only 10 or 15 minutes at most from the time they walk in the door. Clients, such as the more than 200 nursing homes and assisted living facilities that rely on Vista for everything from friendly and helpful couriers, to the different ways they need to receive their reports, are never disappointed.
"Whenever a patient or client wants better service, they choose Vista," says Pat Owen, Vista office manager. "Our success story is told in the lives we've touched, and the beliefs that have changed in our patients who now think: not only is Vista the better choice, it's that Vista is really trying to make a difference with their quality of care. Then, once they've experienced Vista, they keep coming back. Our retention rate is extremely high, and we earn that honor every day."
In the very beginning, Vista recognized how lab work had become a commodity. "We took something that was a commodity," Owen says, "and brought back humanity to it. This comes from the top and trickles all the way down. For example, one of our elderly patients, with the onset of dementia, was having a hard time. The daughter called to ask if anyone could be sent to the home as her mother was having difficulty getting up. Our phlebotomist did not hesitate in going to the home and obtaining the sample. People caring for people, that's what it's all about."
"Our patients and clients also help determine where we go, and what we change," Hawkins adds. "At Vista, we affect one patient at a time, and when we're successful with that one patient… mission accomplished. When we do that for 6,000 to 7,000 patients a day… mission accomplished. And we do it all with a percentage of error that's practically nonexistent—less than .01%. However, within that .01%, what matters most is how we correct it—what we do next, how we grow and change." (As this article was going to press in July, Vista received an amazing 100% on its accreditation inspection – for the second time!)
"HOW MIGHT WE …?"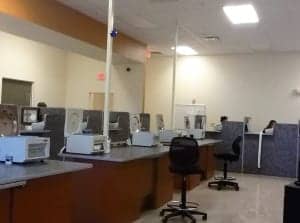 Accessioning Department
"We've spent a lot of time and resources on reinvesting in ourselves—to stay ahead electronically, technologically, and with our workforce because," Hawkins says, "if people were to get frustrated and overworked, things could start to break down."
"I think what's really crucial at this point for Vista is that we reintroduce our people to—and really focus on—the program that started Vista 9 years ago," he says. "It's a strong and proven program, and it's based on experiences. When you come to Vista, what are you experiencing? And, what do you want other people to experience with you? It's about understanding that each person in our organization believes in something better, and that each person in our organization has the power to make a difference.
"Which is why we make each and every one of our 250 employees part of the plan," he says. "Their voice is of great concern to me. If you're going to be in our culture, you have to be the culture—you have to contribute. The best thing about what Davian and I do is we help them create, we help them invent, we make them part of the plan. They contribute foresight, leadership, ideas, intellectual property. I think companies struggle, falter, and fail without these contributions. That's why it's important to always be asking, 'How might we…?' "
Obviously, Vista has never been content to be just another clinical testing facility. This drive to always do things better has enabled Vista to truly change their industry. And, along the way, Vista has guaranteed that no matter how big or small their company is, there are certain fundamentals that will never change in their business model. These fundamentals are the cornerstone of the Vista mission statement. Based on that mission statement, Vista guarantees these 10 things to every patient, physician, and client.
No appointment necessary—ever.
Average visit times of 15 minutes or less.
Medicare rates for the uninsured. Never a penny more.
Real "live" customer service. A person will answer every call made to Vista.
Around-the-clock access. When it comes to health there is no "time off."
Same-day results. If it can be tested in a Vista lab, you'll have results before the day is over.
Quality of supplies. There are many efficient ways of cutting costs. Materials should never be one of them. That is why Vista uses only the finest equipment, including needles, test tubes, and transportation techniques to ensure accuracy and comfort for the patient.
Quality of equipment. Only the latest in technology to ensure the highest accuracy of results.
Spa-like facilities. Clean, comfortable, and inviting.
Smiling, professional, and courteous staff. Vista prides itself on customer care that starts from the moment you walk into any Vista location.
VISTA PARTNER PROGRAM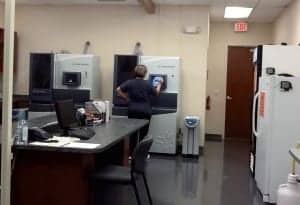 Pathology Department
After nearly a decade of 60%-per-year growth, what's next for Vista? Partnering with other labs that share Vista's vision for putting the patient first.
"What if the smaller and medium-size labs were no longer available, and you no longer had a choice?" Santana asks. "A very real and vital concern for the future is: in a market totally dominated by the national labs, there would be no incentive for the national labs to improve their customer service—they'd already have the contracts, so they'd know the patients would have to come to them."
"I find it frightening to consider a scenario where 70% of all medical decisions being made by physicians are determined by only one or two national labs," Santana says. "It's yet another reason why other parties should not be making decisions about your personal health. Not to mention what happens should all the small and medium-size labs go away, and all of their patients had to start crowding into the national labs, making them even more crowded than they are now."
To help thwart those possibilities, Vista recently introduced a partnership program for smaller and medium-size labs. "We're facing very difficult times with the cost of supplies, equipment, EMR, bidirectional interface, the cost of interfacing directly to a physician's EMR, and more," Santana says. "Partnering will reduce those costs, while increasing efficiencies."
Basically, the partner program uses Vista's buying power, individual property, resources management, and sales expertise to create better business models for smaller labs. The program can also be used by labs for software that creates a new customer base—enabling them to more cost-effectively interface with physicians. "Because some of these labs don't have a half-million-dollar software system, they can't even start interfacing with physicians. Or, when they do integrate the system, it can cost an additional $14,000 per physician. However, for our partners, Vista can do it for a fraction of that cost. Those are just a few of the benefits we offer other labs," Santana says.
Recently, the partner program helped a smaller lab save several thousands of dollars per year. That lab was paying more than $20 for a particular test, and had been unable to negotiate a better rate. With Vista, that lab is now paying less than $7 for the same test.
A PARTNER'S SUCCESS STORY
The genesis of what became Vista's partner program began when Earl and Stephanie Adams were considering the purchase of a lab in New Port Richey, Fla. "We knew Davian and Nathan, and so we visited them at their Clermont facility to ask their advice. I knew they owned Vista, but had no idea they'd taken it to the level they had," Earl Adams says.
"They helped us get started, and to avoid the dangers and pitfalls that come with this kind of growth. Thanks to their insight and knowledge, we've grown our business at a rate that would not have been possible otherwise. And, it has been a great relationship—we totally enjoy working with them. They're focused on quality and patient care, and so are we. We're very like-minded in that we treat our patients as individuals—instead of numbers, like the larger labs. Vista has the same philosophy as we do, and that's important to us," Adams says.
"Also, we do our ordering straight through Vista now. It's much easier, and we get better pricing—with their quantity pricing—on everything now. With Vista's buying power, Davian was able to negotiate exceptional terms for us on our new instrumentation—terms we were not getting on our own. Our annual cost savings alone has made it worth partnering up with Vista," Adams says. "Now, thanks to our partnership, the rates we charge are typically 60% to 70% less than our competitors."
MEANWHILE, BACK IN THE LAB
At the heart of all that Vista stands for, everything ultimately comes down to the lab and the people who work there. Vista's cutting-edge, 35,000-square-foot facility in Clermont is the epitome of what a diagnostic lab should be. This is definitely not your typical "back room" operation. Rather, what Vista has created is akin to a "Silicon-Valley flagship" of the best equipment, in the best surroundings, staffed by the best people.
Of course, there's all the latest technology from leading suppliers, such as Abbott. And, just to be sure there is never any downtime, there are backups and built-in redundancies throughout the different labs.
The lab is spacious, well-organized, and very clean. The layout of the equipment and workstations was designed with the help of Vista lab personnel, and provides for a seamless flow of work.
To ensure the quality and reliability of their test results, 98.6% of Vista's tests are done on-site in the Clermont facility; which also serves as a reference laboratory, offering more than 1,000 tests, ranging from routine screenings to highly esoteric molecular and genetic assays.
Also, Vista has its clinical pathology and anatomical pathology under one roof, instead of separate locations as with most other facilities. Thanks in part to this arrangement, Vista pathology testing results seamlessly integrate with clinical reports digitally.
However, what really makes Vista's labs exceptional are its people and their dedication.
NEETA MAUSKAR MS, MT(ASCP)
Neeta Mauskar, Vista's microbiology/molecular biology/serology manager, knows that when she sees a sample, she is seeing so much more—she is seeing the person behind the sample as well.
"Each and every patient is important to us. What if they were someone from my family? If someone close to me were sick, I'd want them to receive the best care possible, so that's the type of care I provide every patient," she says. "Just knowing that one day that sample is going to represent me, and the people I love, makes me feel very responsible for what I do. And, this is how Davian and Nathan feel as well. It's this type of thinking that brought me to Vista 8 years ago, and it's what keeps me dedicated to what I do."
KATHY JONES
As Vista's laboratory manager, Kathy Jones is always striving for the best of the best. She says, "I'm the one who goes around and makes sure everything is done the right way. The right way according to the state, the instrument manufacturers, and the employees." Nothing gets past her.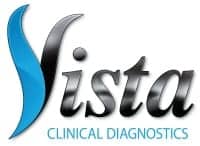 Vista Clinical Diagnostics
Clermont, Fla
vista-clinical.com
She makes sure everything is tested correctly and that all of the results Vista releases are valid, correct results. "If it comes to where we have a specimen that appears compromised, that specimen will not be run," she says. "I have the highest integrity, and that's what our patients deserve. In the end, the patient is going to win—and that's why, when I go home at night, I feel good about what I did that day."
Her following comments are a perfect representation of what you'll hear throughout Vista. "I love my job. I have a lot of responsibility, but I love the people I work with, and I have a lot of freedom. If I want to launch a new test and have done the appropriate research, I will have full administrative support. That's what makes Vista better—we're always growing, always changing, always doing something new to improve our patient services. Our patients will always be our first priority."
IN CLOSING
The quantity will NEVER supersede the quality Vista delivers each and every day… "One Patient at a Time."
---
Jim Huth is a professional writer and interviewer.