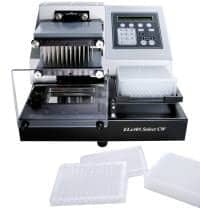 Deep Well Microplate Washer
Robot-compatible, full-plate washer
BioTek Instruments Inc, Winooski, Vt, offers the ELx405™ Select Deep Well Washer. The device is a robot-compatible, full-plate washer for automated aspirate and dispense steps in 96- and 384-well plates up to 50 mm high, and can also accommodate standard 15-mm microplates. It features the company's patented Dual-Action manifold for independent and precise aspirate/dispense control, and variable flow rates and angled dispensing for optimized cell washing. Typical applications that can now be automated include plasmid DNA purification, serum/plasma sample preparation, hematopoietic progenitor cell enumeration, and cell proliferation assays.
BioTek Instruments Inc
(888) 451-5171
www.biotek.com
---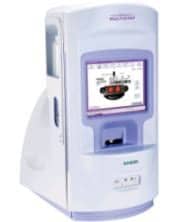 Biochip Analyzer
Uses biochip array technology
The Evidence MultiStat biochip analyzer from Randox Laboratories Ltd, Kearneysville, WVa, is a fully automated, benchtop system with a touch-screen interface. The device has the ability to detect up to 97 drug metabolites in one patient sample, in as little as 20 minutes. The analyzer uses Biochip Array Technology, a multiplexing methodology. Randox identified a gap in the market for a diagnostic-grade, point-of-care system that could provide rapid testing without compromising quality and accuracy. The analyzer also features the ability to automatically generate quality control data. Due to its speed, the unit has been primarily adopted in hospital emergency departments.
Randox Laboratories Ltd
(304) 728-2890
www.randox.com
---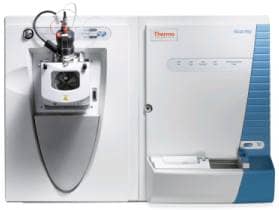 Velos Pro Mass Spectrometer
Dual-pressure linear ion trap system
The dual-pressure linear ion trap system Velos Pro from Thermo Fisher Scientific Inc, Fremont, Calif, offers fundamentally redefined ion trap mass spectrometer capabilities. The Velos Pro mass spectrometer features improved quantitative performance, faster scanning, and Trap-Higher Energy Collision Dissociation (HCD). It features new detection electronics, which enable linear quantitation of up to six orders of magnitude for enhanced reproducibility and confidence in results; up to 66,000 Da/sec scanning, which enables ultrahigh-throughput analyses; new Trap-HCD fragmentation; and redesigned ion optics featuring novel "neutral-blocking" technology. LTQ Velos and LTQ Orbitrap Velos systems can be upgraded to the new Velos Pro systems, enabling customers to extend their initial investment to include the new ion trap technology.
Thermo Fisher Scientific Inc
(800) 532-4752
www.thermofisher.com
---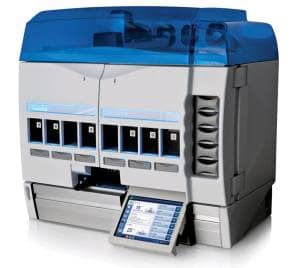 Microplate Sample Processor
Reduces hands-on time for ELISA test procedures
Magellan Biosciences, Chelmsford, Mass, introduces its Dynex Agility microplate sample processor. The instrument reduces hands-on time for ELISA test procedures and offers walk-away automation for sample and reagent loading, liquid transfer steps, plate transfers, and pipetting. Agility's SmartKit prepackaged direct-load reagent kits contain all consumables required to perform ELISA tests. Two-dimensional bar codes provide accurate and secure information to eliminate manual data input, and illuminated, color-coded, access positions on the instrument guide loading for reagent pack tips, microplates, and other consumables. Agility has three robotic arms for sample pipetting; reagent pipetting; and transferring plates, consumables, and SmartKits. Up to 16 SmartKits can be stored on the instrument.
Magellan Biosciences
(978) 856-2345
www.magellanbio.com
---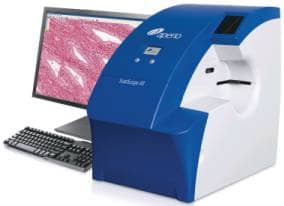 ScanScope AT Slide Scanner
Automated tissue finding, focusing, and calibration processes
Aperio, Vista, Calif, offers the ScanScope® AT slide scanning instrument, which features a 16- x 24-inch footprint and offers a 400-slide capacity with sustained throughput of 30 slides per hour. Using patented line-scanning and inline compression technology, the instrument can scan a 20x slide in an all-inclusive time of 95 seconds, producing a fully prepared image ready for immediate viewing. Automated tissue finding, focusing, and calibration processes yield high first-scan success rates. The system interoperates with Sakura slide racks, allowing slides to be transferred into Aperio slide racks 20 at a time.
Aperio
(866) 478-4111
www.aperio.com
---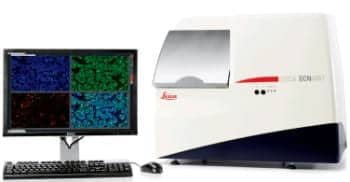 Leica SCN400 F Slide Scanner
Features a specially designed optical system
The Leica SCN400 F slide scanner from Leica Microsystems Inc, Buffalo Grove, Ill, combines brightfield scanning and multichannel fluorescence imaging on a single platform. With its specially designed optical system, scanning method, and z-stack functionality, the unit enables labs to capture the sharpest images for both brightfield and fluorescence samples. It provides a platform for creating a digital archive of fluorescent samples with no loss of image quality over time, enabling you to view your images long after the slide has faded away. Scanned slides are readily reviewed online through the SlidePath Digital Image Hub Web viewer.
Leica Microsystems Inc
(800) 248-0123
www.leica-microsystems.com
---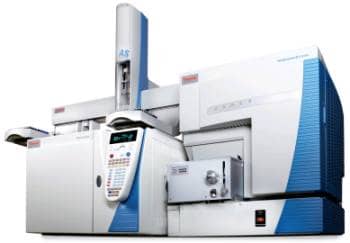 GC-MS System
Delivers increased matrix selectivity
Thermo Fisher Scientific Inc, Fremont, Calif, recently launched its new triple quadrupole gas chromatography-mass spectrometry (GC-MS/MS) system, the TSQ Quantum XLS Ultra. The instrument delivers the increased matrix selectivity needed for challenging applications that require lower levels of quantitation in extremely complex matrix extracts. The instrument features quantitation-enhanced data-dependent (QED) MS/MS, enabling simultaneous quantitation and structural confirmation. It provides fast GC runs for multicomponent analysis, allowing analysts to run more samples simultaneously. The instrument is equipped with Thermo Scientific QuanLab workflow software with custom reporting tools that can be tailored to the requirements of a specific project.
Thermo Fisher Scientific Inc
(866) 463-6522
www.thermofisher.com