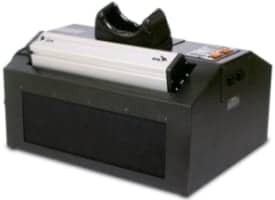 UV Viewing Cabinets
View, analyze, and photograph fluorescent samples
The Spectroline, Westbury, NY, offers the CL-150 series of UV workstations, which enable lab technicians to view, analyze, and photograph fluorescent samples with both epi-illumination and transillumination light sources. The CL-150 cabinet is able to accommodate large electrophoresis gels and up to four 8- x 8-inch (20- x 20cm) TLC plates. It can be used with any one or two of 11 different models of Spectroline® X- and XX-series 15-watt UV lamps (available separately). The CL-151 is identical to the CL-150, but is equipped with the XX-15NF lamp, which has separate 15-watt long-wave (365-nm) and short-wave (254-nm) UV tubes. Felt curtains allow easy access to the cabinet interior while blocking out external light. The housing dimensions are 17.5 x 20.25 x 9.75 inches (44.5 x 51.4 x 24.8 cm). Both cabinets are made out of aluminum with a chemical-resistant polyurethene coating.
Spectroline
(800) 274-8888
www.spectroline.com
---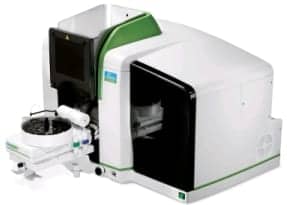 Atomic Absorption Spectrometers
Determines the concentration of inorganic elements in samples
PerkinElmer Inc, Waltham, Mass, has launched its PinAAcle™ series atomic absorption spectrometers for determining the concentration of inorganic elements in a wide variety of sample types. The PinAAcle series is a compact platform based on an optical system that uses fiber optics. The series' applications are suitable for clinical use in customer-validated applications. WinLab32™ software on the PinAAcle series reduces the time required for method development, sample analysis, and report generation. The software completely automates furnace method development and burner head alignment with gas flow optimization, ensuring safe, reproducible method setup.
PerkinElmer Inc
(800) 762-4000
www.perkinelmer.com
---
Benchtop Centrifuge
Refrigerated and constant-temperature models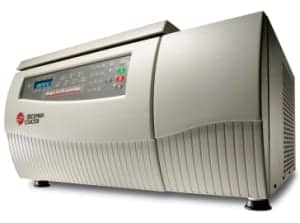 The Allegra X-14, a new 3-Liter benchtop centrifuge from Beckman Coulter Inc, Brea, Calif, accepts a variety of tubes and adapters to provide reliable performance in a range of applications. Refrigerated and constant-temperature models are offered individually or in prebundled packages that provide everything needed for quick setup in the laboratory. With a fixed-angle rotor, the X-14 provides a maximum speed of 10,200 rpm and delivers rcf of 11,400 X g. Swinging-bucket rotors can achieve a maximum speed of 4,300 rpm and rcf of 4,300 X g, and, utilizing a wide selection of tubes, bottles, and plates, accommodate a range of sample types and volumes. Depending on rotor and labware, the Allegra X-14 can process as many as 148 tubes per cycle. The refrigerated model offers a temperature range of 2°C to 40°C, and features a robust cooling system that brings samples from room temperature to 4°C in less than 4 minutes. The constant-temperature model is preset to 20°C. Allegra X-14 series units can be equipped with exclusive ARIES Smart Balance rotor technology, which automatically detects and corrects sample-load imbalances of up to 50 grams.
Beckman Coulter Inc
(800) 526-3821
www.beckmancoulter.com
---
Microplate Reader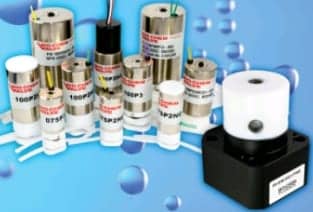 Delivers high-quality absorbance measurements
Biochrom, Holliston, Mass, offers the new EZ Read 400 Flexi Reader. The microplate reader is designed to deliver high-quality absorbance measurements and accommodate specialized applications. Users can select up to four filters of any wavelength from 400 nm to 750 nm, in addition to four standard ELISA filters of 405, 450, 492, and 620 nm. The instrument is PC-controlled using Biochrom's ADAP 2.0 Software. ADAP 2.0 Basic software is supplied as standard providing straightforward control for end point, kinetic, and multiwavelength measurements, as well as easy export into Microsoft Excel. For more sophisticated applications, optional ADAP 2.0 Plus software allows users to quickly and easily design methods for instant data analysis using standard curves or cutoffs.
Biochrom
(877) 246-2476
www.biochrom-us.com
---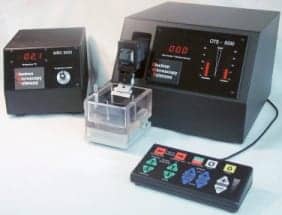 Automatic Oscillating Tissue Slicer
Minimizes Z-axis vibration
Warner Instruments, Hamden, Conn, introduces the OTS 5000 Automatic Oscillating Tissue Slicer. The slicer head minimizes Z-axis vibration, allowing for even delicate tissue to be cut successfully every time. The device features a user-programmable cutting window to minimize time between harvesting consecutive slices, allowing the section-cutting range of the blade to be customized to the specimen sample. It offers section samples in two different modes: slice one section at a time, altering tissue thickness between manually triggered passes; or automatically perform multiple uniform slices. The instrument is also available with a refrigerated controller and tray to maintain tissue temperature between 0°C and 10°C.
Warner Instruments
(203) 776-0664
www.warnerinstruments.com