Terminal Brand Broken-Glass Keepers
Store glass and sharps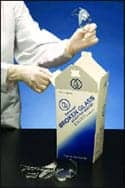 Broken glass and other noncontaminated sharp objects can be safely collected in Terminal brand broken glass keepers from Whitney Products Inc, Niles, Ill. The floor model features a corrugated construction, a plastic bag, and the Reclose-a/Remove-a-Lid with a wide opening for large items. The benchtop model is lined with plastic to contain moderate amounts of liquid.
Whitney Products Inc
(800) 338-4237
www.whitneyproducts.com
---
Kimtech Science Dusting System
Reaches in crevices

The Kimtech Science dusting system from Kimberly-Clark, Dallas, provides effective dusting for a variety of surfaces in a lab, including under, over, and around surfaces, shelves, and equipment. The system features a duster head with 380,000 soft, flexible, dust-trapping polyester fibers that change shape for dust pick-up in crevices and contours. The environmentally friendly system dusts without the need for chemicals, and leaves no residues. The system includes a reusable 6-inch duster handle with an ergonomic grip. Ready to use with no handle assembly required, it folds for space-saving storage.
Kimberly-Clark
(800) 255-6401
www.kimtech.com
---
Textbook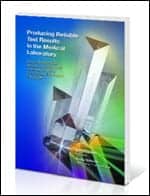 Helps produce reliable test results
Bio-Rad Laboratories Inc, Hercules, Calif, offers a textbook that provides QC guidance to help laboratories gain accreditation under ISO 15189. Producing Reliable Test Results in the Medical Laboratory provides insight and interpretation of key requirements of ISO 15189 for ensuring the quality of laboratory examination procedures. Examples of policies and procedures and summary checklists offer advice on meeting basic requirements. Bio-Rad's first textbook joins its library of educational booklets and brochures, online learning options, QC seminars, and customer training facilities.
Bio-Rad Laboratories Inc
(800) 224-6723
www.bio-rad.com/diagnostics