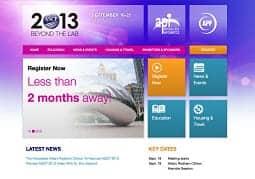 Pathology and laboratory medicine experts will debate, discuss, and offer insights into critical areas of the laboratory medical profession during the American Society for Clinical Pathology (ASCP) Annual Meeting.
The agenda addresses trends in pathology and lab medicine, and looks beyond the lab, to give you new perspectives on real-world applications of lab medicine and pathology worldwide.
The meeting takes place from September 18 to 21 at the Hyatt Regency Chicago.
Sessions include:
Choosing Wisely: Consider the laboratory's role in appropriate test utilization and learn the latest strategies for empowering patients and physicians.
Pathology Informatics: Get updated on the ever-changing role of pathology informatics as a source of "Big Data," and ways labs can overcome evolving technological challenges.
Genomics and Personalized Medicine: Hear the latest in the emerging field of molecular diagnostic tests and therapies.
The future of the clinical laboratory in ACOs: Learn to navigate the Affordable Care Act, and the lab's evolving role in delivering patient-centered care.
Click here for more information and to register.
Click here to preview the ASCP 2013 video with Kimberly Sanford, MD, FASCP, chair, Education Working Group, ASCP 2013 Steering Committee.
[Source: ASCP]