Connectivity Is The Key To Efficiency, Accuracy and Lower Cost
The Ideal Database = A Truly Integrated Database
Bob Sage, President
Interfacing and integration are key components to streamlining processes, automating workflows and increasing efficiency. All of which lead to higher accuracy and lower costs. Having an ideal solution means having a lean, powerful relational database designed to hold all current and historic patient and result information with modular flexibility. Psyche Systems Corporation has a truly integrated database that will enable laboratories to quickly and easily conduct statistical data mining, develop graphs, produce customized reports and automatically distribute them as well as provide outreach capabilities.
Lab Connectivity
Our AP system, WindoPath, allows you to leverage the power of the web to communicate with the physicians and clinicians who use your laboratory services. A system that provides current and integrated functionality will allow physicians to place orders and receive results online. Consider the possibilities for automation, accuracy and streamlined patient care when a laboratory information system, anatomic pathology system, reference labs and instruments are all integrated.
The ability, through technology, to share order and results information directly between our AP System and the clinician's EMR without the complexity of traditional interfaces now exists! With the emergence of more private pathology practices, more use of instrumentation, and more challenges in growing and maintaining labs' client bases – interfacing has become a necessity.
In the past, diagnosis of pathology specimens was based on the analysis of morphology and architecture of the tissue at the microscopic level. Today, instrumentation is used to perform this testing. Flow cytometry, HPV testing and IHC staining are just a few of the more common and frequently utilized interfaces available today. By interfacing your laboratory information system with your instruments, you will gain a significant competitive advantage. Cultivating the one-to-one relationship between a lab and the clinician is key to attracting, and retaining, customers.
Fulfilling Specific, Targeted Needs
An ever-increasing number of clinicians are looking for more than just data and boring, static results reports. The ability to provide clinicians with additional information, customized results reports, and the capability to place orders online right from their office is fundamental to servicing, and keeping, them in this ever competitive environment.
Equipping the system manager with an integrated toolset that allows him to easily update and customize libraries, medical necessity rules, result interpretations, reference ranges, collection requirements, etc. to stay current with new and evolving tests, regulations and standards will increase accuracy and reimbursement.
How about providing access to cataloged tests? How much would that facilitate efficiency and speed of processing? It would certainly enable lab personnel to look up vital information for any test performed by your lab, or sent to a reference lab. Reaching beyond your immediate facility, as well as that of the physicians or healthcare groups that you serve and connecting out to other facilities opens up a world of possibilities.
We have developed the systems that are innovative and forward-thinking enough to give you the advantage today as well as to position you for the future.
Psyche scored second highest for all Laboratory Anatomic Pathology solutions and first for "Best Vendor" according to the 2006 KLAS Top 20 Report*!
*www.healthcomputing.com; Top 20: 2006. Best in KLAS – General Market Solutions & Anatomic Pathology Early Data; KLAS Confidential Information ©2006 KLAS Enterprises, LLC. All rights reserved.
e.order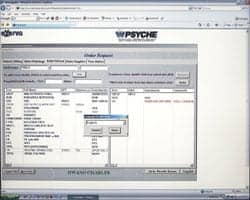 Similar to the integrated reporting capabilities we provide, each physician should be able to quickly and easily place test orders online directly from their computer. Customizing their own order list for the tests that they order most frequently then simply checking the boxes that correspond to a particular order on an online requisition form multiplies efficiencies and accuracy. Orders placed should also have the ability to be automatically queued up and available for the lab staff. Physicians would then have the ability to track orders online to confirm that the specimen was received and processed by the lab. Because of our dynamic, centralized database, when orders are placed, the patient information is entered into WindoPath directly from the physician's office and all information, including the testing, instrument interface, results report, historical data and billing codes are all married together in one location.
---
Join Us for a FREE Webinar! We are featuring our e.lixa suite of products on Tuesday, September 25 at 1pm ET and our WindoPath system on Wednesday, October 10 at 1pm ET.
Register now to reserve your spot at [removed]www.psychesystems.com/CLP[/removed].
---
e.reports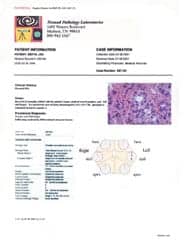 Physicians are requiring faster access to critical patient care information. By implementing a modular, truly integrated solution, physicians can quickly access completed reports from a secure web page using any PC with a unique login identifier. Laboratories that can provide the same physician with customized reports – depicting images, logos, layout and the presentation of results in the format that the physician would prefer to receive it will gain a competitive advantage over other labs. Reports should be able to be customized by individual physician or by facility location. Preferences can also be set to include all of the patient history on the report – including previous results for specific tests or their entire result history. Imagine then also being able to allow the physician the ability to define their preferred delivery method for those reports – automatically printed, emailed, faxed, etc.
The power to view images associated with the results attached directly to the reports is essential to achieving higher customer satisfaction. Higher customer satisfaction leads to increased orders = more reimbursements.