Randox Laboratories is the leading manufacturer of diagnostic products in the UK and one of the fastest growing clinical diagnostic companies in the world. Randox has 25 years experience in the research, development, manufacture and marketing of high quality diagnostic reagents and equipment for laboratory medicine. Five times winner of the Queens Award for Export, Randox is firmly implanted as a significant investor in the development of new healthcare technology solutions for research and clinical applications.
The Randox portfolio includes our revolutionary Biochip Array Technology, clinical chemistry automation systems, clinical reagents, environmental diagnostics and antibodies and recombinant proteins for Life Sciences research. Our commitment to quality is further demonstrated through our quality control materials and the Randox International Quality Assessment Scheme (RIQAS), which has been implemented worldwide. We also comply with the International Quality Standard ISO 13485.
Randox Laboratories Ltd.
4065 Oceanside Blvd Suite Q
Oceanside, CA 92856
+ 1 760-639-1500
e-mail:
www.randox.com
Randox Laboratories' latest technological innovation is Biochip Array Technology. This Technology offers multiplexing, which provides multiple results for every sample. It is designed for applications in the field of genomics and proteomics in research, clinical diagnostics and drug discovery. Two analyzers embrace the technology: the fully automated evidence® system is a floor standing analyzer ideal for high throughput clinical laboratories, the semiautomated evidence investigator™ is a benchtop analyzer, which has been designed for smaller throughput laboratories and research facilities.
The biochip is a 9mm x 9mm solid substrate with multiple specific ligands (antibodies or antigens) attached at predefined sites on the surface. Arranged in groups according to disease state or field of research, up to 23 analytes can be fixed onto one chip, which will be assessed together from one sample. The range of tests includes novel and routine markers such as cytokines and growth factors, cell adhesion molecules, drugs of abuse, cardiac markers, fertility hormones, thyroid hormones and a DNA chip for point mutations associated with colorectal cancer.
Randox places a strong emphasis on research. Nearly 200 R&D scientists are employed in a state-of-the-art facility to keep abreast of scientific developments. Over 220 new analytes are in development including protein and DNA markers. Test analytes and biochips can also be designed to order by customer request.
The Randox clinical chemistry analyzers employ an impressive range of time, labor and cost saving features. The RX daytona™ and RX imola™ are fully automated benchtop systems that combine outstanding flexibility with high sample throughput. They feature a comprehensive test panel, including routine clinical chemistry, lipids, enzymes, therapeutic drugs, special chemistry, proteins, antioxidants, trace metals, veterinary parameters, food and wine testing and open channel methods. Bar-coded reagents, primary cup sampling and auto start and shutdown guarantee maximum walk-away time. Emergency STAT interruption, Windows ® based software and clear graphics make the analyzer easy to use with minimal training requirements.
A comprehensive range of high-quality controls and calibrators complement the range of analytes. A peer group QC scheme, 24/7, offers a great tool for extended internal Quality Control. An international EQA scheme, RIQAS, with a customer base of over 7000 and growing, presents laboratories with a perfect means of accreditation.
Randox has strived for high standards for the last 25 years, true to our mission statement: 'revolutionizing healthcare through continuously improving diagnostic solutions'.
RX series of clinical analyzers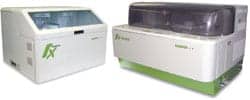 The RX series of analyzers includes two fully automated systems, RX imola™ and RX daytona™, and one semi-automated version, RX monza. All are benchtop machines and feature many time, labor and cost saving features. They offer one of the widest test menus currently on the market, with over 100 closed channels reflecting the range of Randox reagents. Further open channels are available on all analyzers. The systems can also be sold as open channel analyzers.
Key features
Compact benchtop analyzers
Versatile
Comprehensive test menu
Low consumable usage
Easy to use clpmag.com
---
evidence investigator™
Multi-analyte immunoassay analyzer
The evidence investigator™ from Randox is a semi-automated immunoassay analyzer that utilises Biochip Array Technology for simultaneous detection of multiple analytes in a single patient sample. The FDA cleared Biochip Array Technology was designed by Randox and was granted the prestigious Mac Robert Award for Engineering in 2003. Based on ELISA principles of competitive, sandwich and antibody capture assays Biochip Array Technology utilises a 9mm x 9mm biochip as a reaction platform, with multiple specific ligands (antibodies or antigens) attached at pre-defined sites on the surface. Up to 23 separate tests can be spotted as Discrete Test Regions on the surface of the biochip allowing 23 different results from as little as 7μL of patient sample. Designed for research, clinical and veterinary applications, the evidence investigator™ is suitable for both proteomic and genomic analysis and boasts a wide test menu including arrays for cytokines, drugs of abuse, colorectal cancer, cardiac markers, growth promoters and antimicrobial drugs.
---
Randox Quality Controls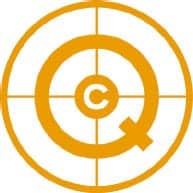 Randox draw on 25 years of experience in the design and manufacture of quality controls, calibrators and standards. We manufacture the full portfolio of quality control materials covering 170 parameters. Our principal multi-analyte control products are Clinical Chemistry, Immunoassay, Specific Proteins, Lipids, Cardiac, Tumour Markers, Therapeutic Drugs, CSF and Urine. The multi-analyte control range is completed by specialist controls such as Cytokines and Sulphonamides and a variety of single-analyte control products. Randox assayed quality controls are supplied with accurate instrument-specific and method-specific values. Target values and ranges are assigned using data from seven thousand laboratories worldwide. The Clinical Chemistry control is supplied with international reference method values for 12 parameters and the Lipids control is supplied with CDC reference values for apo A-I, apo B, total cholesterol, HDL and triglycerides. Randox precision (unassayed) quality controls are supplied with guideline target values for the most common methods.