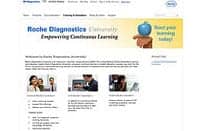 Roche Diagnostics, Indianapolis, introduces Roche Diagnostics University, an online, virtual-learning platform for its customers, to foster continual learning for lab professionals.
The website provides training and education resources and is available around the clock.
Lab managers can track technologists' proficiency and competency, plan education strategies, and set goals for current and new employees. The training record provides proof of compliance during audits and site visits.
Learning modules can be accessed on various platforms to meet the needs of users, including smart phones, tablets, Macs, and PCs.
The learning options are customized and user-friendly, so lab managers and technologists can work together to achieve measurable goals.
Users can visit the site to view learning content, establish learning plans, access CEU offerings, review training history, and explore a library of general IVD learning programs and lectures. The company plans to offer on-the-job support tools and knowledge reviews.
To support live customer training, Roche has invested in and plans to open its new Learning and Development Center on its Indianapolis campus in May 2014.
[Source: Roche Diagnostics]