Clinical testing in order to manage medications, including therapeutic drug monitoring and screening for drugs of abuse, can arguably be said to be the widest type of medical treatment, based on the number of people who use prescription drugs. According to the National Center for Health Statistics, in 2006 1.8 billion drugs were ordered or provided in the United States through physician visits, while more than 247 million were ordered or provided at hospital outpatient visits, with 75% of the visits involving drug therapy. Hospital emergency department (ED) visits saw another 212 million drugs ordered or provided, with 91% involving drug therapy.
According to Anne Becknell of Biosite, an Inverness Medical Company in San Diego, overcrowding of these hospital EDs constitutes a major problem, and rapid testing devices specifically designed for drugs-of-abuse screening are essential.
"Diagnostic testing trends are calling for testing to be performed closer to the patient," says Becknell, director of marketing for drugs of abuse and toxicology at Biosite.
Rapid Turnaround Is Key
"Faster, easier methods to reduce turnaround time of test results the clinician requests are needed to aid in diagnosis and disposition of the ED patient, while not sacrificing quality control and testing accuracy," Becknell explains.
In the United States, drug screening in hospitals is most often conducted by lab analyzers or rapid kits, with assays performed for barbiturates, benzopiazepines, methadone, and tricyclic antidepressants, as well as propoxyphene and oxycodone. Drug screens are typically performed on urine samples by immunoassay, with presumptive positives confirmed using alternate analytical methods, such as liquid chromatography combined with mass spectrometry. Other methods of screening, such as hair and oral fluid, are primarily used in the workplace and criminal justice settings, and have not been evaluated in clinical settings to any great extent.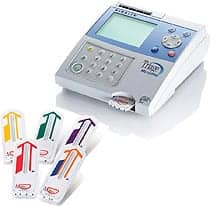 Biosite's Triage: TOX Drug Screen Panelrapid test device
Biosite's Triage TOX Drug Screen Panel utilizes fluorescence immunoassay technology to produce 11 drug screen results, including acetaminophen and amphetamines, simultaneously in approximately 15 minutes. Designed for the clinical market, the panel is comparable to many of the larger laboratory systems for drug screening, while offering a rapid test that can be performed as a point-of-care test if necessary, Becknell says.
Each test device contains multiple onboard controls that are performed automatically to ensure acceptable performance.
"While many labs screen for acetaminophen with a serum quantitative assay, our product includes a quantitative urine assay for the drug, which can be a very serious, often unintentional, and sometimes undetected overdose," Becknell says.
Symptoms of acetaminophen overdose may take hours to manifest, but can potentially damage the liver unless an antidote is administered within 4 to 8 hours of ingestion. While upward of 80% of quantitative acetaminophen tests are negative, hospitals still order them due to the significant number of deaths by overdose. According to the American Association for the Study of Liver Disease, an estimated 500 deaths, as well as more than 50,000 ED visits, per year are attributed to suicidal or unintentional overdoses of acetaminophen. While some deaths are intentional, at least 50% of these are unintentional—meaning that the patient is consuming more than one preparation of acetaminophen or simply using doses more than suggested by the package insert.
The Triage TOX system is simple to run. The urine sample is pipetted into a cartridge that is then inserted into the Triage Meter. The meter reads the device's reaction, and displays and prints the test results of 11 drugs in about 15 minutes. Test results can also be interfaced to laboratory information systems. Approximately 275 tests can be run per hour, with price varying depending on testing volume.
Biosite provides comprehensive support to interface Triage Meters, which are installed in more than 2,500 US hospitals, to most any data-management system, Becknell says.
"All Triage products are uniquely designed for use in the lab or at the point of care," she says. "They provide rapid results and may help drive improved efficiencies and cost-effectiveness."
Quantimetrix Corp, Redondo Beach, Calif, also delivers a urine test for drugs of abuse.
"The current trends for drugs of abuse and toxicology testing are urine and saliva," says Monty Ban, vice president of sales and marketing.
Quantimetrix offers its Drugs of Abuse Urine Screen Control for $60 to $95 per box and detects analytes such as amphetamines, barbiturates, benzopiazepines, cannabinoids, cocaine metabolite, LSD, methadone, opiates, and antidepressants. The test monitors the performance of Abuscreen ONLINE, AxSYM, EMIT, Triage, and other drugs-of-abuse screening methods, and meets current revised guidelines established by the Substance Abuse and Mental Health Services Administration (SAMHSA).
Level 1 indicates drug-free urine. Level 2 has drug analytes below screening cutoff levels (negative threshold screen). Level 3/300 is designed to contain drug analytes above screening cutoff levels (positive screen), and Level 3/2000 contains drug analytes that are substantially elevated than the screen cutoff levels (positive screen).
According to Ban, the product's shelf life makes it unique. "It is stable for 3 years, requiring no reconstitution."
Chromatography/Mass Spec Making Inroads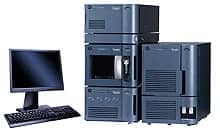 ACQUITY TQD from Waters Corp
According to Waters Corp, headquartered in the United Kingdom, liquid chromatography-mass spectrometry (LC/MS), common in the drug-approval process, is now finding a role in the routine clinical lab, with many labs using the technique for a variety of testing, including therapeutic drug monitoring, particularly of single immunosuppressant drugs, including tacrolimus, cyckisporin A, and sirolimus. These drugs are typically used after organ transplants to reduce the activity of the immune system and thus lower the risk of organ rejection.
According to Khalid Khan, senior manager of clinical technical operations, improvements in assay performance, usability, reliability, and software capabilities have allowed labs to adopt the powerful technique. The analytical chemistry technique combines the physical separation capabilities of liquid chromatography with the mass analysis capabilities of mass spectrometry. Generally, its application is oriented toward the specific detection and potential identification of chemicals in the presence of other chemicals (in a complex mixture).
"Waters is facilitating the transfer of this highly sensitive and specific technique to the diagnostic analysis of immunosuppressant drugs, leading to cost saving for labs and more accurate data analysis," says Pat Martell, director of clinical marketing.
Waters' introduction of innovative system platforms, standardized methods, and reagents to support the solution requirements are enabling more labs to utilize the cutting-edge methodology.
"The diagnostics market needs products that allow them to get an answer," says Joe Clarke, marketing manager of clinical operations. "Labs are driven by application, not necessarily by technology alone. What differentiates us from others is our ability to deploy equipment, install the solution, and support it so that lab personnel can use it successfully."
In 2007, the FDA cleared Waters Corp for a first-of-its-kind commercially available kit specifically designed for quantification of the immunosuppressant drug tacrolimus in kidney and liver transplant patients by LC/MS. The kit tests whole blood samples and can help in the management of tacrolimus therapy.
To prevent rejection of the donated kidney or liver, the immunosuppressant is delivered. However, determining the right dose can be tricky because the therapeutic window is narrow—and if the concentration of the drug is too high, it can become toxic, and if it is too low, the body will reject the donated organ.
Complicating matters further is that people metabolize the drug differently, so the only way to determine the right dose is to monitor the concentration of the drug in the bloodstream—a task LC/MS can do well. According to Waters Corp, approximately 25% of therapeutic drug monitoring of immunosuppressant drugs is done by LC/MS.
In addition, Waters Corp recently introduced its MassTrak immunosuppressant XE research-only kit for quantitative measurement of tacrolimus, sirolimus, everolimus, and cyclosporin A. This kit provides labs with an alternative to immunoassay test kits for research analysis and includes reagents, internal standards, and an analytical column for performing up to 500 tests per kit. According to Waters Corp, the kit performs well in the presence of drug metabolites and addresses some of the analytical weaknesses of immunoassay technology. Eventually, the company hopes to obtain regulatory approval for the kit's use in diagnostics.
Thermo Fisher Scientific is also in the forefront in the use of LC/MS technology, although its LC/MS systems are for forensic labs only at this juncture. The ToxSpec Analyzer tests for drugs of abuse using liquid chromatography and mass spectrometry. One method screens 350 drugs for urine and plasma in less than 13 minutes. The fully automated process provides online sample preparation using Turboflow technology and can be used for confirmation.
The company's gas chromatography product line includes a full range of gas chromatography detectors, including those commonly used in forensic labs, as well as several different types of mass spectrometers.
Its productivity solution kits facilitate forensic drugs-of-abuse confirmations, and include validated methods for the company's DSQ II GC-single quadrupole mass spectrometer for the drugs of abuse regulated by SAMHSA, including cocaine, PCP, amphetamines, and opiates. These kits include both the methodology and the Thermo Fisher Scientific consumables needed for both the sample preparation and GC/MS analysis of these drugs of abuse in urine.

To stay current on toxicology methods, bookmark our website.
Thermo Fisher also focuses on the use of its GC-triple quadrupole mass spectrometer for alternative forensic drugs-of-abuse testing, such as testing in oral fluid and hair. Due to the low sample volumes typically available for these samples, the low toxicity levels of the drugs in the samples, and the complexity of the samples, the specificity of a GC-triple quadrupole is often required.
To this end, Thermo Fisher has methodology that allows its TSQ Quantum GC to detect down to the limits of quantification required by labs that want to implement hair and oral fluid testing. An example for use on the TSQ Quantum GC is THC in oral fluid.
According to Jason Cole, quality manager of the scientific instruments division for mass spectrometry and chromatography, Thermo Fisher's gas chromatography line offers the most diverse set of GC detectors and mass spectrometers on the market. The company also offers a full line of sample-preparation equipment and in-house expertise in methods development.
"This puts us in a unique position to customize a complete solution from sample preparation to instrumental analysis, rather than simply providing our customers a scientific tool," Cole says.
---
Shannon Rose is a freelance health and medical writer based in Temecula, Calif.