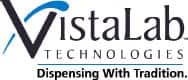 Ergonomic Science and the Ovation BioNatural Pipette
VistaLab Technologies, Inc.
27 Radio Circle Drive
Mt. Kisco, NY 10549
(888) 652-6520 or (914) 244-6226
www.vistalab.com
Pipettes remain one of the most essential tools used daily in the clinical laboratory. However, numerous studies have shown that researchers and laboratory personal who routinely use pipettes experience fatigue and discomfort in the upper extremities. With time and repetition, muscles, tendons, ligaments, nerves, and blood vessels can be damaged, resulting in injuries known as musculoskeletal disorders or MSDs. The most common of these injuries or disorders include carpal tunnel syndrome (CTS), tendinitis, epicondylitis (tennis elbow), tenosynovitis, trigger finger, cubital tunnel syndrome, tarsal tunnel syndrome, and tension neck syndrome. US governmental agencies, including NIOSH, NIEHS, and the CDC have suggested modifying certain laboratory practices as a means for reducing exposure to the ergonomic risk factors inherent in pipetting.
The ergonomic risks from pipetting are primarily a result of awkward and static postures. Lifting the upper arm in front of the body (upper arm flexion) between 45 and 90° is common throughout the pipetting task, and is coupled with frequent lifting of the elbow out to the side of the body (abduction of the arm). The hand and wrist are usually over-rotated and or bent, considerably diminishing muscle strength. Performing tasks in a containment hood further exacerbates these stresses. Additionally, repetitive twisting of the forearm 180° between palm-up and palmdown positions (pronation and supination of the forearm) is common. While it may be complicated to calculate exactly how much is too much when evaluating exposure to ergonomic risks, the obvious contribution factors should be minimized to prevent fatigue, pain and potential injury.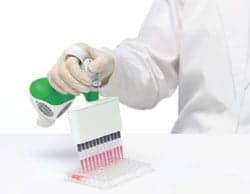 The traditional axial-style design of most pipettes fail to shield users from cumulative injuries that can occur from long sessions of awkward repetitive motions inherent in pipetting. To overcome this, VistaLab Technologies radically updated the concept of pipetting with the introduction of the Ovation BioNatural Pipette. Unlike other pipettes, the BioNatural design allows the user's hands to stay low to the lab bench, the elbows and arms to stay relaxed and close to the body, and the forearm to be maintained inward (pronated). The grip was designed to minimize contact stress on the hand and thumb. Balance and weight were carefully considered, and an adjustable hook enables the pipette to fit a wide range of hand sizes. A unique tip acquisition system ¡°clicks¡± when the tip is acquired, and an eject button activates a discard mechanism that pushes the tip off with minimal user effort. The pipette's form allows it to stand independently on a counter surface, making it easier to pick up and put down, and eliminates the repetitive twisting of the forearm that occurs when picking up or putting down a traditional pipette.
The Ovation design has received several patents and was awarded the prestigious gold award by the Industrial Design Society of America for best product design. Extensive independent assessments by Ergonomics Technologies Corporation, NIOSH and the Duke University Department of Ergonomics have shown a significant reduction in the most important MSD risk factors for pipetting, and a strong preference for use among laboratory workers.
Ovation adjustable & fixed volume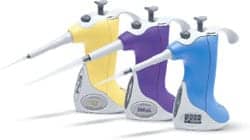 Ovation adjustable volume models allow five of the laboratory's most frequently-used aspirating and dispensing volumes to be easily set-up and stored for routine use and recall by pressing a single button. And other volume settings can be selected at precise increments throughout the pipette's volume range. A low-force, form-fitting plunger allows the user to manually control the speed of aspiration and dispensing with minimal effort. Six color-coded models for liquid volumes from 0.2μL to 1000μL are available. Fixed volume models are the ideal ergonomic choice for settings where pipetting volumes never deviate from an exact protocol. Both single stroke and two stroke (overblow) models are available in a number of volume increments ranging from 1μL to 1000μL.
---
Ovation multichannel models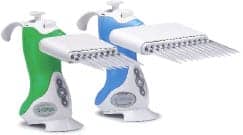 Multichannel models with electronic programmable functions are ideally suited to the complex demands of research and higher throughput testing environments. An intuitive user interface allows easy set-up and use of liquid handling functions for pipetting, mixing, multiple dispensing, serial dilutions and reverse pipetting. Like all Ovation models, physical efforts and time required for tip handling have been minimized by a unique tip acquisition system which provides the user with an audible "click" to indicate all tips have been securely fitted. Tip release is accomplished just as quickly and with minimal effort at the gentle push of a button. Color-coded right and left-handed 8 & 12-channel models are available for precision liquid dispensing from 0.5μL to 1250μL.
---
Ovation electronic & macro models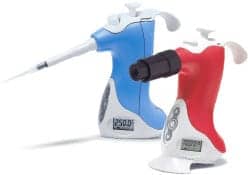 Electronic single channel and macro Ovation pipettes are a perfect ergonomic choice for users who need a comprehensive range of automated liquid handling functions. An easy-to-read display and simple-tooperate keypad allows fast recall and setup of user-defined pipetting protocols and selection of operating modes, volumes and speeds. Fully electronic operation maximizes pipetting efficiency for tasks like multiple dispensing, pipetting, reverse pipetting, mixing, serial diluting and automatic sequential dispensing. Color-coded right and left-handed models are available with wide volume ranges for precise liquid dispensing from 0.5μL to 10mL.
---
MLA-brand pipettes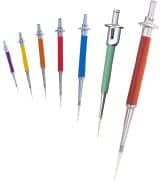 MLA Pipettes remain one of the most respective brands in the field of laboratory science. These pipettes are an ideal choice for short duration and infrequent pipetting needs where exposure to ergonomic risk factors is limited, while precision and accuracy remain essential. MLA pipettes offer proven reliability and are known to survive may years without breakage or need for recalibration. Crafted from precision engineered metal components for unparalleled durability, all MLA Pipettes carry a Lifetime Warranty.