While STDs are often spread through sexual intimacy, they require only one instance. Complicating matters, many of these diseases don't announce their presence right away, and some (such as Chlamydia) can remain asymtomatic for years, encouraging their spread and permitting unseen damage to patients. For this reason, screening programs and frequent testing-particularly in the sexually active-are recommended.
Naturally, these diagnostics tend to be high-volume, and so ways to improve testing are always in development. Following is a look at some of the current and future technologies that are changing the marketplace.
All At Once
Seegene Inc, Rockville, Md, seeks to ease the testing demands on laboratorians with multipathogen diagnostics. "Our approach is the multiple pathogen test with a low cost," says Jong-Yoon Chun, PhD, CEO of Seegene and the founder and inventor of the company's new multiplexing PCR technology, Seeplex.
Seeplex employs a Dual Priming Oligo (DPO) platform that works in conjunction with automatic detection systems, such as capillary electrophoresis or sequencing instruments. The DPO-based primers are comprised of two priming parts that serve to amplify only the target gene, generating consistently high PCR specificity. Amplicons are separated and analyzed automatically. Because more than one disease marker can be detected at a time, results are produced rapidly: the average turnaround is about 5 hours, according to Chun.
The company has two STD tests in commercial development: the HPV4 ACE Screening and the HPV/STD4 ACE Screening. The tests have been CE marked, and Chun expects to submit the technology to the FDA for approval within the coming year.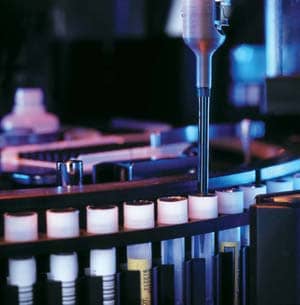 Automated Tigris system from Cepheid Inc.
Both offer multiple pathogen results for the cost of a single test. The HPV4 ACE Screening detects 11 high-risk and five low-risk types of HPV as well as performs genotyping on HPV 16 and HPV 18 strains-all at once. The HPV/STD4 ACE Screening detects the 13 high-risk and five low-risk types of HPV as well as Chlamydia trachomatis (chlamydia) and Neisseria gonorrhoeae (gonorrhea), also all at once.
Chun points out that by combining multiple tests into one, a patient can be screened for conditions for which they might not necessarily have been tested, which can be especially true for pregnant women. "These types of infection can have no symptoms. So if the pathogen is not included in a routine screening, there is no chance of identifying and successfully treating the disease," Chun says.
Combating Common Conditions
Chlamydia and gonorrhea may not show symptoms right away. According to the CDC, gonorrhea can take up to 30 days to manifest, and chlamydia can remain undiagnosed for years. However, both can lead to more serious complications, including infertility.
Chlamydia is often referred to as the silent disease. About three-quarters of infected women and half of infected men have no symptoms.2 Yet the CDC has found that it is the most commonly reported bacterial sexually transmitted disease in the United States with approximately 2.8 million new cases every year.1 In 2006, 1,030,911 chlamydia diagnoses were reported.1 The CDC has recommended annual screening for chlamydia in all sexually active women 25 years old and younger, older women with risk factors, and pregnant women.
Gonorrhea is not quite as silent nor quite as prevalent, yet it is still a very common condition that can have severe consequences. In 2006, the rate of infection increased for the second year after a long period of decline.3 According to the CDC, there are roughly 700,000 new gonorrhea infections annually.3 Left undetected, the disease can lead to pelvis inflammatory disease in women or epididymitis in men, or spread to the blood or joints, where it is lifethreatening.3
Many people diagnosed with gonorrhea often have chlamydia3 and, like Seegene's test, some diagnostics screen for both conditions at once. The Aptima Combo 2 assay by Gen-Probe Inc, San Diego, is one such test. The test can be run on the company's fully automated Tigris system or on semiautomated systems. Gen-Probe's Aptima CT and Aptima GC assays, which detect the organisms singly, also have been approved to run on the instrument. Laboratories, therefore, do not need different platforms to run these different tests.
All three diagnostics also can be run on a variety of sample types, including clinician-collected endocervical, vaginal, and urethral swab specimens; patient-collected vaginal swab specimens; and female and male urine specimens. "One challenge to STD testing from the chlamydia and gonorrhea standpoint is the many different sample types and collection devices. The ability to consolidate different samples on one platform is a benefit because the lab doesn't have to have multiple products and reagents to support customers," says Steve Kondor, senior vice president, sales and marketing, for Gen- Probe. FDA approval means the lab doesn't have to run its own validation tests, a big time-saver.
Time is also saved when the tests can be performed using automation. In addition to the high-volume Tigris, Gen-Probe expects to debut a new system, Panther, in the United States around 2011, after obtaining 510(k) approval, on which these tests can be run.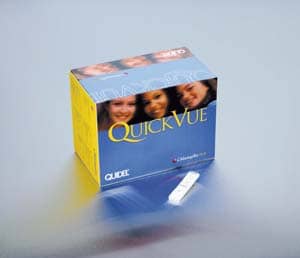 Quidel's QuickVue Chlamydia test delivers qualitative results in 15 minutes with an overall sensitivity of 92% and an overall specificity of 99%.
Panther is for use in laboratories with small and midsize volumes and therefore less space and budget. "Continuous loading means labs can run in excess of 500 tests in a couple of shifts," Kondor says. The technology also will support dual formats, running both high-sensitive, qualitative Aptima-type assays as well as real-time quantitative assays.
"Labs want to process these tests with efficiency, but they also want to detect a disease if it is there, so a highly sensitive test without a lot of false positives is also desirable," Kondor says. The Aptima Combo 2 Assay has been shown to have greater sensitivity than culture and direct specimen tests.4 The platform uses target capture, transcription-mediated amplification, and dual kinetic assay to detect and differentiate the rRNA of chlamydia and gonorrhea infections. These technologies eliminate inhibition problems and cross-reactivity.
For laboratories without instrumentation or in instances where an extremely rapid turnaround is required, the QuickVue Chlamydia test by Quidel Corp, San Diego, can provide a reliable diagnostic. The company reports an overall sensitivity of 92% and an overall specificity of 99%.5
Delivering results in 12 minutes, the 25-test kit includes everything needed to obtain a result, according to Colleen Hobbs, senior marketing manager for Quidel. "A simple extraction procedure requires the addition of only two reagents," Hobbs says.
Detecting Disease
Unfortunately, once a patient is diagnosed with chlamydia or gonorrhea, his or her risk of acquiring HIV increases. The CDC has found that women infected with chlamydia are up to five times more likely to become infected with HIV if exposed,2 and that people with gonorrhea can more easily contract as well as transmit HIV.3
Approximately 56,300 people are infected with HIV every year,6 a figure recently revised upward. At the end of 2003, the organization estimated there were 1,039,000 to 1,185,000 persons in the United States living with HIV/AIDS, and that, of these, 24% to 27% were undiagnosed and unaware of their HIV status.6 Even so, roughly 16 million to 22 million people in the United States are tested for HIV.7
Not knowing can be fatal. Many HIV-infected individuals can undergo treatment that will greatly reduce the progression of the disease. Tests that can detect and/or quantitate HIV therefore help with diagnosis and treatment. Tests that can do so rapidly are even more prized since they can help to ensure that results are delivered and action is taken.
The OraQuick Advance Rapid HIV-1/2 Antibody Test by OraSure Technologies Inc, Bethlehem, Pa, can deliver results in 20 minutes. The FDAapproved, CLIA-waived, point-of-care immunoassay screens for both HIV-1 and HIV-2 in oral fluid, finger-stick, and venipuncture whole blood or plasma samples with more than 99% accuracy, according to a company spokesperson.
The kit is comprised of a single-use test device and a single-use premeasured test developer solution. The diagnostic can be stored at room temperature, requires no specialized equipment, and may be used in both traditional laboratory and nontraditional clinical settings.
Differentiating Disease
Once a diagnosis of HIV has been confirmed, the type of virus needs to be differentiated. The results will often impact treatment. Monogram Biosciences Inc, South San Francisco, Calif, announced the FDA approval of the enhanced sensitivity of its Trofile HIV co-receptor tropism assay. The test can help a physician rule out CCR5 antagonist therapy.
"Our test determines whether that particular patient's virus is CCR5 or CXCR4-using. If it's R5-using, that patient would be a candidate for the CCR5 antagonist drug," says Alfred G. Merriweather, Monogram's CFO.
The assay has enhanced sensitivity on a 30-fold average and can now detect X4 at levels less than 0.3% of the total virus population. Merriweather notes that it is the only diagnostic on the market to offer this particular information. "It's a good example of personalized medicine. If giving the drug to patients with the appropriate test results, there is a greater confidence it will be effective," Merriweather says.
Tracking Treatment
There are many variants of HIV, classified into three groups, of which group M is the most prevalent. Group M has been found to have at least nine subtypes, each of which can display differing disease progression, transmission rate, and treatment responses.
While certain types are found more prevalently in specific regions (for instance, subtype B has historically been the most common in the United States and Western Europe), globalization means that subtypes are not restricted in their geography. In addition, they are not restricted in their number. Natural polymorphisms and treatment-induced mutations cause the virus to constantly mutate.
"Over the last several years, they have identified up to 43 circulating recombinant forms," says Christopher J. Jowett, director of marketing for Abbott Molecular, Des Plaines, Ill. When a test is developed, it is designed to match the genetic makeup of the virus, and those that require a solid match may miss variants. As a result, HIV developers search for DNA sequences that are conserved or remain unvaried among the various virus types.
Abbott has been gathering samples and data from around the world for more than 12 years, and has used that information to develop a test that can handle mismatches. The company has designed the RealTime HIV-1 to accurately quantitate all HIV-1 groups (M, N, and O) and all known subtypes of group M.
"There are 42 million people in the world living with HIV, and only 10 percent are part of the subtype B group. We wanted to be confident that the way we designed this test would accurately quantitate the virus no matter where in the world the patient was infected or diagnosed, whether St Louis or London or Bangkok, Thailand," Jowett says.
The test uses a patented HIV double-stranded probe design that does not require cleavage. "By not requiring cleavage, we can optimize sensitivity," Jowett says, noting that the test is sensitive at 40 copies.
The RealTime HIV-1 test is approved for use in the United States as a viral load test intended to help physicians monitor patient treatment. Run on the m2000, results can be delivered in 5 1/2 to 6 hours. "And most of that time is walkaway," Jowett says.
Any test that can permit a laboratorian to "walk away" helps meet the goal of improving diagnostics. Tests that increase sensitivity, specificity, and clinical information do as well, particularly from a patient standpoint.
---
Renee Diiulio is a contributing writer for CLP.
References