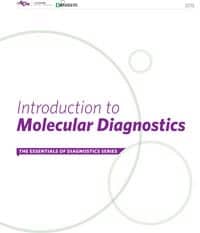 DxInsights, Boston, a nonprofit, independent organization that educates stakeholders on the value and power of diagnostics, and AdvaMedDx, Washington, DC, a division of the Advanced Medical Technology Association (AdvaMed) representing leading manufacturers of medical diagnostic tests, introduce the first in a collaborative series of short reports on the basics of the most innovative diagnostic technologies.
The report discusses the basic science and technology underlying molecular diagnostics and shows how innovation is increasingly transforming patient care.
"This is critical information for policy makers, patients, health care providers, insurers, and anyone who wants to better understand how molecular diagnostics are driving the personalized medicine revolution," says Andrew Fish, executive director, AdvaMedDx.
"Molecular diagnostics continue to be an exciting and transformative element of the diagnostics field," says Kristin Pothier, founder, DxInsights. "In the past decade alone, researchers have created highly specialized and automated tests with the unique ability to detect and analyze genetic material and proteins, thereby revolutionizing the diagnosis and monitoring of autoimmune disease, inherited disease, cancer, and more.
"These diagnostics uncover the underlying mechanisms of disease, which can lead to drug discovery and development focused on specific populations for optimum outcomes," she says.

Click here to read the inaugural report titled "Essential of Diagnostics: Introduction to Molecular Diagnostics." It is the fruit of a collaboration between AdvaMedDx and DxInsights and is available to all free of charge.
[Source: AdvaMedDx and DxInsights]