Hardy Diagnostics, Santa Maria, Calif, introduces HardyCHROM™ SS, a highly selective chromogenic medium recommended for use as a primary screening medium for the isolation and differentiation of both Salmonella and Shigella spp. from stool cultures.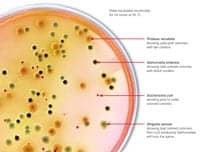 A recent scientific study performed by the University of Washington, School of Medicine, Seattle, which was presented at 2013 ASM conference, concluded: HardyCHROMTM SS Agar combined with MALDI-TOF-MS improved the turnaround time for the reporting of negative results by up to two days, as well as reduced the costs associated with stool cultures by almost 50%.
Click here to see a copy of the poster.
HardyCHROMTM SS Agar successfully recovered all Salmonella and Shigella isolates tested and yielded the expected color reactions in all cases.
With this new medium, Salmonella and Shigella can easily be distinguished from nonpathogenic enteric bacteria based on colony color. Most Proteus spp. do not produce black colonies (H2S) and do not produce a color change on this medium, and therefore cannot be confused with Salmonella and Shigella.
HardyCHROM™ SS contains patented ingredients that produce superior differentiation of colonies, it reduces the need for secondary testing of isolates, and results in fewer false-positives. It allows the lab technologist to use less culture media when setting up stool cultures while significantly reducing turnaround time.
The company is FDA-licensed and an ISO 13485-certified manufacturer of medical devices for microbiological procedures in clinical labs.
[Source: Hardy Diagnostics]