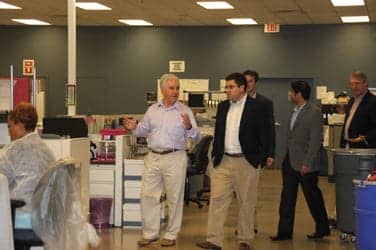 J. Georges Nitis,
PhD, MBA,

vice president of laboratory operations, Atherotech, gives the Johns Hopkins researchers a tour in July of the Birmingham laboratory.
Atherotech Diagnostics Lab, Birmingham, Ala, has formed a strategic research collaboration with the Johns Hopkins Ciccarone Center for the Prevention of Heart Disease, Baltimore.
The partnership, which pairs Atherotech's Very Large Database of Lipids (VLDL) with Johns Hopkins' world-class cardiac research capabilities, aims to gain new knowledge through research and translate the knowledge into clinical practice.
"With more than 8 million individual samples of multiple cardiovascular disease biomarkers, our VLDL database represents one of the largest diagnostic testing databases of its kind in the world, capable of advancing heart disease research and improving patient treatment and outcomes," says Michael Mullen, CEO, Atherotech.
Using its proprietary VAP® Lipid Panel, the company assesses cholesterol-rich risk with directly measured LDL, HDL, and subclasses; triglyceride-rich risk in remnant lipoproteins; and hereditary risk with Lp(a) — all of which are represented in the total VLDL database.
The current research VLDL dataset has 1.4 million data points representing unique individuals, with more than 3 million data points anticipated for the next data harvest.
"Atherotech's organization is committed to a comprehensive, yet practical, lipid profile, and our research group's emphasis is on high-impact, clinically relevant research," says Steven R. Jones, MD, Johns Hopkins Ciccarone Center for the Prevention of Heart Disease. He discusses it here.
The project has produced several published studies in influential journals, includes one examining conventional lipid studies of Friedewald-estimated versus directly measured LDL cholesterol, in last week's Journal of the American College of Cardiology (JACC), Jones says.
The Estimated v. Direct LDL-C study in the August 20 issue of JACC compares the accuracy of calculated LDL cholesterol measurement using the traditional basic lipid panel to directly measured LDL cholesterol using Atherotech's VAP Lipid Panel. Researchers found that nearly 60% of at-risk patients with basic lipid panel LDL below 70 mg/dL and triglycerides over 200 were misclassified using the basic lipid panel. The study examined more than 1.3 million VLDL samples and is the largest of its kind to evaluate basic lipid panel estimation of LDLc relative to direct measurement.
[Source: Atherotech Diagnostics Lab]