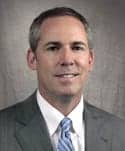 Thomas A. Sellers, PhD, MPH
Researchers at Moffitt Cancer Center, Tampa, Fla, including Thomas A. Sellers, PhD, MPH, the center's director, and 17 co-authors, have discovered four new regions of the genome that influence the risk for developing ovarian cancer, according to two Moffitt-led studies published in the March 27 issue of the journals Nature Genetics and Nature Communications.
Ovarian cancer is the fifth leading cause of cancer death among women and accounts for 3% of all female cancers. Although mutations in the BRCA1 and BRCA2 genes remain the strongest genetic risk factors for ovarian cancer, these new findings taken with previously identified common genetic variants account for approximately 4% of the inherited component of this disease.
The two Moffitt-led studies are part of a coordinated series of 13 publications that resulted from collaborations involving researchers who are part of the Collaborative Oncological Gene-environment Study (COGS), the largest study of its kind to investigate the genetic basis of hormone-related cancers (ovarian, breast, and prostate) by looking at DNA sequences of more than 250,000 individuals.
"Through this collaborative effort, we were able to conduct a large-scale analysis of more than 18,000 women with ovarian cancer and more than 26,000 healthy women, bringing us much closer to understanding the inherited factors that contribute to this disease," says Sellers, co-senior author on both Moffitt-led studies.
Click here to read more.
[Source: Moffitt Cancer Center]